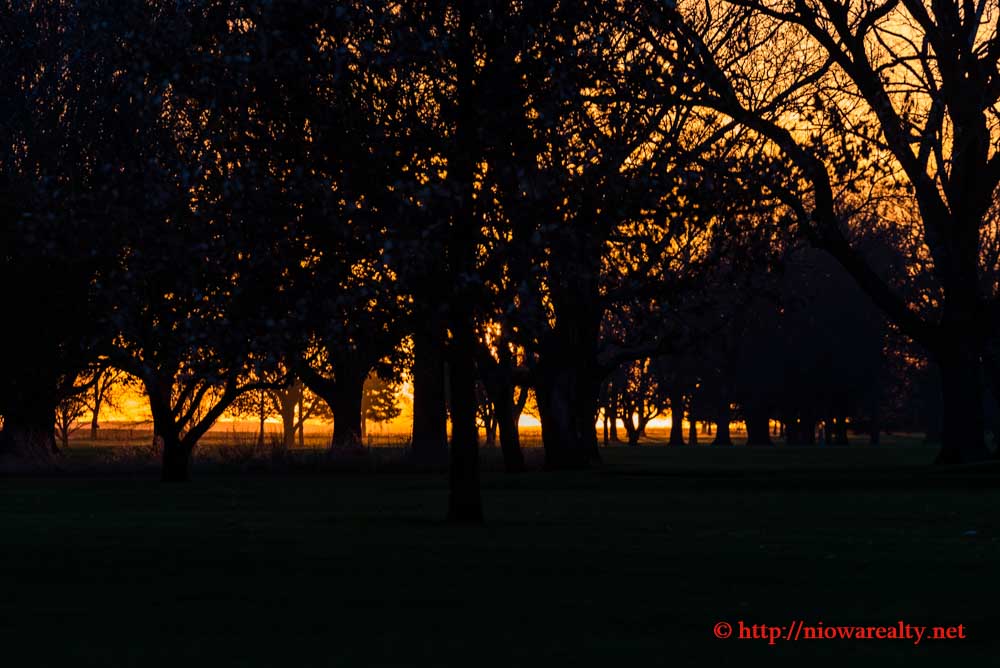 As always, the first of the month creates a few more duties for me from the monthly bill paying to fielding a few more than normal rental calls.  The light dusting of snow we had late yesterday created an early snow shoveling job so it would cleared off the front walk before the pedestrian traffic packed it down.  Someone said this morning, "Why don't you just leave it for the sun to melt?"  I smiled and answered, "I made that mistake once about four years ago and ended up having layers of heavy snow and ice that I almost had to chisel off."  I pay attention to the weather, but as we all know, it can change for the better as well as much worse to where many wished they'd taken a more proactive step in keeping their snow shoveled.
I think I'm going to make an inquiry to the Park and Recreation Dept. as to why there is only one sign while entering East Park from one of the off-beat entrances stating the hours the park is open.  There really must be clear and conspicuous signs posted at all entrances so to deter some of the naughty nocturnal happenings going on in that park as well as all the others in Mason City.  Should there be a concert or some other late night goings on in the parks that've been approved by the Park Dept., they'd waive the normal curfew hours for those events.  When we have more wide open places like parks being left without posted curfews, it offers more of an opportunity for unlawful deeds to be carried out.  Giving law breakers fewer opportunities in and around our city to commit crimes, they will likely look for other places instead of our beautiful parks to conduct their "business" transactions.  With the east end of our Historic Downtown beginning to lift itself up, there will be more people wanting to live within walking distance of work, commerce, and recreation in that area.  It's not all about improving the houses or structures, it more fully about changing the essence of the neighborhood to where there are nice homes and buildings, a feeling of being safe during the nighttime hours while at home, and confident in walking contiguous city blocks without a thought they've entered unsafe zones.  I read yet another article about how young and upwardly mobile workers are looking for less size in the homes or condos they choose, as well as being in walking distance of work and leisure activities.  They also look for their residences to be more energy efficient and ecologically friendly.  As the four homes that were re-located to the Historic Downtown area are coming closer to being occupant ready, I'll not be a bit surprised to see them sell quickly once completed.  Not counting the Egloff House, my favorite one is the limestone expanded cottage.  It's going to be absolutely charming when finished!
A clever chap mentioned something some days ago which has popped into my mind since.  He said, "Whenever someone mentions a name of a person you know, do you ever slow your mind down enough to see that person in your mind's eye?"  I said, "Not much, but maybe."  He went on to say, "Well, if you train your mind to look at that first glimpse of a given person in your mind without starting a news reel of sorts, you'll likely see what your sub-conscious is trying to tell you about that person's core modus operandi."  He left me nearly speechless with that statement until I said, "So what's the benefit of "seeing" the first thought of that person in my mind?" He smiled and said, "Our pre-conceived notions or beliefs of people tend to get in the way of what our more all-knowing and understanding sub-conscious is trying to tell us in more subtle ways."  I put his suggestion into practice several times and was surprised by what I saw in those first thoughts.  I guess the real trick in having a more complete understanding, is to de-cypher the real meaning of what has been seen.  So there you have it, the concept of first thought.