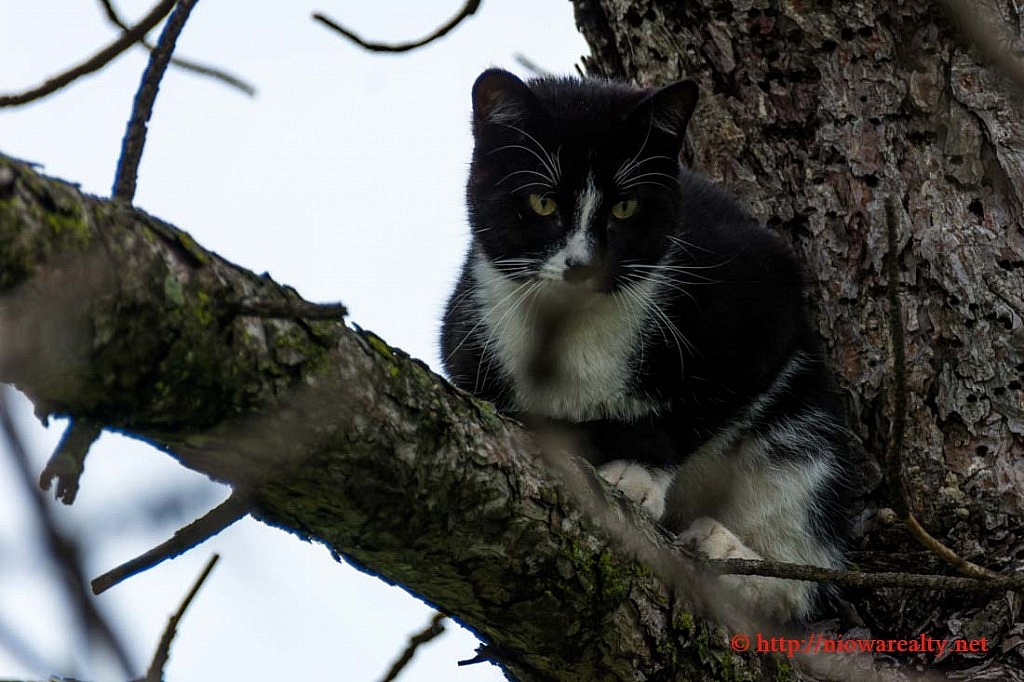 I was asked to meet the buyers this morning of an acreage they just purchased and wanted a visiting relative to see it. I got there before they arrived and nearly at the lane's end waited a kitty. As I pulled in, she came running towards my car. So funny to see a kitty do this and certainly brought back fond memories of a pet cat I had a number of years ago. I seemed to be a magnet for this particular kitty this morning. Purring and purring and rubbing up against my leg. When she rolled on her back I noticed she is soon coming close to the time when she's going to be having some babies. Since the acreage is vacant, I hope she finds a secret hideaway to have those kittens as well able to provide food for herself and those kittens. The biggest danger with mother cats and their kittens is that the tom cats are always on the look out for the babies so they can kill them. It's strange how male cats react to baby kittens. Oh well, I'm sure the new buyers will look after the mother and her new family after they move into their home.
My open home today at 1403 S. Kentucky was relatively good. I continue to stay hopeful this under-the-radar property will sell soon. This four level home has oodles of extras, but the real plus is the neighborhood and the ½ acre in-town lot. Any city dweller looking for privacy would certainly enjoy the seclusion this home affords. It's truly a homesite made for a family's enjoyment. I picked a Peony flower and gave it to one of the visiting women. She'd forgotten what they're called and I alerted her that the one I gave her likely came from heirloom stock. Many new varieties out now but I don't see many of the older strains these past years.
Since I was downtown more today than I normally am on a Sunday, I happened to again notice how some people have the absolute stupidity as well as guts to come Downtown and freely dump their refuse in privately owned dumpsters being rented by business owners. The most absurd of all is seeing men driving likely 40+K pickup trucks with all the bells and whistles pulling up alongside someone else's dumpster and without resign unloading the back ends of their trucks without giving it a second thought. So, I say to them in my mind, "You can afford monster trucks and likely have the best of the best, yet you think you have a license to throw your trash in another's dumpster?" It's absolutely ludicrous. There's another downtown businessman who lives in a relatively expensive home who thinks he has the right to dump his yard waste in dumpsters not belonging to him. I'd like to tell him, "Start composting or go buy some yard waste bags and get a life!" I know you may think I'm being a bit hard today, but people really must start taking ownership of their disrespect of others; especially when they're knowingly incurring unnecessary costs on a business they likely don't even patronize. I wouldn't be a bit surprised that people of their mindsets are also litterers. If they give the proverbial finger to business owners, they likely give it to Mother Nature as well. I think disrespect to our upwardly growing Downtown business community would be minimized should a few more HD cameras be installed at random locations. If London can do it, then so can we. For some strange reason, most people put their best foot forward when knowing they're being recorded live on HD cameras.