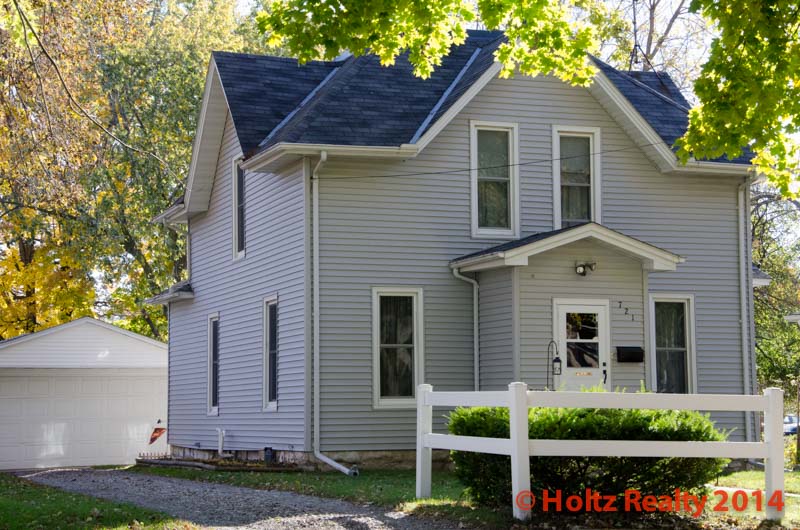 I've been remiss in writing about a listing I have that's been a fly-over for buyers far too long. If there's ever been an exceptionally clean home that I've had listed, this one is one of the top ten. From the first time I entered it, I found a warm setting, and particularly clean. The problem most buyers have is that the sellers have lived there for a very long time and have accumulated a great deal of personal possessions which creates a feeling of the home being smaller and less flowing. Prior to listing it, the sellers did as much clearing out of things they will not take with them when their home sells, but the big problem is that the husband is one of Mason City's historians and has accumulated a great deal of material dealing with places and events of times past.
With that said, there are far more boxes stored in one of the bedrooms than what one would normally expect, so again, we have another room that appears small. The home was built in the late 1800's and offers a very large living room that spans the entire front of the home, there's also a spacious dining room as well as an eat-in kitchen. The sellers have been keen on maintaining the exterior as well as the mechanicals of the dwelling.
There's a newer roof, newer siding, newer thermal tilt-in windows, recently constructed two car garage, very well cared for giant-sized rear yard, and a private screened-in back porch. On the inside there's a newer furnace with central air, circuit breaker wiring, newer appliances including washer/dryer that stay with the sale of the home. The floor coverings as well as the painting and decorating are all up to snuff. So, you wonder why this roomy 3 bedroom home hasn't sold. First off, as I mentioned before, the interior visuals don't do it justice because of the excessive amount of contents. Secondly, the "North end" has been getting some bad publicity which in some respects is true, but in others, the public has got it all wrong. If there's one thing I can say about neighborhoods is that they are always in a state of rise and then decline, and then to rise again. The last rising is usually triggered by city ordinances, a lack of supply, and above all, a commitment by the residents of those declining neighborhoods to take a stand and start pushing back and re-building. I fully know from personal experience that if concerned neighbors really want to fight at getting their blocks back to where they are safe, comfortable and sought after, they must use every resource available to make change.
If there are naughty tenants living next door that are breaking the law, then the police should be called. If there is garbage and rubble in the yards, then the appropriate City official must be called. If the there are hazardous and dilapidated sheds or structures on the property, again the appropriate City official must be alerted. Landlords that want to make a quick buck and not re-invest part of their profits into their rickety homes, then they should be the first to be pressured. Simply because tenants pay their monthly rent on time doesn't cut it with me. Every tenant and homeowner must learn civic responsibility. So what if a group of neighbors get together and start paying closer attention to what others who are being neglectful in their blocks are doing and begin taking action. With that said, I wouldn't even think twice about purchasing the home I speak of simply because I know that neighborhood will soon be in the rise. Take a look!