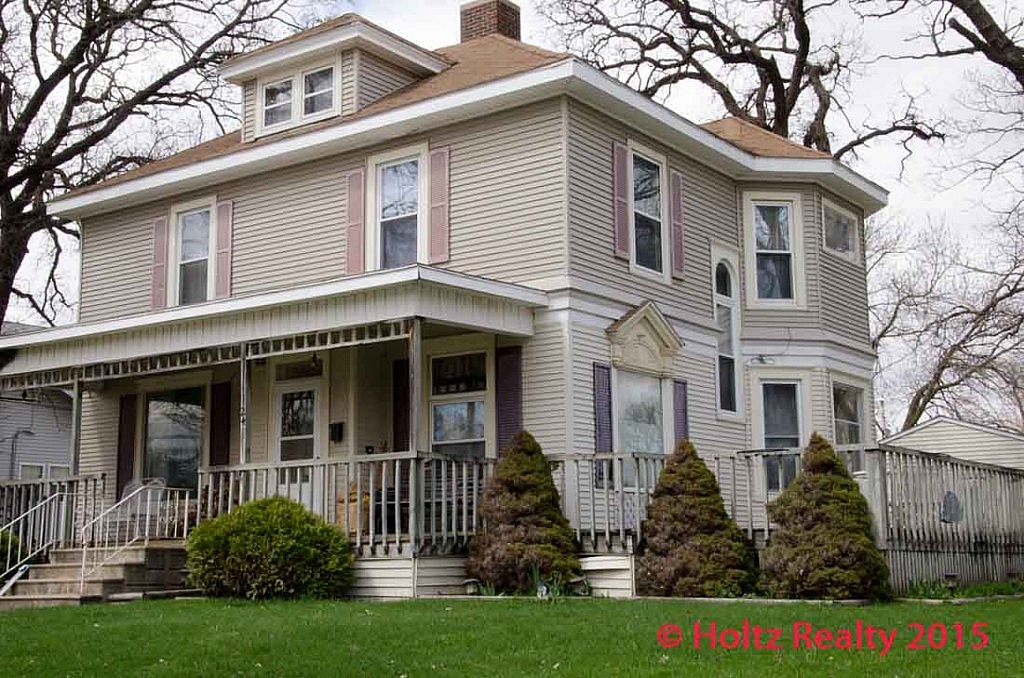 In spite of the near gale force wind today, I managed to hopscotch back and forth to appointments along with other duties. Driving up to Northwood today on an errand caused me to feel the full effect of the wind in having to keep both hands on the wheel simply to stay on the highway. It's not so much the wind blowing at a certain speed, but also when driving past treed patches, the gusting is diminished and resistance lessened. With that said, it makes for keeping a car on the road more difficult due to the varied speeds of wind encountered. When I arrived in Northwood, I didn't seem to find many people out and about likely because of the wind tunnels created by the buildings. Normally when I'm there, I at least stop at their convenience store to grab a cup of coffee or juice, but today I thought it best to get back to Mason City and continue on with my fully booked schedule.
The highlight of my day and likely my week was the opportunity to list a grande older home located at 24 – 11th St. NE here in Mason City. The owner had me there some months ago for a casual visit about the possibility of selling. I was given a tour at the time and walked away quite impressed. Since I had much more time to spend in the home today, I drove away all the more impressed by the home and the features it has to offer. The current owner has lived there for many years and made some great improvements during that time which are quite visible. My first great impression was the size of the formal dining room. One could host an old fashioned turn-of the century banquet in there and still have elbow room. There are gorgeous beveled glass windows on the main floor which send prisms of light when the sun is in correct positions. There's a woodburning fireplace in the living room and one in the main floor family room. The fireplace was blazing in the family room when I arrived and it made the room feel warm and cozy. A real bonus for most buyers is the fact that there's a large bedroom and ¾ bath on the main floor for anyone not wanting to climb stairs. There's a front and back staircase leading up to the second floor where there are 4 dedicated bedrooms, another room containing a kitchenette, and an upper floor den overlooking the rear yard. If me, I'd incorporate that kitchenette, 2nd floor den, and big bedroom into one mega-master bedroom suite and still have a 4+ bedroom home. There's a 3rd floor finished room with a modest bath that could be used as a children's playroom or upper floor man cave.
There's another semi-finished room in the basement which could also be used as a get-away. Outside, you'll find a 3 car garage with a furnace and another building almost the size of a garage which could be used for storage. The lot size is double which gives plenty of freedom for outdoor movement. There are an abundance of decks and patios which any sun worshiper would find delightful. I fully understand why the owner has lived there for so many years simply because of the creature comforts it has to offer. The original occupant was the Beck Family who owned and operated a successful drug store. My list of likes could go on with this home and I assure you, upon your inspection you'll find plenty more at 24 – 11th St. NE.
Click on the link below and see for yourself.