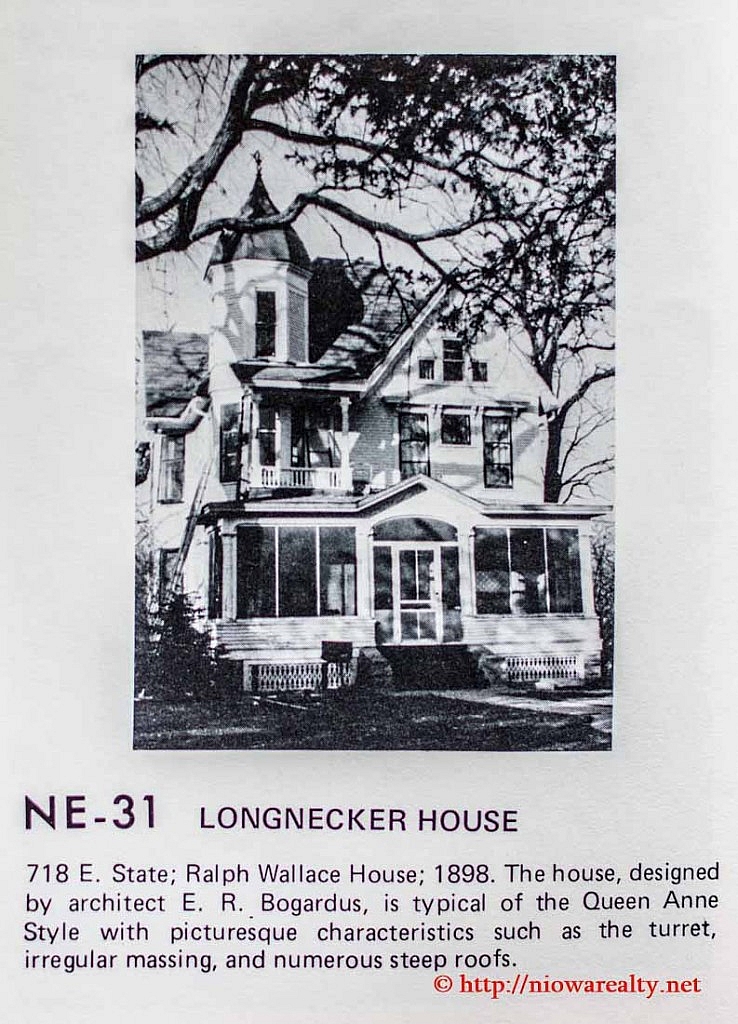 A small group of Robins flew across a street I was driving down today so I guess Spring has indeed arrived. I'm sure they're a bit travel worn due to their long flight from one of the Southern States. They'll be busy little bees this next month finding the perfect nesting spots to begin the building of new homes for this year's hatchlings. I'm sure they're also a bit chilled these past two days of brisk wind from the North bringing with it a frigid cold.
I just happened to notice in my bookcase at the office an old paperback edition I've had for a number of years concerning some of the historic buildings and residences that was published back in 1977. I suddenly remembered seeing a home I just listed last week being in that book so I pulled it out and found it. I took a picture of the page and created the photo above for everyone to read. For one thing, I'll have to change the year built that our City Assessor has for it because the Assessor says it was built in the 1870's and this publication says it was designed by E. R. Bogardus who was a prominent architect here in Mason City. Another commercial building he designed was one several doors down from mine which is located at 205 – 207 N. Federal and that building was built in 1902. As I was paging through the book, I was shocked to find so many of those homes and buildings having been either changed dramatically or torn down. I'd almost forgotten that Monaghan Real Estate and Carrier Insurance Associates offices were located in the building next door to where my office is now located. When in school, I used find extra work for spending money and was asked to paint a kitchen yellow which was located in the upstairs apartment of their building. I quickly found my job to take longer than expected because the boss lady wanted the paint watered down to where I felt like I was doing a whitewash of yellow. It was like painting with watercolor and getting it on everything but the walls, including myself. I did get the job done but that was the first and last time I painted with watered down paint. I also learned that a gallon of paint can only be stretched so far and the results not being of professional quality.
My listing at 718 E. State Street is right next door to a home that recently sold for over 5x more than what my listing is priced at and as chance would have it, that home was also designed by E. R. Bogardus. Mr. Bogardus must have really been highly regarded in his day. Talk about a great buy in an up and coming neighborhood! Like they say, "Buy the cheaper home in one of the better neighborhoods and you'll never go wrong." There was a family last year that was looking for a grand home in this price range and subsequently had to compromise due to that "perfect fit" not being on the market. I'm sure they'll wish they'd waited when they see this home listed.
With the asking price being a mere $167,500.00 and the amount of quality as well as square footage offered, is an absolute steal at the price per square footage calculation. The one memorable feature I'll never forget is the grand hallway with its double entry doors. It causes me to think of one of those grand river homes perched above the Mississippi in the Quad Cities. Even one of the family members knew I was nearly spellbound when first entering the hall. Now don't wait, because snoozers are losers.