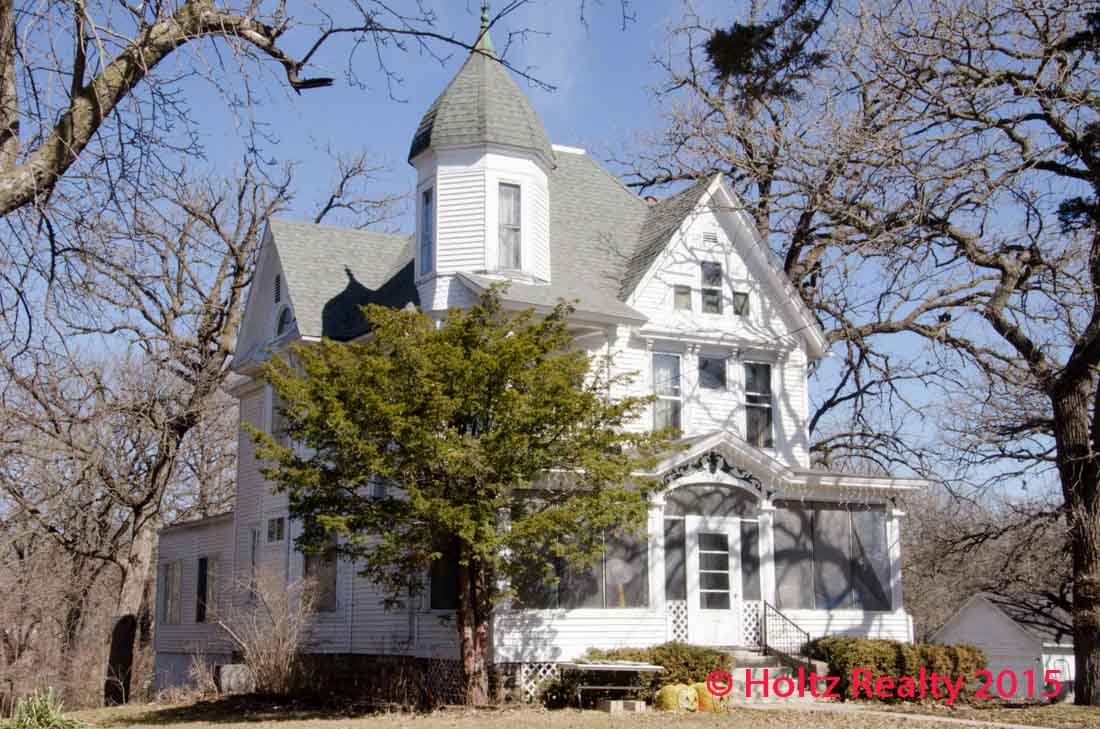 Without question, I consider myself fortunate to have been chosen to list a home that has caught my eye since I was a young man whenever driving down East State Street here in Mason City. This home is part of an estate which was owned by the decedent's family for a VERY long time. I didn't realize until doing the research on the property prior to listing it that the rear yard extends farther to the north than I'd ever expected. There's over three quarter's of an acre on which the house and garage is located. What a wonderful place for summer gatherings where one can walk all the way down to Willow Creek and still call it one's yard. The address is: 718 E. State Street, Mason City, IA
Upon entering the home through the tall double-door entry, I nearly became breathless in seeing the grand front hall with its massive open staircase and rich hardwood panels. There are numerous tall pocket doors which separate rooms on the main floor. I believe those doors are likely eight feet tall. I noticed the woodwork in some of the rooms to be of quarter-sawn oak and others to be hard maple. To find nearly all the woodwork and doors unpainted was yet another pleasant surprise. There is a 24 x 24 main floor family room that I would consider a blank canvas for anyone wanting to create whatever theme they'd have in mind. The half bath is off the kitchen hallway, all four of the bedrooms upstairs are generously sized especially the master which has a small sitting room below the turret. There is a walk-up attic with ample headroom for a 3rd floor loft area. The basement's ceiling is taller than I expected with even more areas for storage.
The double garage is under the main floor family room which did have a staircase leading up to it but recently closed. There have been some windows replaced. The wiring appears to be sufficient for the home and has a breaker panel in the basement. The main section of the home has hot water heat and a central air unit in the attic, and the family room has a separate forced air unit with central air.  I said teasingly to one of my customers today, "I could see you sauntering down that grand staircase with your air of sophistication." I got a laugh out of that remark. We all know the prime deal maker of a home is often the location and this is definitely in one of the more sought after historic streets here in Mason City. One can walk out the back door and be in East Park, or take a stroll downtown, or even to the library and museum. Every year the Band Festival marches right past this home and on into East Park.
I purposely didn't take any interior photos as the family members have likely weeks to get through all the generations of accumulation that's taken place, so please be patient, there will be photos coming in the weeks ahead. Yes, this home needs a great deal of cosmetic updating, but it has very good bones and the quality of construction in its day was far above average. If anyone wants to view it, I'll need a good two day notice for the family. I can already see it finished in all its glory and I'm already a bit envious in a positive way for whomever takes the time to polish this gemstone. Click on the link below for more info.