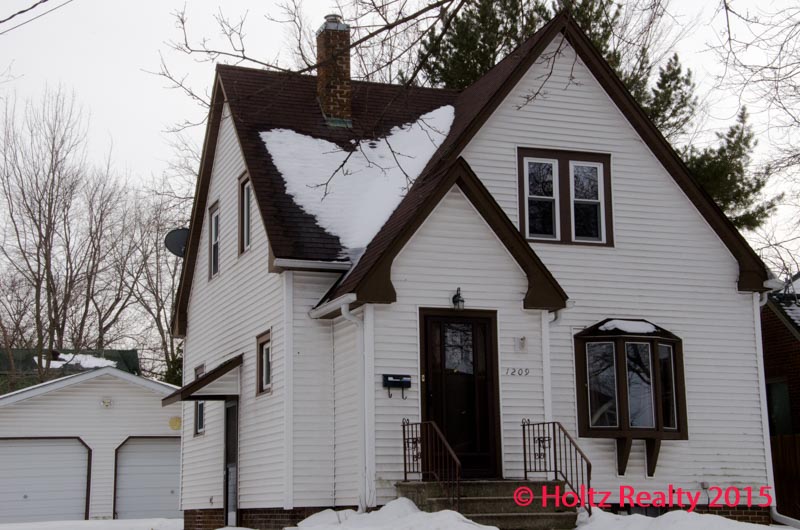 Great days ahead for North Iowa's weather! Hopefully the sub-zero temperatures are behind us until another winter returns at the end of this year. I was actually outside without my heavy overcoat this afternoon. Seems whenever the temperatures get well below freezing, my finger tips start developing nasty cracks that like to bleed and hurt immensely when touching something. Had to keep them lotioned as much as possible to stop from having any more suddenly appearing.
The high point of my day was listing another delightful home in the Forest Park area. It's located at 1209 W. State St. here in Mason City. Some years ago, I had the opportunity to show it when on the market and was taken by its compact unity as well as the street appeal. With the steep roofline, it gives an air of a home in the mountains of Austria. Likely each owner has added more delightful personal touches as well as modern updates so to keep up with the trends of making this house a comfortable home.
A front foyer is encountered upon entry which expands into the open living room. There are absolutely gorgeous hardwood floors in the living and dining areas. The open staircase has a very unique newel post and leads up to the roomy bedrooms and full bath. There are hardwood floors upstairs as well. The real draw for this home will likely be the newer oak kitchen which features cabinet fronts of stained glass. It's a rare occurrence to find stained glass cabinet doors in Mason City. To my delight, the owner pointed out a sky light above the kitchen sink which must have been a daunting task to install at the time. It really brightens up the kitchen work area. All the appliances including the washer/dryer stay, creating a bonus for anyone moving out of a rental home or apartment. All the windows have been upgraded with thermal units which appear to be of the more expensive type. The siding on the house and garage are permanent which creates in our busy lives, a more maintenance-free home environment.
The basement is finished with a simple rec room, laundry area and ¾ bath. If I were to become the new owner, I would focus entirely on a basement re-do. I would install an egress window and create a 3rd bedroom. There is certainly enough room for another room to become a reality. With that third bedroom added, and a top drawer state-of-the-art rec room completed, this home would have a much higher value than the cost of materials and labor in making it a reality. A three bedroom, 1 ¾ bath, big 2 car garage, and only 2 blocks to Mercy Hospital home, would create a highly sought residence.
This residence will indeed speak loudly to any and all first time buyers who've been wanting to fire their landlords and start creating home equity for themselves rather than lining the pockets of wanna-be rental barons. The neighborhood speaks for itself as it's one where you'll find more residents than normal out walking. I'll wager this home is gone before you know it simply because of the number of buyers in its price range of comfort. Certainly there'll be those of them who'll see this listing advertised and think, "We're in the nick of time for 1209."
I can't wait to see their faces when they've had their first look!