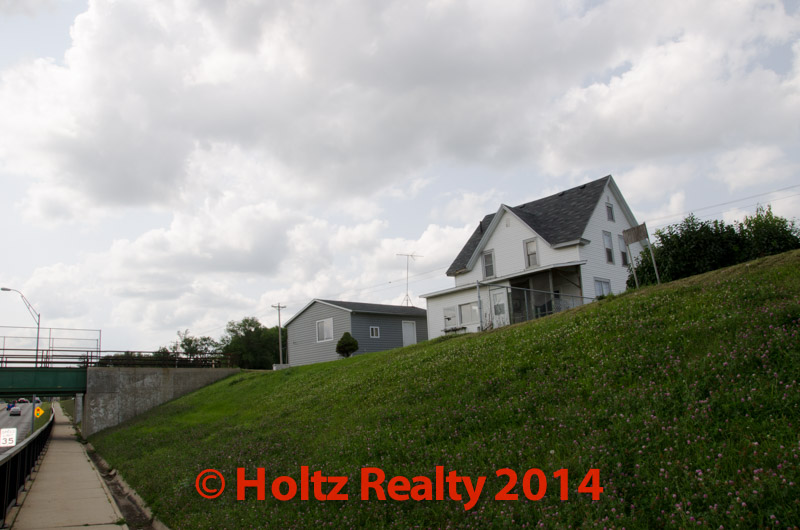 Not so very often does one find a property that is built on an elevation here in Mason City simply because we live in a pretty flat area. No hills or bluffs like out in eastern or western Iowa, and of course we don't have the rolling hills in southern Iowa. We're simply considered the "flatlanders" where the wind blows much and the sun rises and sets a bit earlier and later due to the extended horizons. Not that I'm complaining because I've always considered Mason City my home, and there are upsides to living in a relatively flat area. We can see farther, we have straight line roads that don't have to be curved around a hill or outcroppings of stone, and we have wonderful summer breezes that help to keep the humidity down during our hot summer days.
I have a listing that is a bit of a rickety old house that came into the inventory of a financial institution. There was quite a bit of cleaning up that had to be done before I listed it, but now at least the buyers can get an idea of the future potential it has.  The absolute core value of this property is its location. It is located at 519 – 4th St. SW, Mason City, IA. The zoning on it is Z4 which gives any owner a number of options for use. Prior to the foreclosure it was used as an insurance office and I can clearly remember the large signage that was erected on the back of the property which is on the under-pass hill looking down on Hwy. 122 West. In visiting with a City official, I was brought up to speed on the size of signs allowed on the property as well as placement. If a business person were to take full advantage of this location's elevation with advertisement signs, there would be likely thousands of motorists seeing that sign on a daily basis. I can't possibly imagine a good business not doing exceptionally well on that hill simply because of motorists seeing the signs on a daily basis.
As I mentioned, the structure needs some TLC, but it's now been reduced to a price that one could go either way with it. They could scrape the house off and build new, or do a grande upgrade on the home and make it look like one of the historic homes in some gas light district that was converted into offices. Also included is a relatively new double garage which would make either great storage, or a place for a business owner and staff to park when the weather's bad. There's a full basement that would also become good file and inventory storage, and a second floor which I would cut away about half of it and create a wonderful second floor gallery which could be used as another private office as well as a staff kitchenette where the food is great and the views are free. Yet another calling card for the general public driving by on the highway, is to create some very interesting raised landscape beds where there would be planted a variety of perennials that would bloom at different times during the Spring, Summer and Fall.
Knowing so fully, one must establish a well thought-out plan as well as capitalizing on the motorists' line of vision while driving past this diamond in the rough. I'm not one that places bets, but I wouldn't hesitate to wager that anyone who'd have the carefully planned site complete, would have more business than ever expected simply because of the free advertisement that is a constant feature of the site. A business on that hill will become a high visibility asset. Don't forget, the higher you are, the more you're seen.