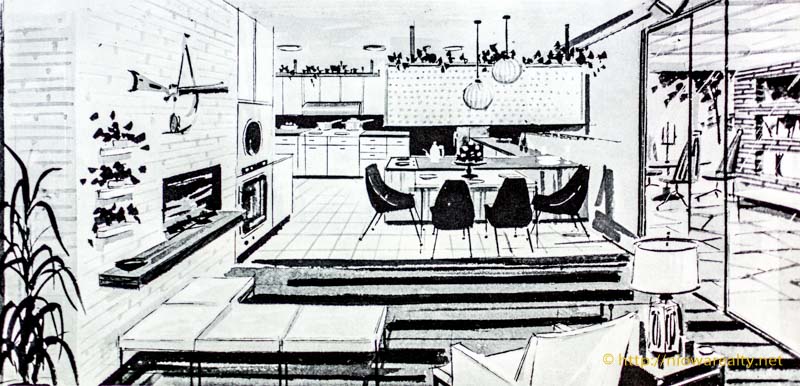 Sometimes in glancing at the internet news, there's a headline that catches my eye and causes me to investigate the content. Several weeks ago I happened upon an article that spoke of the growing popularity of anything that was created in the mid-century from furniture, clothing, lighting, appliances, automobiles, and even homes. I've know about this growing popularity for some years, but I didn't realize it's even stronger across the country today.
My take on why this style is so popular is that it gives us windows to peek through and get a sense of how life really was back in the 1950's. Many who grew up in those times or have heard stories about those years, speak of the middle class dream coming true. Nearly everyone had decent jobs which gave them the purchasing power to buy the latest conveniences on the market. Keep in mind, WWII hadn't even been over a decade and people fully remembering the hardships they endured during those times including the rationing of basic necessities. It was as though all the old was out and the new was in. Even people in their advanced years were buying new furniture and homes of the new style which was a take-off of the California Ranch. Streamlined and above all, modern in every way imaginable. The fresh breath of life after the Depression and WWII was likely the reason such a completely different style took hold with the populous.
Mason City has a number of mid-century homes that were built, but far too often we find them having been re-modeled to meet changing styles of the times. It's a bit sad when we think that if something stays out of style long enough, it will sooner or later be back in style.
As chance would have it, I have listing which is a great example of a mid-century ranch with nearly all the original features still intact. What I like the most about it, is its size and location. Many of the 1950's ranches are much smaller and scattered in and around older neighborhoods. This home is located at 50 Winnebago Court here in Mason City. The generous square footage of nearly 1,300 sqft on the main floor as well as the double attached garage gives it a much greater advantage in functionality. The gorgeous blonde birch woodwork appears without blemish, the kitchen and bath cabinetry is of a streamline design and also of birch, there is a wood burning fireplace in the living room and on the backside, another built-in grill for summer cookouts. The half bath off the master bedroom is large enough to be converted to a ¾ bath with shower. There's a full basement that's begging to become a man cave, a huge living/dining room with a bank of windows overlooking the rear yard. The only real modifications to the original style is that the owner had permanent siding installed and new double-hung thermal windows. I don't believe these changes have altered the "feel" of this home's mid-century look.
I think it would be fabulous if the new buyer would attempt to bring the home back the closest of what it looked like including new mid-century design appliances which are today's craze, along with furniture and fabrics. The best of all, would be if they owned a 1950's vintage automobile. 50 Winnebago Court is truly a mid-century gem.