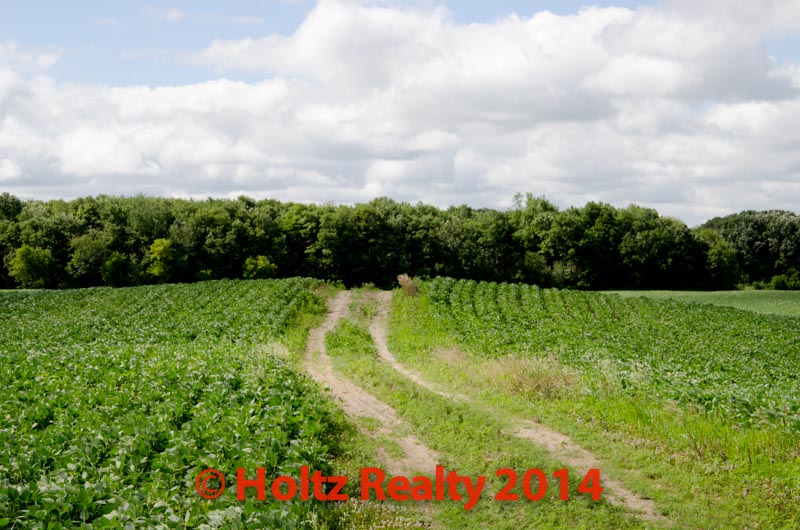 I thought it necessary to speak of a listing tonight that I just received a price reduction on which I believe to being one of the closest to pristine as one can get without traveling far out of the area along miles of dusty roads and too inconvenient for daily commutes.  This 82+ acre parcel of land is located at 1243 460th Street, Northwood, IA. It's situated adjacent to Simes Woods Wildlife Area which I believe affords this parcel even more privacy. There are a little over 60 acres of cropland, and the remaining 20 acres consist of old growth timber with a variety of species including oak and cherry.
The near mystical feature about the way this is laid out, is that the 20+ acres of timber is almost halfway in from the road with a meandering drive going into it. Once under the canopy of trees, I found there to be a most charming cabin that was built some years ago that would cost thousands to build today. A person could almost live the life of a true off-the-radar naturalist in that cabin. There's certainly enough wood to keep the cabin warm over winter. Private summer evenings would be sublime.
First impressions are normally the ones that in time tell the real story of a home or building site. When I was there for the first time simply to walk the land and get a "feel" for the property, never will I forget the experience I had while standing outside that cabin and simply absorbing the essence of my surroundings. There was a light breeze causing the tall tree tops to sway ever so gently. There were birds of different sorts in the distance calling after each other, and I could hear a woodpecker leisurely tapping away at a nearby tree. While standing there looking around and listening to nature speak, I couldn't help but consider something missing. I looked more, listened more, and walked more, and still I couldn't decide what was missing. Suddenly like a light bulb going on, I realized it was the absence of man-made sounds. I became all the more excited in knowing that I was spending time in a beautiful setting where the footprint of man's industry had not yet reached. My thoughts began to consider how few rural settings in North Iowa lack man's footprint, and precious me was experiencing it first hand. I will never forget that first and lasting impression. And please don't consider me a religious freak, but there is something very spiritual out there.
I say this without resign. If I had the financial resources, I would purchase this 82 acre parcel and build a comfortable country home befitting the site. I would then fill the drained natural pond that was there many years prior, build smaller versions of out buildings in a turn-of-the-century style, but keep them as earth friendly as possible. In time I would have a few animals including natural chickens, geese, ducks, and even room for some goats. Goats can be a bit of a handful, but they do make me smile with their antics. But above all, I would have a monster all natural vegetable garden. Indeed the soil in the timber clearings would be more than suitable.
I know this property is going to sell and I'm a bit envious of the future owners because they'll be the ones who'll be working the precious earth and listen to the whispering trees on a daily basis. I wish for them the very best and a great and wonderful life out there. Imagine, it's only about a 20+ minute drive from Mason City on hard surface roads.