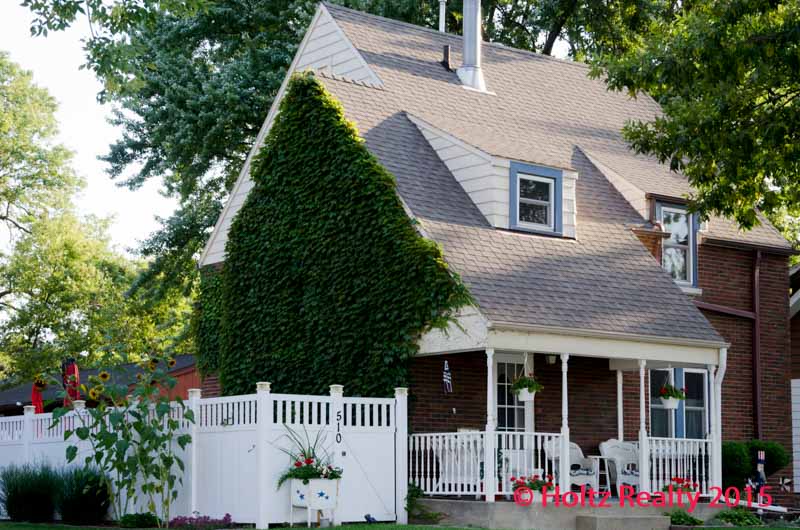 I have one particular listing that that likely many of the buyers have dismissed simply because when doing a drive-by, it gives them the impression that it's a small home. Since it is not only brick, but a dark brick to boot, it creates an illusion for the general public in thinking it's smaller than it actually is.
The style of the home is quite striking with a definite European flair in design. The steeper than normal roof, charming eyebrow dormers, and welcoming front porch creates a bit of a smile while standing at the curbside. The privately fenced patio is of an exceptional design worthy of a "Homes on Parade" viewing. Anyone who possesses a love for being outdoors would likely spend nearly all their time out there watching the summer evenings unfold. There is a newer two car garage with a very large separate workshop that has its own entrance. What a wonderful place to transform ideas into reality. I would love to have a place like that to C r E a T e.
Upon entering the home you'll be immediately wowed by the hand crafted open staircase commanding the foyer that is of a quality and design I've never seen before in this city. When I entered the home for the first time, I knew it was custom built, and likely by the owner. I found out later that it was built by the Henkel family who were of the family that started Henkel Construction which is still in existence today. Another exceptional feature of the foyer area is that it has a pocket door with windows instead of solid wood panels. There is another set of french doors with glass dividing the living room from the dining room. Whomever drew the plans for this home were very much about bringing as much light possible into every room. All the windows have been upgraded to tilt-in double-hung thermals. Anyone who hates washing windows outside will surely appreciate being able to tilt the sashes inward for easy cleaning regardless of the weather outside. The kitchen has been updated with all the features buyers are looking for in today's market. A "man cave" rec room waits in the basement for the one who simply wants to have a singular "space away" on another floor. There is a very attractive ¾ bath in the basement as well as a roomy laundry/work area.
Upstairs there are three roomy bedrooms that have the most charming wardrobe-style closets which are more European features incorporated into the design. The full bath upstairs is quite charming with lots of natural light and muted ceramic tile. There is a pull-down attic ladder in the hallway that affords access to a very roomy storage attic that's definitely not creeper. Too many of today's homes don't have enough storage for those seasonal items as well as keepsakes we hate pitching.
Anyone who's ever had the opportunity to live in a home with a "circle" floor plan will always consider this one not only step-saving, but also offering a comfortable room-to- room flow. I tip my hat to the current owners for the meticulous work they've done in their upgrades and loving maintenance of this home. Indeed it's of a classic Northern European design. This enduring classic has been recently reduced to $130,000 and it's located at 510 – 9th St. SE, Mason City, IA. So if you're one of those buyers who rank properties on the scale of one to ten, you'll be there at 510.