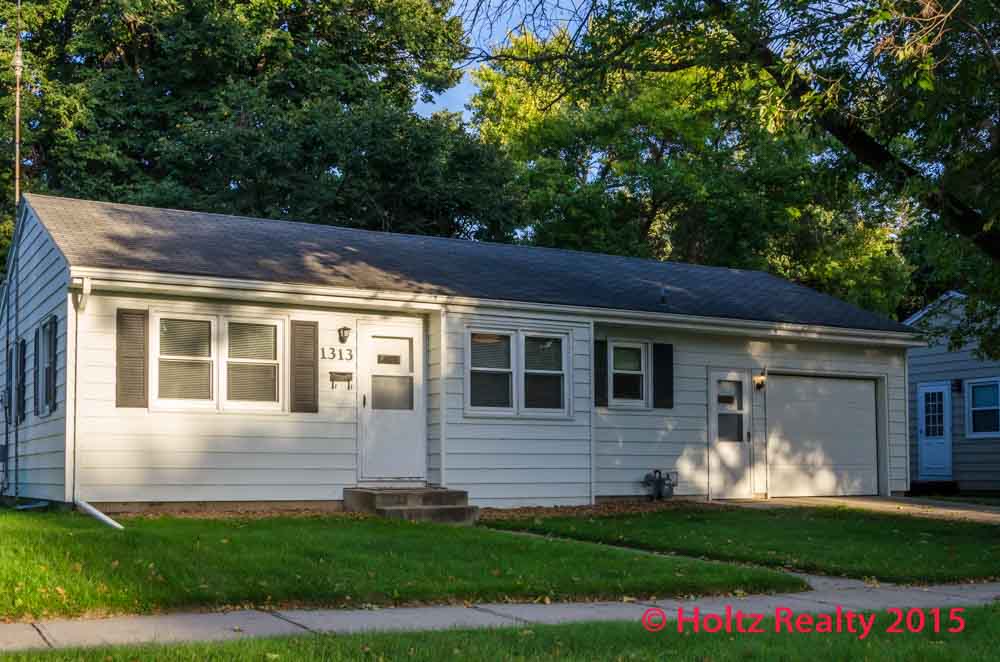 I just received a drastic price reduction on a home here in Mason City which should have been sold right out of the gates after it was listed, but unfortunately it came on the market just before winter arrived. Another marketing problem I've been having is that most people when they look on-line, don't look at all the photos or the complete descriptions of which they likely miss the fact that this home has a very large attached tandem garage. A tandem garage is a double garage only double deep rather than double side-by-side. As you can imagine, anyone doing a drive-by wouldn't see that the garage is double without an inside inspection.
This home has had E V E R Y T H I N G done to it in order to make it move-in ready for a buyer. It has newer siding, newer thermal windows, new carpet, new paint, professionally re-finished oak living room floor, a newer oak kitchen with all appliances, updated bath, newer furnace with central air, very clean basement, and of course that extra large tandem garage. There is even a separate furnace in the garage should an owner want to work on a project out there during the winter in relative comfort. It even has a pull down staircase leading to a storage area above.
There are far too many single people in North Iowa who are paying exorbitant rents for likely far fewer features. I'm confident a mortgage payment on this home would likely be less than what they're enriching their landlords with every month their rent is paid. How unfortunate is that? The Fed is talking about raising interest rates in the near future and we all know what that'll mean—higher monthly payments.
Several other great features this home site offers is firstly, it's located on a non-thru street where drive-by traffic is at a minimal. Secondly, the rear yard is much larger than one would expect with a gorgeous shade tree and more than enough room to create a beautiful flower or vegetable garden. If anyone loves golf, this home is only a very short distance from the Highland Golf Course.
The only reason this home is on the market is because the current owner took a better paying job out of State. I'm sure he had to do some real soul searching before he made the choice to leave his beautiful ranch home. I challenge anyone to find a turn-key ready home for sale in Mason City that offers as many amenities as this one for less. I really don't think you'll find anything better for the money. The address of this property is 1313 N. Carolina Place, so make sure you take a look at ALL the photos on-line and schedule a convenient viewing with my office. It was just reduced today to $79,000. Without a question, if you're looking for a home where you'll feel like a king or queen, you certainly find it at 1313.