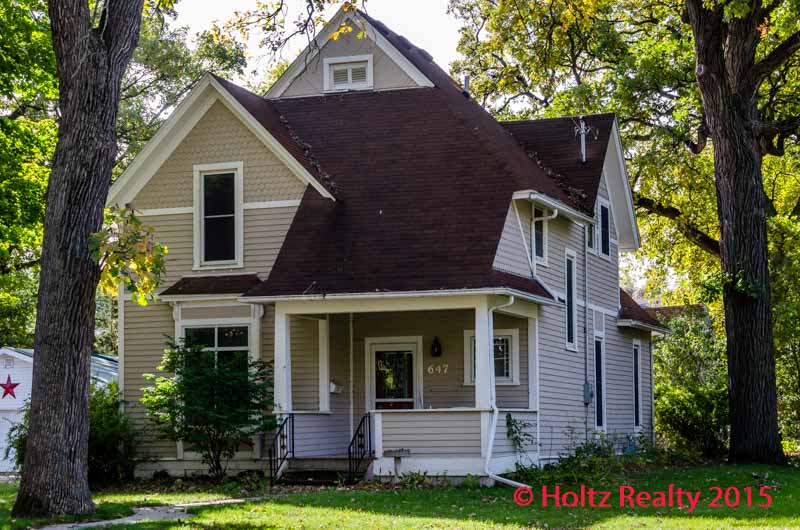 I listed a home just before winter arrived on one of Mason City's historic streets where many community activities take place. From the marching bands and floats of the yearly Band Festival, to the 5 and 10K benefit runs that happen often during the year, to the Cannon Ball Days and 4th of July activities taking place in East Park, along with numerous other fun activities. All of these festivities and more take place in the general neighborhood of this home which has the address of 647 E. State Street.
From the time I was very young, I have always liked this area since my grandmother lived in the general neighborhood and when often visiting her, I became quite familiar with the general area. Being time oriented when going from point A to point B here in Mason City, I've found that the general area of this home places one about half way to anywhere; not to mention being in walking distance to Historic Downtown. That should be considered a real plus when parents are transporting their children to their after school activities. The lot size of this homesite is 72′ x 187′ which is far larger than what you would normally find in a town lot. People with much smaller yards would absolutely love to have a lot as large as this. I always consider large yards to be places where children create dreams and parents enjoy their garden areas and quiet nooks to simply relax. There's an old oak tree screaming to have a rope swing attached to one of its branches. Rope swings always seem to inspire the best ideas in children. I think it's the concept of "thinking off one's feet".
The home itself is what I would consider definitely under the radar. It's a bit of a Victorian Style built around the turn of the century which offers tall ceilings and an open floor plan. The grand East Lake Style staircase sets the mood, then there are gorgeous oak floors, newer custom kitchen, thermal windows, a full bath with laundry on the main floor, 4 bedrooms upstairs with two full baths, and more. One of the bathrooms upstairs is a master. All the rooms are generously sized and offering an ease in placement of furniture. Too many people who've looked at this home don't like the basement because it has limestone walls. I'm fully familiar with making stone walls presentable. Several weekend projects of concrete back plastering would transform the basement into a pleasant and non-creepy storage area. Young buyers really must start looking at what can be rather than what's before their eyes at the moment. Since I've assisted others in color choices for rooms, should I be asked to help in color design, I would have the entire interior looking like something out of a decorator's magazine.
I just showed the home yesterday to a handsome young couple with children, and I freely told them that the more I'm in the home, the more I really like it. It's been growing on me ever since I listed it simply because I'm finding more easy and fun things I'd do to cause this home to be added to the ranks of being one of the grand homes on East State Street. There would be drivers doing "rubber necks" as they cruise past and certainly make mental notes of its beauty. No matter what anyone says to the contrary, this home is bargain basement priced, and when the future buyers have lived there but a year, they'll certainly feel as though they've moved just a bit closer to Heaven at 647.