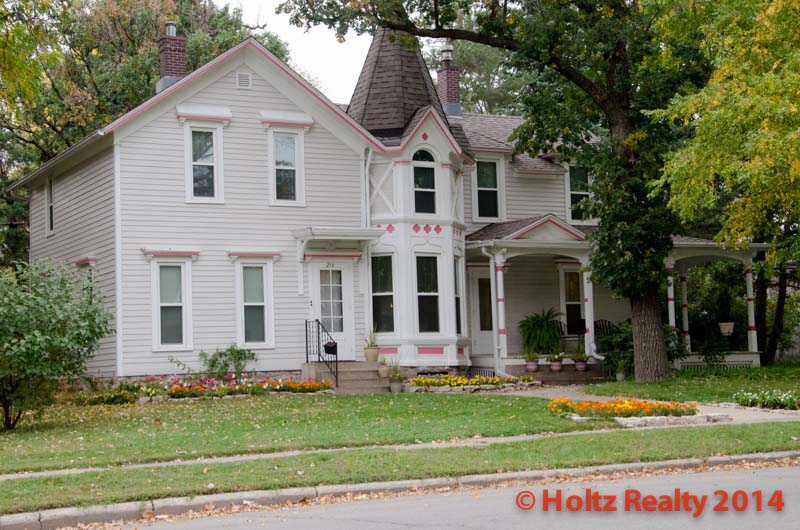 There are so few homes here in Mason City that are standing that were built in the 1870's and still remain strong, stately and enduring. The home I've chosen to write about tonight is one that I have listed that's located at 218 – 4th St. NE. The home was originally built by John Glass who was a prominent attorney at the time. I'm sure it was quite the undertaking in those years considering the size and detail the owner called for in it's construction. It remained in the Glass Family for a very long time until a prominent architect purchased it and lived there for another great number of years.
Mr. Bergland added a large family room to the rear of the home which gives the kitchen/dining/family room area a more open feel. He also added a screened porch that one can enter from the kitchen. Being very familiar with the home, I can say that as soon as one enters the front door you get the "feel" of quality. It's a large home but every room has function as well as convenience. There are two full baths in the home and one 3/4 bath which gives the owners the opportunity to have their own private bedroom suite. All of the windows are newer thermal units which was not only a great fuel saving update, but also more convenience when cleaning them. The kitchen is absolutely fabulous with top of the line custom cabinets and countertops. Every appliance you'd expect in a designer kitchen stays with the home. I love the 1st floor laundry room. There are two fireplaces; one original, and one added later.
The placement of the five bedrooms couldn't be better. There are three upstairs and two on the main floor. Since more people are working from home due to a number of companies allowing it, I would certainly convert one of the bedrooms into a home office. One of the bedrooms upstairs has a smaller sitting room that is part of the tower. The ceiling in that room is rounded and when you speak, your voice is amplified. The family room has a sliding door that leads out to a patio and rear fenced yard. Even though the home is located in walking distance to the historic district of downtown, when you're out in the back yard you get the feel of a secret garden tucked away where you can quietly tend to your favorite herbs. There is a full basement that's not creepy, a two car garage off a paved alley, and fully matured hardwood trees offering welcome shade from the hot summer sun. We are going to see some great and good changes in that particular neighborhood due to the on-going plans for that district.
The current owners had every intention to live in the home for the remainder of their days until after much soul searching, they decided to live out their golden years by becoming stewards of an orphanage in one of the very poor west African countries.  They spent some time there about a year ago and after seeing what great good they can do for those children, they've decided to offer all their time and talents in order to help those in great need. I'm sure once the home sells, and they get themselves settled into their new calling, they will be a Godsend for those whom they are freely helping to create new and better lives. I'm not one bit concerned they will fail in their new positions because they have many skills that those orphans will be eager to learn. Upon inspection, you'll see it's meticulously cared for, and above all, it's squeaky clean at 218.