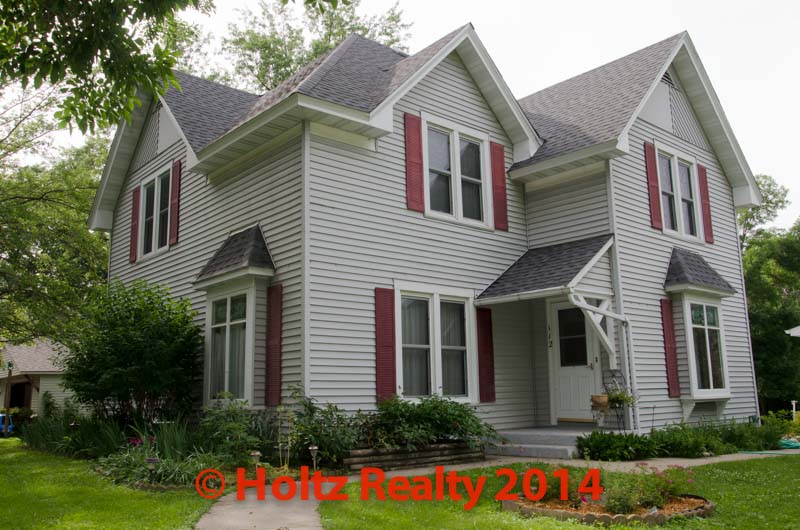 I have a listing located in our bedroom community of Plymouth which I find to be one of the most charming of older homes. Many years ago when I was just a newbie Realtor and perhaps only in the business for likely several years, I started working with a handsome young couple who was looking for a home to raise their family. We spent some time viewing homes, but the one they fell in love with was a home that was owned by the retired postmaster of Plymouth. The postmaster and his wife had raised their family in the home and decided to move into a condo here in Mason City due to their advanced years. We managed to get the the home purchased and they began making it their home. Not realizing how long it had been until they called me to list it so many years later, I discovered they indeed raised their family there and as well grandparents themselves. The only reason for their selling, is that they had an opportunity to purchase an "empty nester" type home from a family member.
Upon my first inspection, I was completely amazed how well they'd taken care of the home since I was last there so long ago and also the amount of big ticket improvements they made while living there. There is now a very nice modern kitchen, a half bath installed upstairs in the fourth bedroom, a giant 3 1/2 to 4 season's family room added that overlooks a beautiful rear yard, and to top it off, they had a quality constructed over-sized double garage built. The normal upgrades include newer siding, newer thermal windows, high efficiency furnace with central air, and a main floor laundry. I'd forgotten how deep the basement is where a person could create a charming little hobby area tucked away in one of the corners. The main floor family room could easily be all seasons if one would remove the electric baseboard heating system and run ductwork from the furnace in the basement to the accessible crawl space under the family room.
There are few features this home has that one would have to travel far and wide to find. Firstly, there are some absolutely gorgeous stained glass windows in two of the main floor rooms. Secondly there are two sets of pocket doors that when closed offer some additional privacy for those rooms. Thirdly, the home has a den with a closet on the main floor that could be a dedicated bedroom if necessary. And lastly, this home has a full bath on the main floor. Normally one wouldn't find a full bath on the main of a turn-of the century home. The owner was good enough to supply me with a long list of recent improvements that were made on the property.
We had one offer on the home several months ago, but we couldn't come together on terms. Too bad for that buyer. I'm convinced there is another young couple in the North Iowa area that is looking for the same thing the young owners at the time were looking for as their nesting place. Every time I'm in the home, I get the feeling of it being a sort of safe haven where one could come home and simply enjoy the peace and quiet of the neighborhood. Being on a bit of a dead end street on the edge of town makes it all the more serene. So if you're looking for the best of a small town, you'll find that everything's fine at 112 Pine.