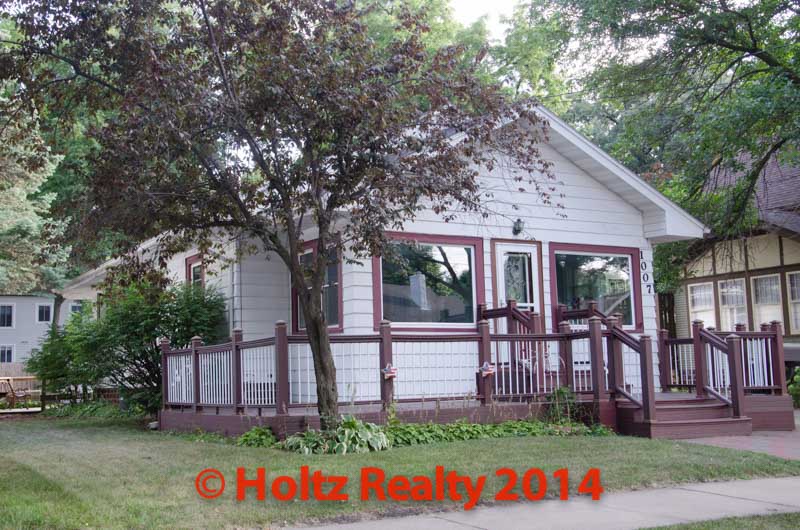 I just last week listed a home that I sold to the current owner many years ago who decided it is time to sell. To the seller's surprise, I remembered the home well after over 25 years of not having been in it. What the keystone of memory of this home are the numerous french panel doors—especially the bank of them spanning the whole north wall of the living room. One of them serves as the entry door from the enclosed front porch to the living room. There is another door leading into the master bedroom from the front porch as well.
The living/dining room is longer and wider than normal which affords space to place furniture. The home also has a much larger than normal bathroom that has a door from the hallway as well as from the master bedroom. The kitchen even has the original french style cabinet doors and a cozy breakfast nook that just makes you want to set a spell and have a cup or two. There is a finished bedroom in the basement with an egress window for that added third bedroom. Since the time I sold the owner the home there have been many upgrades including new windows, furnace and air, decking on the front, a new double garage and much more.
There isn't just one feature that stands out above all others, but rather the entire balance of light, space, and convenience. Indeed this home was a great cut above those built during those years immediately after WWI due to the the french doors leading out to the porch that likely had cottage windows and screens that could be opened to allow for the cool evening air to move through the bedroom and living/dining room when the french doors were opened. In looking at the placement of windows, this home's floor plan offers perfect natural cross ventilation when the windows and french doors are open.
I would have loved to see the look on the faces of the new owners who were likely newlyweds after the husband returned home from the war. I'm sure their faces beamed when they had their first viewing of this home. Certainly their years spent in this home were delightfully memorable just as the current owner's. I am having a public open house on at this residence on Saturday from 1:00 – 3:00 PM. I have no doubt that the new owner will have a soft landing here as well.
Click on the link below to view this 1918 classic.