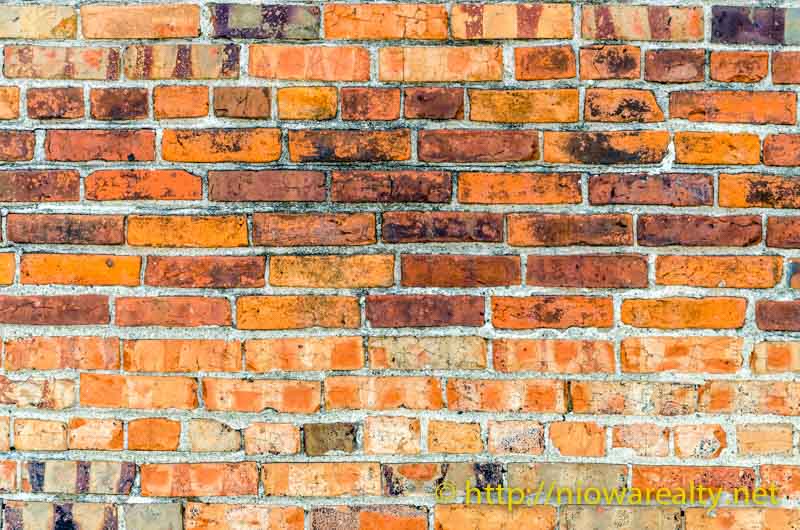 In my out and about day today, I happened upon a brick wall of a building that is likely over 100 years old. In looking at it more closely, I was taken back in time about 20 years when I worked out of another old building that is no longer standing in the downtown. The downtown Fareway Store's parking lot is where that building stood.
In the back of that building there were two very tall windows that had a view of only a narrow alley and the brick wall of the building across the alley. The area where those windows were was a designated lounge of sorts. There were two upholstered chairs, several lamp tables and lamps. Sometimes I would go and purchase a take-out for lunch and return to that lounge area and eat. The shadowed light coming into the building from those tall windows was very comforting as well as the ever-changing look of the brick wall due to the way the sunlight would shine on it. In time I found looking at that old brick wall to be very calming. Not one of those bricks were exactly the same. Perhaps it was like looking at a landscape painting with all the intricate details. I considered if only those bricks could speak of what they have seen and heard since being locked into place. I also found myself being able to think more clearly about something while looking out at that brick wall. In discovering the "soul" benefits of that blank brick wall, I came to a real understanding of why yoga centers are very minimal with decorations and furnishings.
I was fortunate to have the opportunity to peek into a highly recognized yoga center located out on the East Coast and was indeed quite taken by the building's interior. I quickly understood why it was so popular.
I do hope our downtown continues to flourish and the old brick-walled buildings to be maintained and improved. Every time I see an old brick structure being leveled and hauled away to the landfill, I think, "Why didn't someone at least try to salvage the brick?" Out in California, some of the high-end home builders pay dearly for old bricks that are used to build interior fireplaces as well as some of the brick ornamentations inside and outside the homes.
I do hope everyone takes a few moments when passing by a blank old brick wall, look a little closer, and allow their eyes to see the decades old beauty of the brick walls.