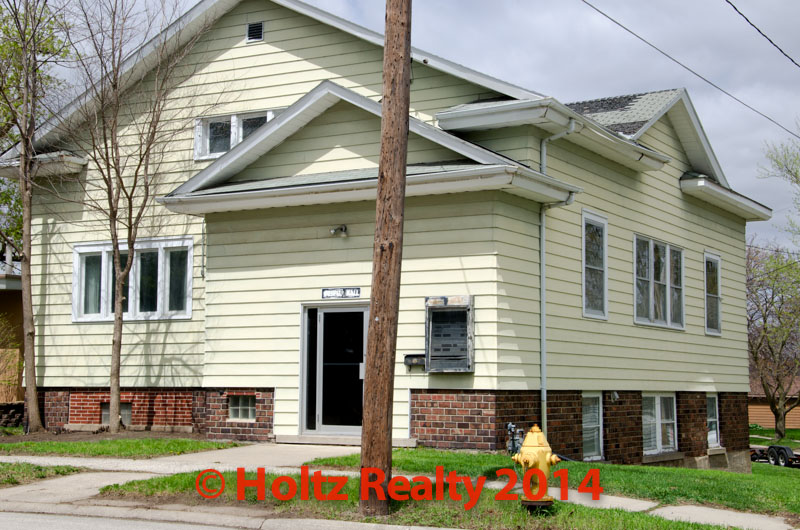 After all these years of selling properties in Mason City and North Iowa, for the first time in my career, I've been given the opportunity to sell a church. I have driven by this particular church numerous times on my way out to the east-side shopping center. It was originally built in 1910 as the East Side Presbyterian Church. Some years later, it was sold to the Full Gospel Hall. That likely took place when the First Presbyterian Church was built on the west side of Mason City.
The previous owner purchased it some years ago and attempted to convert it into a residence, but most of the original components of the church remain including the pews and pulpit. I had never been in this church before and I can say my first impression was far better than I expected. The original stained glass windows are very simple with no religious designs in them. They cast an interesting glow of light green thru out the main floor. The ceiling in the sanctuary is rounded in the center with several beams. Someone drywalled the choir loft up to the ceiling in an attempt to create a private room on the second floor. It could easily be removed to allow more light filtering down to the main floor. The lower level has a walk-out and offers a large meeting room with a big kitchen as well as bathrooms.
The main floor has been carpeted but I would wager there are likely hardwood floors under the carpet. The pews are in very good shape and if someone didn't want to use the building as a church, they would likely get a good price for the pews. When I was alone in the church and taking photos, I was beginning to see more and more possibilities for the future buyer. It has a certain je ne sais quoi about it that I find rather difficult to describe. The thought that keeps coming to mind is that it would make a great yoga center. I don't mean the exercise yoga, or the heat yoga or any of the off shoots of the original yoga that has been around for years. If a person would remove the pews, get rid of the carpet, remove the covering over the top of the windows where there is likely more stained glass, one would have a very peaceful place to go.
I would encourage anyone who is looking for a structure with infinite possibilities to schedule a viewing. Click on the link here and let the spirit move you.