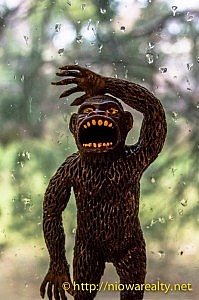 Every once in a while I list a property which is priced within its range and has no major negative defects yet continues to be shown over and over again. I ask the agents for feedback and they always seem to give vague and sometimes cryptic reasons why the buyers passed over it.
My take on why the home hasn't sold is simply because it's caught in that price range where young buyers consider it not good enough because all the programs they've seen on television have them convinced they should be living in a "picture perfect" home. It was built back in 1954 by the previous owner who lived there with her husband all their lives. Big ticket improvements were made during those years such as wiring updates, permanent siding, high efficiency furnace with air conditioning, and about half the windows replaced by thermals.
Every time I show the home, I look at it as about a month's worth of work getting it up to par with all the other picture perfect homes selling for tens of thousands more. I would tear out all the carpet and re-finish the oak floors, replace the kitchen sink and countertops, paint the kitchen cabinets and replace hardware, remove the front elevated patio, clean up the woodwork, re-place the remaining smaller original windows in the bedrooms, paint the walls and ceilings, clean and paint the basement, and add a little landscaping.
The hard costs of these improvements would likely be at most in the $5,000 – $7,000 price range if a buyer would do as much of the work as possible. It actually would be what I would consider a fun project because the home isn't that large and is only a single story ranch. The buyers that are now showing interest in it are investors who are viewing it as a great rental investment. It will be unfortunate if it does sell to a landlord because I believe this home would give a first time buyer and opportunity to create sweat equity fast. I know times have changed and people have fewer skills when it comes to home improvements, but I do hope the parents and relatives of these younger buyers realize more fully that the first time buyers must learn to create for themselves.
With Spring arriving, I'm confident there will be a buyer looking for his or her first home who will look past what is there and see the core value that's waiting to be unlocked. Until then, this home will continue to be my gorilla listing. Click on the link below to view this listing.