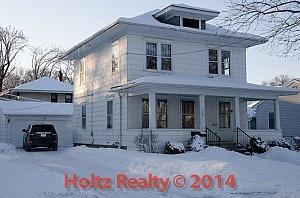 On Saturday from 1:00 – 3:00 PM Holtz Realty will be offering 1108 N. Adams, Mason City, IA
In spite of March coming in like a lion, make sure you take the time to view this top of the line two story that has not been on the market in over a half century. You'll see why the family owned it for so long due to the quality, comfort and convenience it offers. The main level offers gorgeous oak woodwork and floors while the upper level features stunning hard maple floors and woodwork. There is a half bath on main floor, shower in basement and full bath upstairs. All appliances are included in the price. You'll also appreciate the newer 2 ½ stall garage with opener. Stop by and visit with your host Joe Chodur. Bargain priced at $76,000.00 Be assured, this home will WOW you!
Click on the image to view this listing.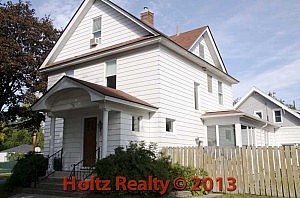 On Sunday from 1:00 – 3:00 PM Holtz Realty will have open 823 N. Jefferson, Mason City, IA
There's no bones about it, this grand 4 bedroom home is waiting for the new buyer who will continue on with its long and beautiful history of ownership. The window placement in this home is all about natural light. You'd likely not have to flip a light switch all day while enjoying its comforts. Once you create your own personal sanctuary, you'll be snuggling up to the main floor den's fireplace. There is a ½ bath on the main floor and big full bath upstairs, gorgeous oak woodwork and built-ins, a chef's kitchen with breakfast area, big 2 car attached garage, permanent siding, high efficiency furnace with central air and much more. We've had a radical price reduction on this home so don't wait. Stop by Sunday and visit with Joe Chodur your host. Asking $78,000.00
Click on the image to view this listing.