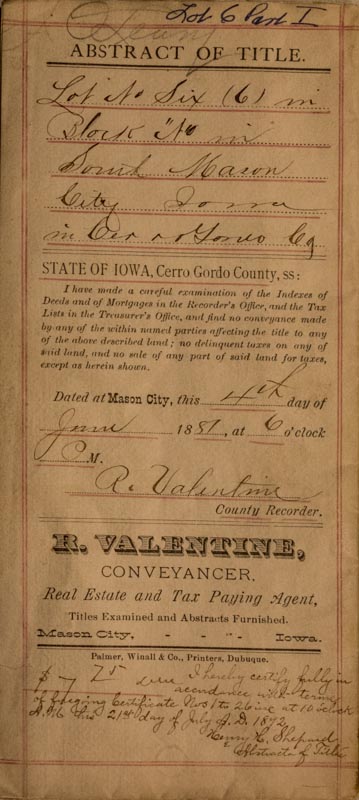 More times than I could ever remember, I've had buyers and sellers ask me about an abstract of title. Here in Iowa, the abstract is important in determining the saleability of land. Saleability in this context would be considered the ability of an owner or current titleholder being free to sell his or her ownership in land without any outstanding liens or financial encumbrances that could not be extinguished at the closing of the sale. At most sale closings, there are taxes to be brought current, mortgages to be paid off as well as any judgements outstanding against the titleholder. This is where the importance of having an abstract of title comes in. It contains all certified entries reflecting the current and previous ownerships as well as written proof that there is a true and accurate "chain" of legal events that affirms and certifies a true history of past and current ownership over the past 40 years.
Since I have been selling real estate likely before many trees were planted, I have in my possession several very old abstracts which I keep as a reminder of how tedious and time consuming an abstractor's job was back before typewriters and computers were invented. Before the age of information, an abstractor was a person who would carefully check all recorded documents in the courthouse of the county where the property was located. Often times an abstract office was owned by an attorney who was fully familiar with land title laws. I've heard stories about attorneys who owned the abstract offices prior to the turn of the century. They would take their note pads to the courthouse, dig thru volumes of "big" books and come back to their offices and personally dictate over the shoulder of one of their stenographers as they carefully made hand written entries in the abstract. I can only imagine what that must have been like during Iowa's sweltering summers with no electricity and of course no fans or air conditioning while someone was dictating over-the-shoulder long hand entries.
I intended to be a bit more specific about abstracts of title, but I've discovered that I would be creating a very long article. I've seen photos of attorneys offices prior to 1900 and I can certainly say they had their days as well. If the pot-bellied stoves we not burning well enough, the stenographer's fingers must have been numb, and if the high summer temperatures reached a blistering point, they must have done everything they could to keep from dripping sweat on their parchment-like papers.
We should be thankful how easy we have it sometimes. The photos I am posting are of an abstract of title that was certified by R. Valentine at 6:00 p.m., on the 4th day of June, 1881. He must have stayed late that night and re-read what he had dictated before signing it. Very old abstracts of title are quite interesting to read, especially some of the notations in the margins. Their handwriting was absolutely beautiful.