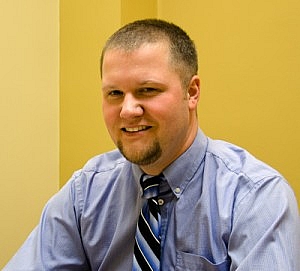 Today was the first day in the life of real estate for my new sales agent. His name is Brandon Neve. He's a native of Mason City so I'm sure many of the residents here know him or someone in his family. He is very pleasant and knowledgeable. I have personally known him for about 5 years and have always thought he would make a good agent. His people skills are excellent and I'm confident everyone will like him. His great love in sports is softball so you may even find him this summer playing in one of the leagues.
He has high standards and I have no doubt that he will be a great asset to Holtz Realty as well as the buying and selling public of Mason City and the North Iowa area.
It's wonderful to see a young real estate agent wanting to continue the tradition of excellence with our company. It appears his long vacant desk was waiting for the best.