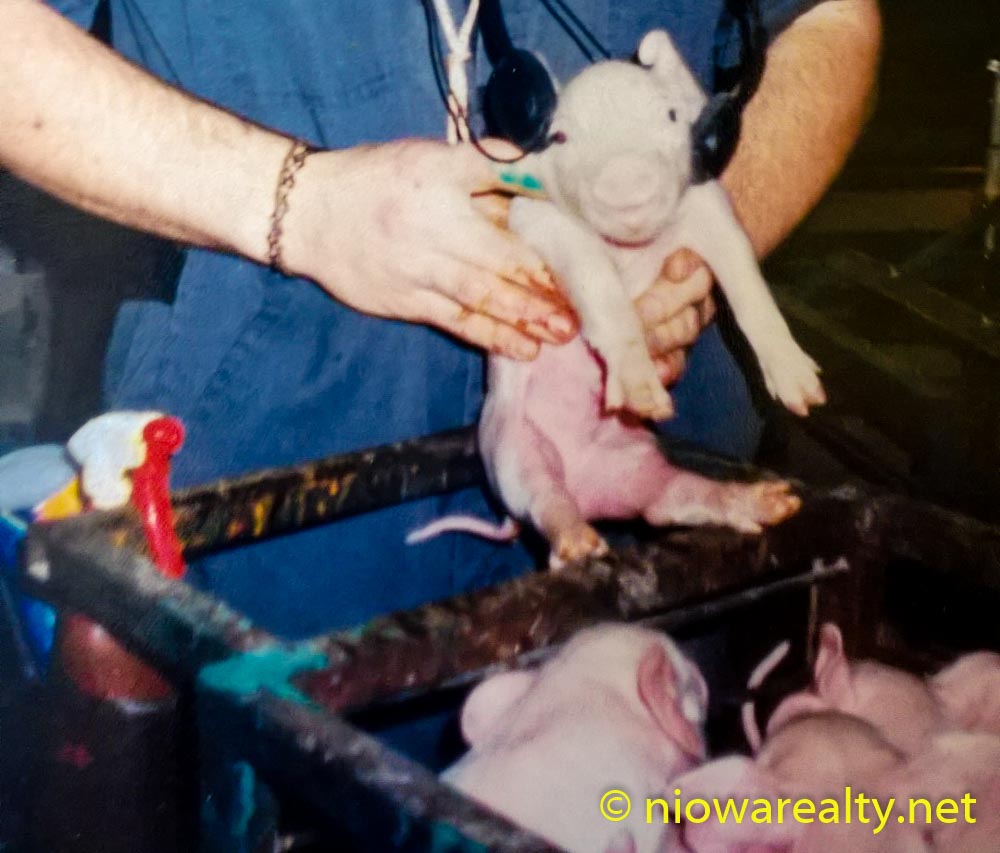 Today was much slower than it has been over this past week with calls from prospective buyers.  Part of it was likely due to the intermittent rain that started later this morning.  I'm sure after the rains stop, we'll be seeing some major greening up of North Iowa.  Having shown a particular couple a number of homes over these past months, I'm happy to have found several they're showing some real interest in purchasing.  Sometimes it takes a number of views for given buyers to decide what really are the most important features a home must have to create enough of a comfort level to where they can envision themselves living for extended periods of time.  I try to remind buyers that there's no perfect home for anyone—there's always something that could have been done in its design to make it all the more functional for their lifestyles.
Believe it or not, each and every one of us have "original" tastes to where the wholeness of the packages could've had a re-fit to be more custom to our particular and intrinsic prefrences.  Not long ago I showed a home to a person who was so detail oriented and overly specific in things he wanted, I drove away thinking, "There's no home that exists in our City that fits all his criteria—especially in the price range he's forced to remain.   There'll be more than one of those "must have" features he'll have to give up before he's even close to living in his dream home.
To my surprise I've been having a large number of people asking my opinion on the proposed hog processing facility that's on our table.  I do understand some of their concerns as well as the possible spill-overs of more hog confinement facilities sprouting up all over North Iowa which we know full well how smelly they can be when the winds are in the wrong direction.  I was thinking long and hard about the path on which Mason City has been moving and I'm not sure if that facility fits the grand scheme of it all.  I've always looked for Mason City to evolve into a multi-spoked hub of technology, health care, elderly housing, nature orientation, specialty manufacturing, and of course an oasis of mercantile where people from all over North Iowa and Southern Minnesota will come to make a day of it.  While walking down the aisles of all our grocery stores we continue to see more natural products being offered.  Our general public is becoming more educated in knowing the benefits of eating natural, wearing natural, and living in more eco-friendly environments.  A fast paced high volume pork processing plant doesn't fit in the hub I've envisioned.  I do hope the powers that be take a good hard look at all facets before rubber-stamping their approvals.
I got a good laugh today when someone lightly dismissed my having used a few crude words when in the company of others simply because of something someone had done.  I said, "You know how I really don't like using such language and I  must be all the more careful about it not becoming a habit."  I told her what happened when leading up to my using those words and she said, "I hope you now more fully understand why it's OK to enter into the state of situational vulgarity because it does help to reinforce one's determination."  I understood the justification, but I still had a good laugh over the reasoning.  Justification is evil, but an arms-length reasoning puts us all in balance.