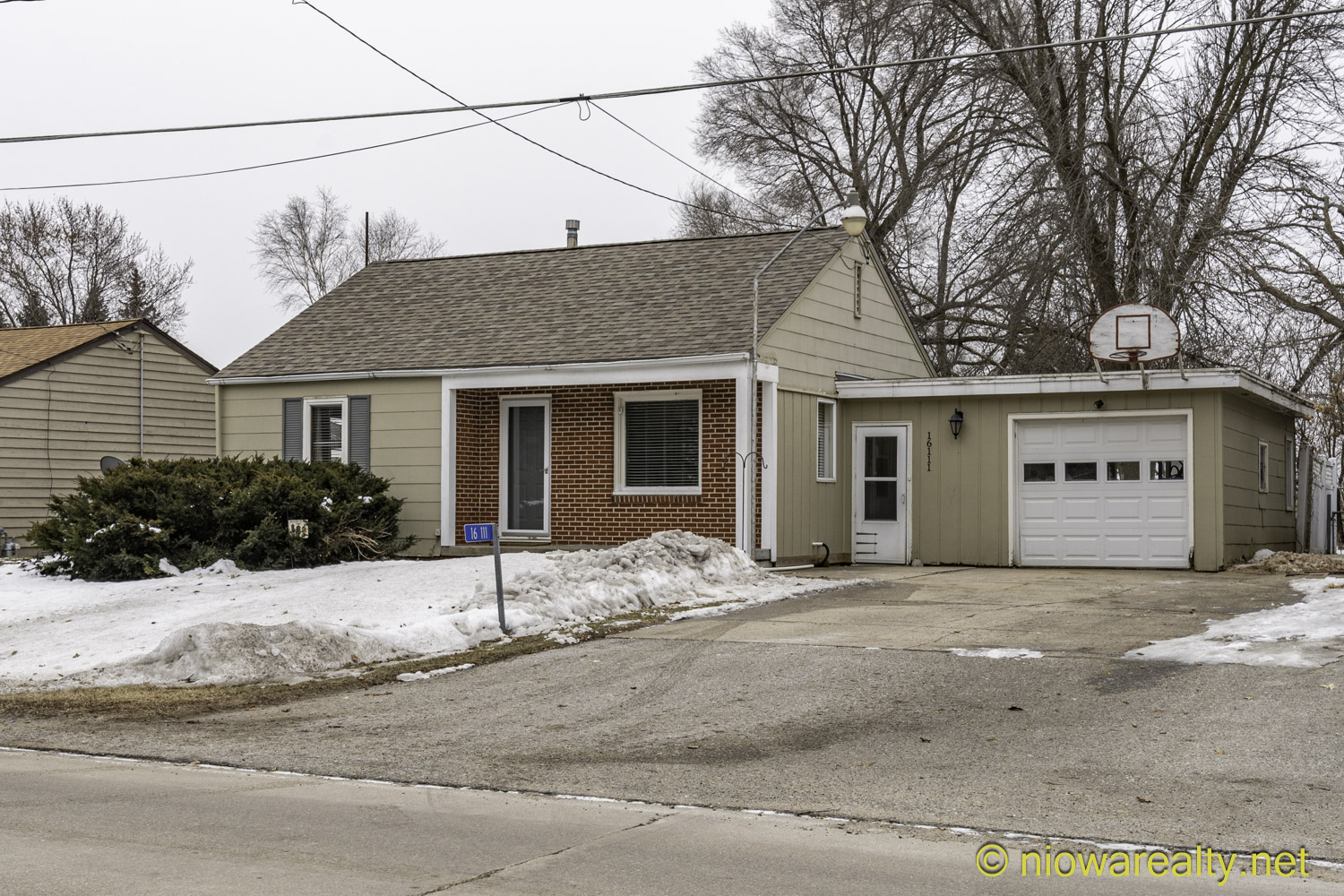 View More Photos
It seems the talk of our town, has been when and how much snow and/or ice we'll be getting with the storm that's heading our way. When looking at the map, I'd say we're gonna get snow instead of ice, but as we all know, Mother Nature's always has the ability to pull a fast one on us from time to time.
The first and foremost thing I had to focus on this morning, was getting my listing file readied for my mid-morning appointment, and after reviewing the comparable sales again, I felt pretty comfortable with the price range we'd be talking about.
There was an unexpected call that came in from one of my clients who owns the house I'd been marketing as a rental, and thank goodness it came early enough, because I was just waiting for a decent hour to call another prospective tenant. Unbeknownst to me, my client had found a person who wanted to buy it, so as soon as I got off the phone, I closed out the advertisements I had posted on several sites, and then proceeded to delete all the email inquiries that had come in on it, and just for kicks, I decided to count them, and to my surprise, there were far more than I would've ever imagined, which is telling us there's a great shortage of affordable rental housing in our City. At least I now won't have to be dealing with those endless requests from prospective tenants.
I managed to arrive at my listing appointment a few minutes earlier, and when I pulled up, the owners were already there waiting for me, so I proceeded to get a full re-inspection of it before we sat down to talk about pricing. Oh my goodness, they did an exceptional job of getting it readied for sale! I was in near shock when seeing how much work they'd done in such a short period of time, and especially the high degree of workmanship.
We went over the most qualified comparable sales, and ended up listing it at a bargain price of $112,500 which is well in the reach of our first-time buyers. The home is located at 16111 – 245th St. which is out at the edge of our City. I'm confident it'll sell because it offers three generously-sized bedrooms, two baths, main floor laundry, a large eat-in kitchen, and an attached garage. The rear yard is larger than most, which would make a great place for a garden or children to play. All the appliances including the washer/dryer will be included which is also a big plus for first-time buyers.
That home has been in their family for a very many years, and you can definitely tell they'd kept up on the maintenance and care of it, so if you know anyone who's looking for a move-in condition home offering everything on one floor, please have them give me a call, because I'm not so sure how long it'll be on the market, and especially knowing how fast homes have been selling these past two weeks. The exterior photo is what I have posted, so if you'd like to see the interior ones, click on it, and it'll turn into a slide-show. Yes, listing that charming home, was the highlight of my day.
When I got back to office, I proceeded to get my new listing posted and then uploaded into the cyber universe, and wouldn't you know, the phone calls started rolling in from other agents wanting to show it, so as of right now there've been four showings on it, and others scheduled for this week.
Once I had everything completed with my new listing, I headed up to Manly to meet a contractor, just so I could get a bid on some work that's needing to be done. After everything was measured-up, and the calculations done, I was told it would be eight to ten weeks before the materials would be available. When is this material shortage ever going to get back to normal? I can only imagine how many people are being held underwater with such long wait times. I know my seller's not going to be happy when I forward that information to him tomorrow morning. We're most likely gonna have to go back to square one, and get something else figured out.
By the time I got back to office, the afternoon was almost shot, so I decided to get back to my computer and check on today's news feeds, which soon filled me with an information overload about what's been happening here in the States, as well as around the world.
I'm growing all the more disgusted with that crazy Marjorie Taylor Green's idiot statements about Biden, the dividing up of our Country between the red and blue States, and all the other goofy attention-getting statements she's been making. I swear some of our bat-shite crazy elected officials are being secretly funded by either the Chinese or Russians, just so our Country's unity becomes all the more frayed. I know it sounds terrible, but she really does have the face and mouth of a shaved monkey.
Putin's belated yearly address to his propagandized citizens was filled with more threats and lies, but what I also read, was there having been verifiable information leaked about Putin's plans of absorbing Ukraine, Belarus, and Moldova into the folds of Russia by the year 2030. Yes, he's sure hellbent on re-creating the old Soviet Union. I'm sure the Belarusians will be hot under the collar when they hear about that. Lukashenko's totalitarian regime will likely be the next one to fall, so hopefully once Ukraine takes back what Russia grabbed from them, perhaps they'll be all the more willing to turn their eyes in a westward direction, and if that should happen, Poland and those three Baltic countries, will be resting all the easier.
Wish me luck at my pre-listing appointment which I have scheduled for tomorrow.
Tonight's One-liner is: Personally, I'm always ready to learn, although I don't always like being taught.
Related Property:
16111 – 245th St. Mason City