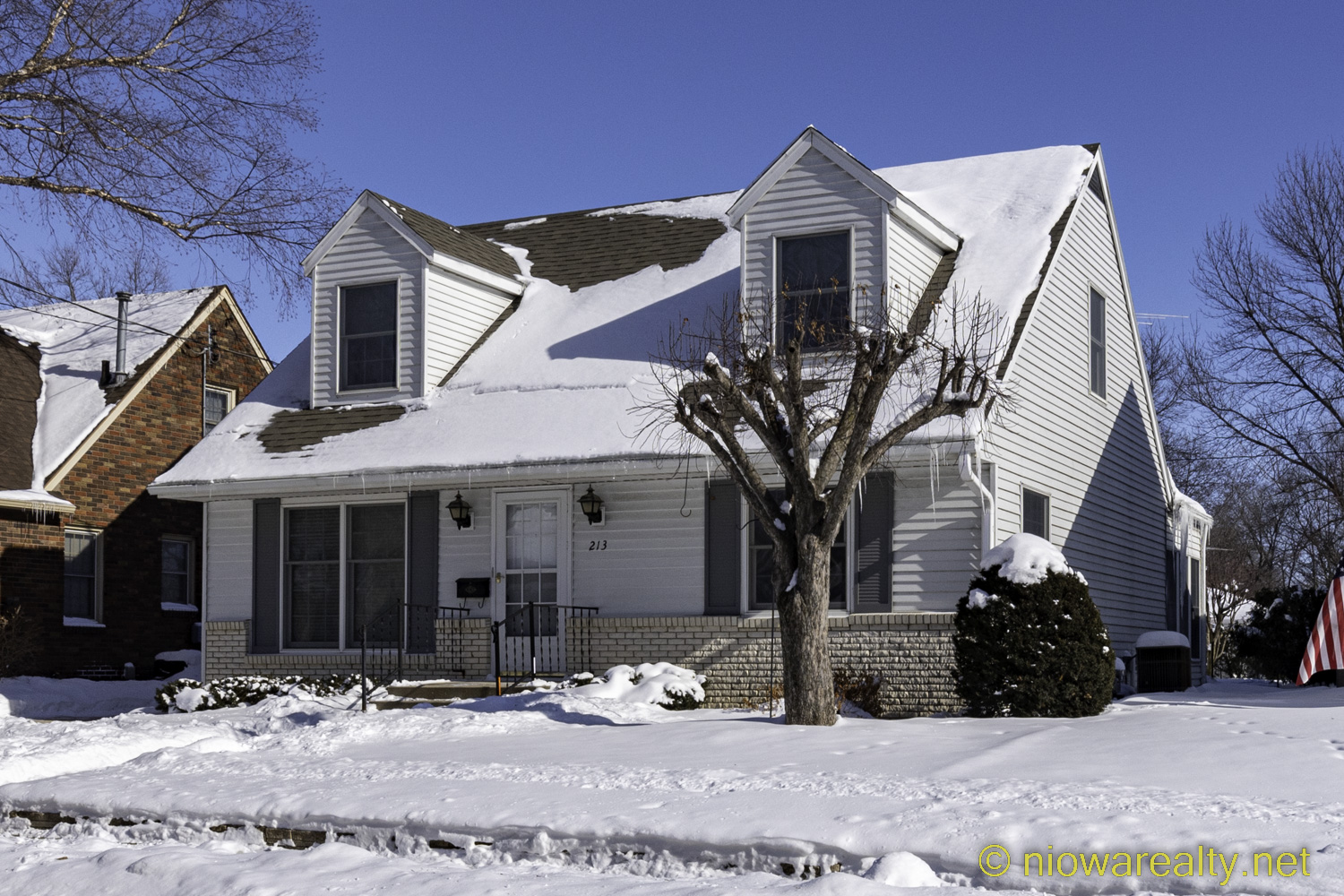 View More Photos
Another below-zero morning was encountered when heading to work early, but fortunately, we should be back above freezing by tomorrow afternoon, but then it's going to drop back down again, and then back up on Saturday. Now that we're waving good-bye to the month of January, we shouldn't be having the extended cold-snaps like we've had these past months. Just think, it'll be officially the beginning of Spring in one month and 22 days. Yeah!
My morning was filled with more desk work, bill-paying and errand running, along with getting a listing file readied for my early-afternoon meeting with a seller. I also spent some time visiting with my dear friend whom I'd not spoken with in over a week, and happy to hear all's been well with her. She always makes me laugh to myself whenever I say or do something that reminds her of my mother, and of course she would know best because she worked with her a number of years ago. Yes, there've been times when hearing something coming out of my mouth, and then suddenly reminded of a line or two similar to what my mother had said at one or more points in time. I'm just gonna blame it all on morphic resonance and leave it at that.
While out, I stopped at Wendy's and picked up a small order of chili, and then took it back to office for a doctoring-up before I ate it. Of course spoiled me, always has to have his own chips or crackers to go with it instead of what Wendy's sends along. For some reason, their crackers have a funny taste which I don't care for. I used to ask them not to include crackers, but they would do it anyway, so I quit asking.
When it came close to the hour of one, I gathered everything I needed for my listing appointment, including my camera, lockbox and yard sign, and headed in that direction.
I got there early enough, just so I could get exterior photos taken, just in case there'd be a car in the driveway, and as chance would have it, the seller pulled up just as I was taking the exterior shots.
Once I got those photos taken, I grabbed my listing file and headed inside where we went over all the documents before being signed by the seller. I then proceeded to get all the rooms measured up, along with notes taken whenever needed. After that was finished, I went back out and grabbed my camera and began taking interior photos. I did mention how thankful I was for the sun to be shining brightly, and only because natural light does wonders for interior presentations.
I know I mentioned it more than once, but I couldn't help saying how well the home had been taken care of since it was built in 1977, and being a one-owner, it was quite evident how particular the owner had been with it's upkeep and improvements. Gosh, I'd say today's listing will go down in history as being this year's cleanest and maintenance free.
Just so all my readers can have the first crack at seeing the photos and remarks on my new listing, I've created a slide-show which will begin as soon as you click on tonight's photo which is a front-curbside shot of 213 S. Tennessee Ave., Mason City, IA.
We have the home listed at a marketable price of $196,500.00, which I believe places it in direct competition with those few existing listings in its price range. It's in a great east-side neighborhood, along with being located on a less-traveled street which is always a bonus for those who're not wanting to live on race tracks.
Below you'll find my narrative of the home which I'll be posting in our MLS tomorrow, and subsequently getting disseminated out into our cyber-universe, so if you, our anyone you know is looking for a home of such high caliber, please have them give me a call on my cell phone which is: 641-583-0289.
Here are my public remarks:
Curtain rising on this exceptionally well-built and meticulously maintained one-owner home that has it ALL. Offering 3 generous-sized bedrooms, 2 full baths, all kitchen appliances stay, including washer and dryer, delightful 3 season's room off the family room with panoramic views of its charming rear garden area, full basement which could easily be converted into additional living area, 200 amp electrical service, steel siding, shingles approximately 5 years old, a large 2 car garage with opener, fenced yard, walking distance to all three schools and east-side shopping and more…This home is a cream puff, so don't wait another moment to make the call.
If there's one thing I've noticed with our recent market trends, is the attitudes of most buyers, and that is their now steering away from homes that require immediate structural or cosmetic updates, and then zeroing in on homes that've been kept in good repair, and properly maintained, which makes today's listing a prime candidate. Take a closer look at the many photos I've taken, and you'll fully agree.
Before I left the home, I attached the lockbox to the front door, and then managed to get my yard sign firmly planted in the front yard. My final thoughts while driving away, was hoping whomever buys it, will continue on with the loving care it's continually had.
Once back at office, I submitted a copy of our listing agreement to our MLS, and then busied myself with making copies of all the docs which I placed in the mail to the seller. Yes, the experiences I had while listing 213 S. Tennessee, ended up being the highlight of my day.
Tonight's One-liner is: Men are only as great as they are kind.
Related Property:
213 S Tennessee Ave