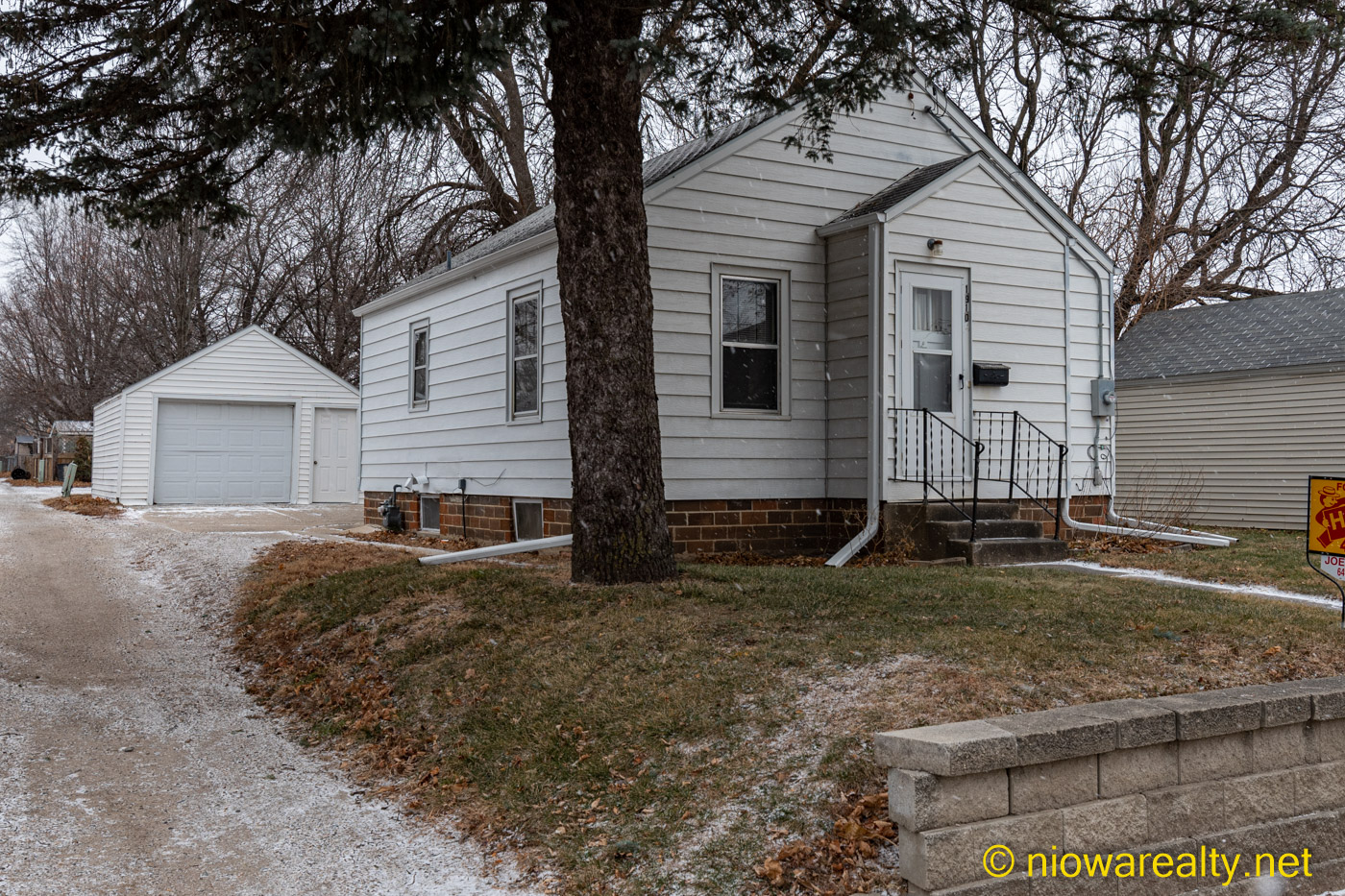 View More Photos
Thank goodness the wind went down in the night which meant we didn't have to deal with those horrible wind tunnels in the Downtown again today. I was holding my breath when seeing the light snow flurries beginning to fall, and when it stopped I said to myself, "We dodged another bullet." I know we do need snow to keep the frost from going too deep, but at least let it not snow until the 1st of the year, because we'd still have more than enough time for it to pile up before Spring arrived. Right?
One of my buyers called on a new listing that showed up last night, and wanted to look at it as soon as possible, so I quickly text the agent and got permission to show it. Having been in that home the last time it was listed, I was pretty sure it would be too small for her and family, and as we were walking out, that's exactly what she admitted. Yes, those doctored-up photos many of our agents are posting online are making for more un-necessary showings. I had to laugh when pointing out the wallpaper that looked like stone and then seeing the look on her face when discovering it wasn't real. Before leaving, I insisted I would find a good fit for her as long as she remains patient.
I had an unfortunate happening take place early this morning where a worker closed a door on a commercial building so hard, that went past the strike plate which made it impossible to unlock it again. I called the "boss" who immediately went to the defense of his worker and that's all I could say was, "Irregardless what you say, he forced it and made it stick and it's up to you to get it open."
By the time he arrived, I'd found another entrance and proceeded to work on getting that door back to where it belonged. I tried all I could to get it to release, and then when he pushed on it, it finally opened. I would've left it at that, but his rushing to the defense of his worker angered me enough to where I said, "Not only did I have to wait for your worker to finish eating his take-away breakfast in the cab of his truck, I also had to listen to both of you insisting on being free of any wrongdoing." After a few more words out of his mouth I finally told him to leave and never come back. While listening to the way in which he drove off, I could tell he wasn't a happy camper, but it remains all on him. After I arrived back at office, I placed a call to the owner and told her what happened, just so she'd be alerted if the owner of that business should call her. I'm sure after I hung up, she had his company on her "Do not use list".
That little incident was yet another example of how quickly many in our general public race to the finish line of being completely innocent of any mistakes they make to where it borders on being ludicrous. Personally, I dare not even begin to think about how many times I've taken the blame for others because it just isn't worth the fight, and especially when it has anything to do with real estate sales. Someone many years ago insisted that I learn to pick my battles, which I can now safely say, most of the time I do.
With camera in hand, I drove over to the home I have listed at 1910 S. Georgia Ave. to get some new photos taken of it now that the owner has it all freshened-up. When I walked in, that's all I could say to myself was, "Wow!". The carpets were all professionally cleaned, the paint was touched up from the previous tenant, and the basement was fully cleaned and painted.
After I got back in my car, I text the owner and told him we may possibly have it sold quickly because of how much better it shows, and because you really can't find much of anything worth purchasing under $60K in our City that's move-in ready. I'm pretty sure we'll be getting calls on it, and possibly able to sell it myself. If you click on tonight's photo of this home, you'll see the new shots I took of it today.
With about an hour to kill, I buried myself in my first of the month accounting, and for the strangest of reasons, one of the accounts was off an even amount, so I re-ran the numbers on my calculator and it actually showed the difference. This is the second time my calculator has done that, so if it happens again, I'll be looking for a new one. I would say in all these years of selling homes, I'd say I've gone thru at least six of them. You'd think they'd never wear out, but unfortunately they do. The machines I truly enjoyed using back when I worked at the bank, were those full-keyboard adding machines which were built like tanks and never failed.
One of the businesses gifted me a big coffee mug today, and while I was stopped at a stoplight, I turned it over to see where it was made, and of course it was "Made in China". After reading some years ago about some of the glazing on ceramics arriving here from heaven knows where, containing lead and other toxic ingredients, I quit drinking hot fluids out of them, so today's coffee cup will get shelved with all the rest of the promotions I've received over the years. I really wish more businesses would work at giving Christmas gifts that were made in our area, our State or our United of States, rather than making those off-shore companies all the richer.
I had to make another quick trip over to Charles City to pick up those abstracts I dropped off a week ago, and couldn't have thanked them enough for having them ready so quickly. While driving back, I did notice those farmers had finally picked those fields of corn which were still standing last last week. I'm sure they were glad to have it out before yesterday's wind arrived.
Without a doubt, this was a whirlwind day, and when looking at tomorrow's schedule, I'd say it's looking to be a repeat, but that's still fine by me.
Tonight's One-liner is: More than anything else, our preoccupation with possessions is what prevents us from living freely and nobly.
Related Property:
1910 S. Georgia Ave. Mason City