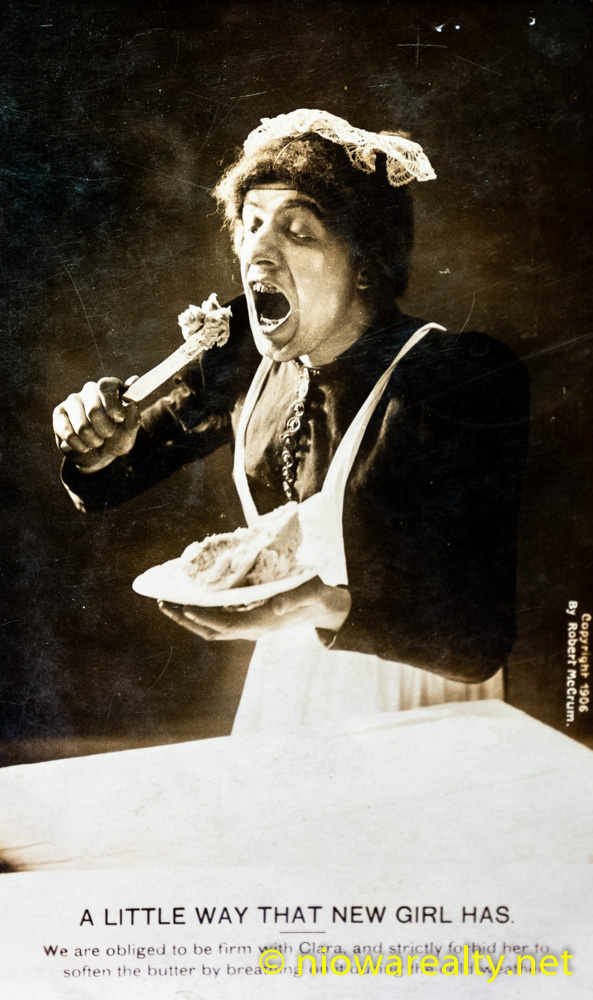 This was certainly the Tuesday to remember with the number of near immediate chores that suddenly arrived at my workstation this morning.  With a deep breath, I dug myself into the day, and by quitting time, I looked back and smiled while thinking, "You actually got thru it and still managed to keep everyone happy."
About two morning hours went flying by with continuous phone calls and emails all the while I was working at getting some pertinent information loaded onto an online platform.  Because of my being interrupted so often, I had to go back and make corrections on what I'd already loaded.  It was just another example of my one-track mind getting derailed.  Don't get me wrong about me only in possession of a "one-track", because I like to consider myself worthy of being considered a multi-tasker, but only when I'm doing something that's been hard-coded in memory due to my having  become proficient in various arenas of real of estate sales.  It's sort of like always being able to ice or roller skate once learned.
Late this morning, I listed a home located at 24 – 11th St. NE which will hopefully sell to a large family, or possibly to one that would  be considered extended due to the number of bedrooms, baths, and garage stalls being offered.  Believe it or not, it has 5 bedrooms, 2 3/4 baths, and a three stall garage.  Now where are you going to find a home like that for $125K right here in River City?  I took as many photos possible, but it'll still take an actual personal viewing by any given buyer to realize how much livable space it provides.  What makes it even better, is that the home is located on a double lot which creates a more commanding street view.  Who would want a big house squished between others?  Just today someone mentioned how much they dislike a particular district here in the City simply because of the limited size of lots.
Another part of my day was chiding several contractors I hired to get some work done that's been sitting still half finished.  At least I did get apologies out of both of them for being exceptionally negligent.  I fully understand our weather has not been the most cooperative, but it hasn't been raining every single solitary day for the past month.  We'll see if they get themselves kick-started this week.  I guess what bothers me the most is whenever someone tells me they're going to do something, and then later doesn't follow thru due to weak excuses, makes me want to go out and spit three times.  As far as I see it, we should never promise anyone the moon without being able to deliver.  Speaking of the moon, we should be seeing some pretty bright moonshine tonight as long as our skies remain clear.
Before calling it quits today, I somehow ended up on the subject of intentions with a client of mine.  I was using several recent examples of how in a creep-cool way, having good intentions for others seems to always bring about the best for them, but what's even all the more creepy-cool, is that those offering good intentions for others, seem to also benefit in a noticeably sort of way.  Therefore, what happens in the end are win-win situations for the givers and receivers of intention.
I can think of multiple times when personal intentions go awry, which are normally due to one or both parties possessing dark ulterior, and often times, selfish motives. Even wishing your self-less best for good friends and loving relatives oft times can't get past the intentional "wall" and only because of there being lingering hidden inner agendas.
Now let's take it one very important step further.  Can any of you imagine soulfully and selflessly wishing the absolute best for say, a sworn enemy or despised family member or even ex-friends?  If any given person has such a capability, then I'd be the first to bow in humility because that human has meta-physically risen to a higher social platform than possibly less than one tenth of one percent of our general population is capable of achieving because anyone who's able to control their evil "egos" which are in a continuous state of quietly whispering, is a feat worthy of the highest of honors.
The challenge I place on myself as well as you my dear readers, is to continue living out our lives while maintaining the mindset that we'll continue working at being our best at maintaining the best of intentions for each and every person crossing our paths, along with hoping my words of this evening will not fall upon deaf ears;  not so much for my sake, but for those of you whose minds that'll remain continually closed.
The above photo is of yet another postcard I purchased at Saturday's tag sale.  Isn't it hilarious?  I'm sure the maid in the photo is a man dressed up a woman just for all the sake of effect.
Tonight's one-liner is:  What lies behind you and what lies in front of you, pales in comparison to what lies inside of you.
Related Property:
24 – 11th St. NE – Mason City