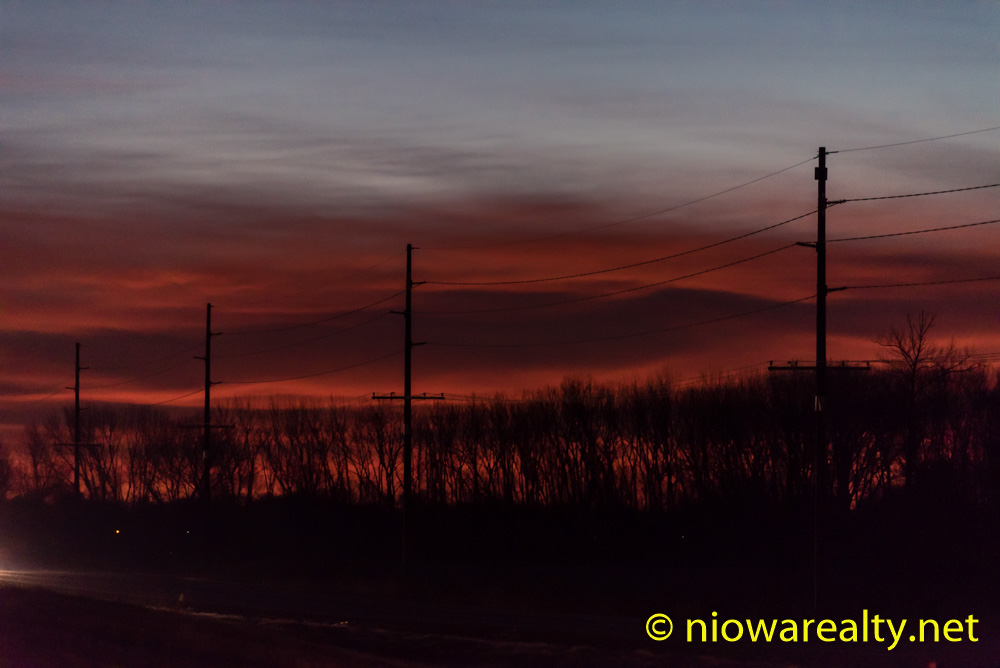 Wasn't it just the most absolutely beautiful day for the 1st of December?  I actually walked down to the closing office this morning without my winter coat, and it was just fine.  We've got November behind us, so now we can start whittling away at December.
The sale of mine that closed today just happened to be a building site which another agent had listed.  I promised the buyers that I would go out at place a sold sign on it after closing which they said I could leave standing for a week or two.
It was a wonderful drive over my lunch hour which afforded me time enough to absorb the stark beauty of North Iowa's landscape before the snows arrive.  When I got there and climbed out of my vehicle, I got smacked by the full force of the wind.  Wow!  It was blowing so hard, I had to brace myself against it.  I got my sold sign up, and off I drove in yet another direction which brought me past another acreage that recently closed.
I'd seen the photos online, but never had any calls to show it since it sold right away.  I had to smile to myself when looking at that forty acre long row of arborvitaes which the previous owner spoke so highly about.  He was right, because there were at least a 100+ of them growing along that fence line.  I would've guessed them to be about 20 feet tall and having grown so thickly tight, they appeared to be more the likes of a giant's hedgerow.  If I'm not mistaken, I believe he said he planted them about 30 years ago.
As far as I'm concerned, that treeline should be used as an inspiration for others to plant so to help protect their own fields against wind erosion. Believe it or not, I read an article about an area in Europe that does exactly the same thing with all their precious high-yielding soils.  When looking at the ariel map of that 40 acre plot, I could clearly see the difference those trees had made by the color of its soil.  His appeared much darker and likely richer.  Yes, we all must work at protecting our beginning sources of food which is our soils and water resources.  Food, water, and shelter have been our basics since we pathetic humans decided to jump from and stay out of the trees.
Please don't forget about my public open house I'll have open tomorrow afternoon at 122 – 11th St. SW here in Mason City.  It's really a great home, and certainly befitting someone with children.  That large 3rd floor bedroom is a child's delight in waiting because of it being big enough to serve as a playroom as well as bedroom.  Anyone into cooking will go ape over its new oak kitchen.  It looks like our weather is going to be pleasant tomorrow, so hopefully I'll have a good number of visitors/prospective buyers.
Since it grows dark out later in the morning and earlier in the evening, I've been  noticing some lighted signs of late that are way beyond annoying while out after the sun sets.  I'm surprised there aren't laws against having them so bright.  There are two of them that are especially noticeable, and the first and brightest is located near the corner of 1st NW and North Monroe.  The other that comes to mind is the one stationed in front of St. John's Episcopal Church which is located at the corner of 1st NE and North Pennsylvania.
I understand they want to attract business as well as new congregants, but to have them so bright makes for noticeable distractions while driving.  I can only imagine what people must have to do with their bedroom windows that live near them. So, the next time you're out after dark, drive by those two sites, and you'll likely consider them over-bright lights as I do.  Oh, there's another one way out west on Hwy 122 that must've been recently installed and being equally annoying.  Most don't understand the concept of light pollution.