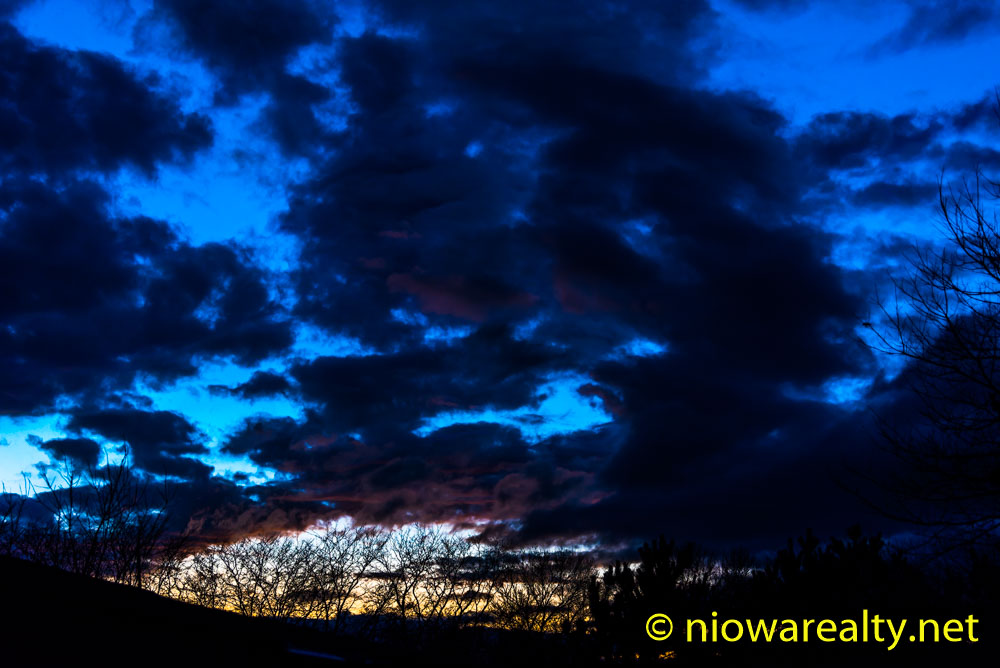 Wasn't it just an absolutely beautiful day we had? I think it was above 60 degrees this afternoon before the wind changed directions and started sprinkling. Thank goodness for it being that warm because I took the afternoon off so to get some outside work done and most happy I didn't have to bundle up while out.
The streams of vehicles on the highways was certainly yet another sign of how maniacal shoppers are about Black Friday. I had planned on stopping at Menards for some supplies, but when I saw how full their parking lot was, it was definitely a "forget it"! Standing in a long check-out line is on my top ten list of things of which I try avoid if at all possible.
I was visiting with someone this morning about Prairie Place on 1st which are the newly built senior condos in walking distance to our Historic Downtown. While driving back to the office I thought of yet another marketing possibility which I thought thru very carefully and it makes absolute sense. We all know there are those not so wealthy parents in North Iowa of children who've created noticeable wealth in their professions. Those parents likely paid for the educations which helped jump-start their careers. What better way those children to show their appreciation for what their parent or parents have done for them than to purchase one of those life estate condos? Of course they'd have themselves named as beneficiaries so when their parents do pass on, those condos would not only be a great gift of appreciation, but also a long term investment that's protected against lawsuits and probate. It would be something on the order of purchasing a paid-up life insurance policy on another with yourself named as beneficiary. Don't you think it's a great idea for wealthy children to give back to their not so monetarily sustained parents and still come out ahead in the end?
Surely you all must think me possessed when speaking often of the crow population in our City. Well, I did forget to tell you they've found another roosting spot which is in those tall trees along the creek south of the mall. Late yesterday afternoon, they were circling and landing amongst their already numerous brethren. If someone could invent a devise that would keep them permanently driven away in our US of A, they'd make millions.
It sounds like tomorrow we're going to have wind again and I do hope it won't be a deterrent for people attending my public open house at 422 S. Tennessee Place. The owner is on a burn to get it sold, so whomever does buy it will certainly be happy they were in the right place at the right time.
I got a good laugh today while on the phone with one of my peppery clients when mentioning that should his home not be sold by the time he has to be moved out of State for his new job, I'd be sure to check it on a regular basis. He actually said to me, "That's very evolving of you." I was nearly speechless when hearing those words, but then finally replied, "Shouldn't you have said, "That's very big if you."? He chuckled and said, "I've never considered you to be either horizontally or vertically challenged." Yes, there are always those who must have the last word.
Tonight's photo is one I took late this afternoon of those creepy-cool clouds that were sailing through North Iowa.