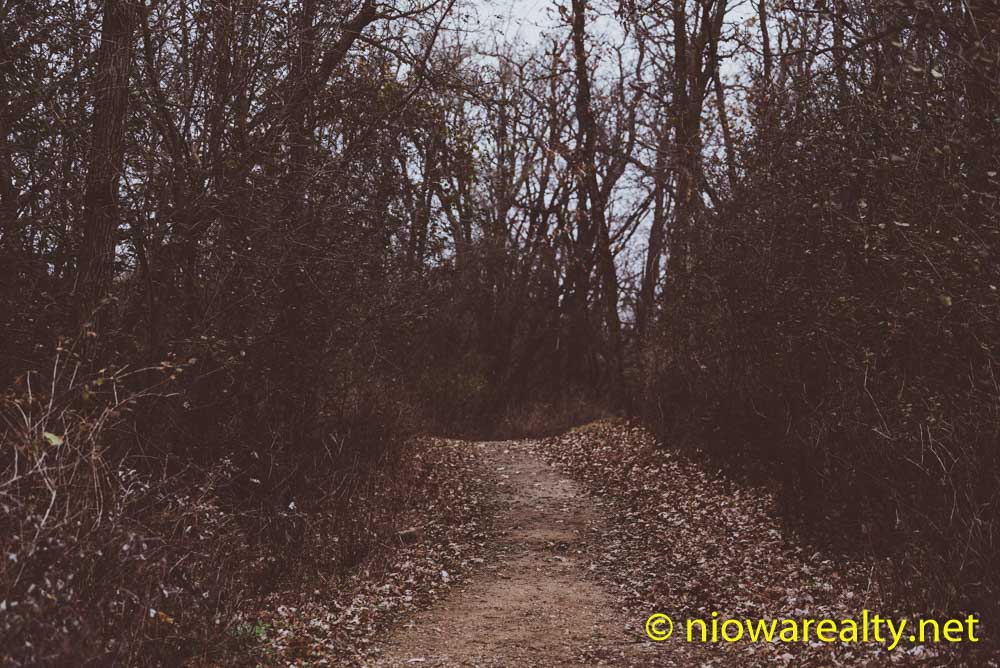 I guess we'd better face it, Fall wasn't what it was supposed to be, so not only did we have a short Summer, but also far fewer pleasant days of Fall. Yes, the first hard frost came late likely due to global warming, but we certainly didn't have many pleasant days afterwards. Thank goodness the wind finally quieted down.
Looks like I'm going to have a busy first of the week with Thanksgiving coming up and people wanting to condense a full work week into three days. I know for sure I'll have second showings on homes this week and hopefully there'll be several buyers having signed offers before Turkey Day arrives.
I stopped out to Walmart early this morning before heading Downtown. Since it was so early I picked up what I needed and then just strolled around the store to see what they had to offer. Oh my goodness! The shelves were certainly bulging with Christmas items. Seeing all that junk again re-enforced my belief that nearly everyone has forgotten the real meaning of Christmas. Hopefully there'll be a time when Americans re-discover it by going back to simple family get-togethers, embracing its spiritual side, and doing extra nice things for lonely old people in need, instead of getting all wrapped up in our annual commercial Christmas mania. Consumerism in the long term can never sustain itself.
At one of the church services I attended today, several people out of my past came up to me from behind as I was walking out saying, "Hey Joe!". I was pleasantly surprised to see them, and dare say I hadn't seen or spoken to them in over 20 years. I think we lingered all the longer just to get caught up with family news. We talked about births, deaths, and sufferings. I was heartbroken to hear their daughter came down with a rare and fast moving form of MS. She's only in her 40's! We all agreed there's way too much cancer hitting our younger crowd as well. After sharing thoughts, it was conclusive that most likely all the chemicals that are being used in our fields, our yards, and our homes are the culprits. I'm convinced it's so widespread, there's no getting away from it, and unfortunately it's all about corporate greed. They'd also heard the recent news about Roundup and the not so harmless effects it's had on the users of it.
The remainder of my day was spent back at my on-going project which consumed about six hours of my day. Just before I finished, I looked back and again being thankful I stayed at it for so long because I'm really starting to see even more marked improvements. Those hours also gave me that much needed "lone" quiet time so to think and reflect. It felt great.
You all may think I'm on a mission with the crows here in Mason City, but if you would've seen how black the skies were with those thousands of crows circling and landing in the tall trees of Central Park and the roof of the Principal building, you would've had the "yell" scared out of you. There were more of them in that one flock than I've ever seen in my very long life, and believe me, it was exceptionally creepy. Just wait till tomorrow. You'll see what the perchings of thousands of crows in one night will do to the sidewalks along with everything else below those tall trees in our "sacred" Central Park. Let's get the people who spearheaded our recent " Vote Yes" campaign to start a similar rally to get rid of our every-growing numbers of crows we have residing in our City. I wanna see all the lights and hoopla as well, because I'll certainly be there with one of my digits pointing up to a screen showing the number of cancelled crows.