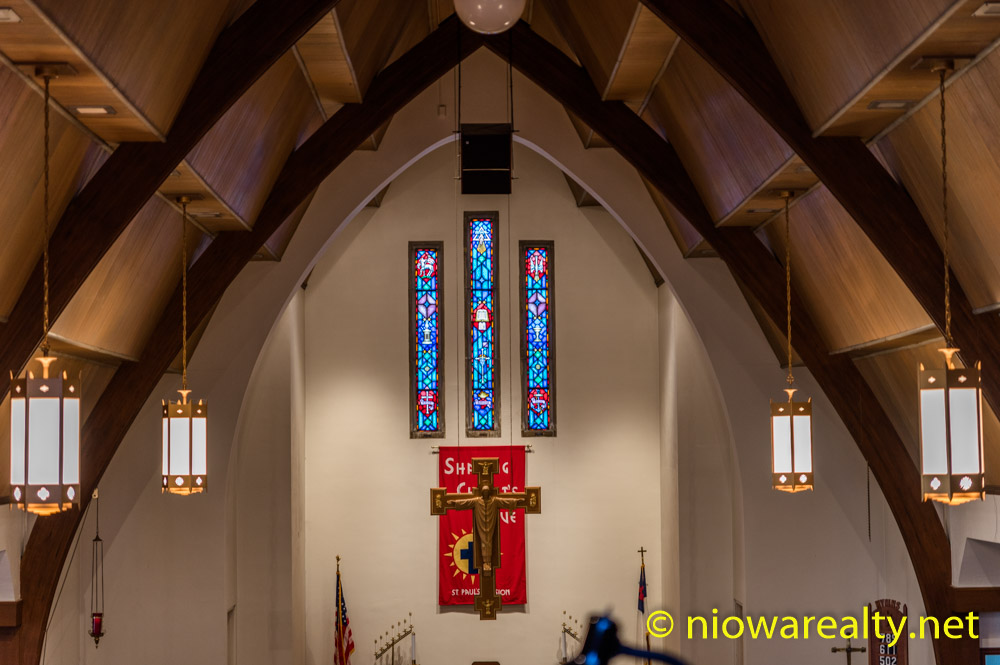 We certainly had quite the beauteous day unfold after that pounding rain storm we had last night.  I was getting a bit fearful of the lightning that seemed to pack all the more punch when seeing it strike in the distance.  One of the bolts that struck looked like something out of Star Wars.  I hope whatever it hit wasn't someone's home.  Too many take thunderstorms for granted, but in reality, they should be all the more careful in protecting all those electrically powered peripherals contained in their homes.
My best advice is for everyone to unplug electric appliances as well as everything else that contains components which can easily be fried by a close lightning strike.  When our office was in another building Downtown many years ago, we had computers fried by a nearby strike.  It wasn't a pleasant surprise when arriving and the office the next morning.  A great lesson was learned and remembered.
Having agreed to play over at St. Paul Lutheran today, I went over about an hour early to do a little warming up for their 9:00 o'clock Service.  Their new Pastor is exceptionally well educated and has accomplished far more than most.  Since he's new, I went to their webpage and read his bio.  This morning after practicing with him I soulfully said, "I can see your religious career has been centered around helping others in great ways–especially in the area of social justice."  He seemed surprised that I managed to understand his "core" after reading about him.
He felt it would be better for me to play the piano for the service music he would be leading.  Since I played for him before, I could tell it was easier for him to follow me when playing the piano versus the organ.  At first he thought I was making some great compromise, so I assured him it wasn't a big deal for me to switch from organ to piano during the Service.   After I finished playing their last hymn on the organ, I was happy that he'd asked me to switch back and forth.  It seemed to add more musical texture to their Gathering.
I do wish there'd be more people attending St. Paul Lutheran Church here in Mason City.  It's truly a place that offers a more contemplative spiritual setting.  I've never been one who gets off on church "performances" because I don't believe it's a place to show off talent, but rather a sacred place to share talents.  Believe me, I've been around far too many over the years who work at being "center stage", along with those who're sure to appear overly-pious in their outward signs of faith.  As a whole, I've never found that to be something living in St. Paul's community, which for me is a breath of fresh air.
The remainder of my day was spent listing two homes along with playing catch up with yesterday's menial tasks that I had to dispense with due to the rain.  Please take a look at my two new listings which are located at 217 – 6th St. SW and 326 – 15th St. SE.  I'm already getting calls on 15th St SE which doesn't surprise me a bit.
For a Sunday, I'd say I had quite the broad range of duties which seamlessly moved from one to another until I was able to call it quits and smile while looking back.