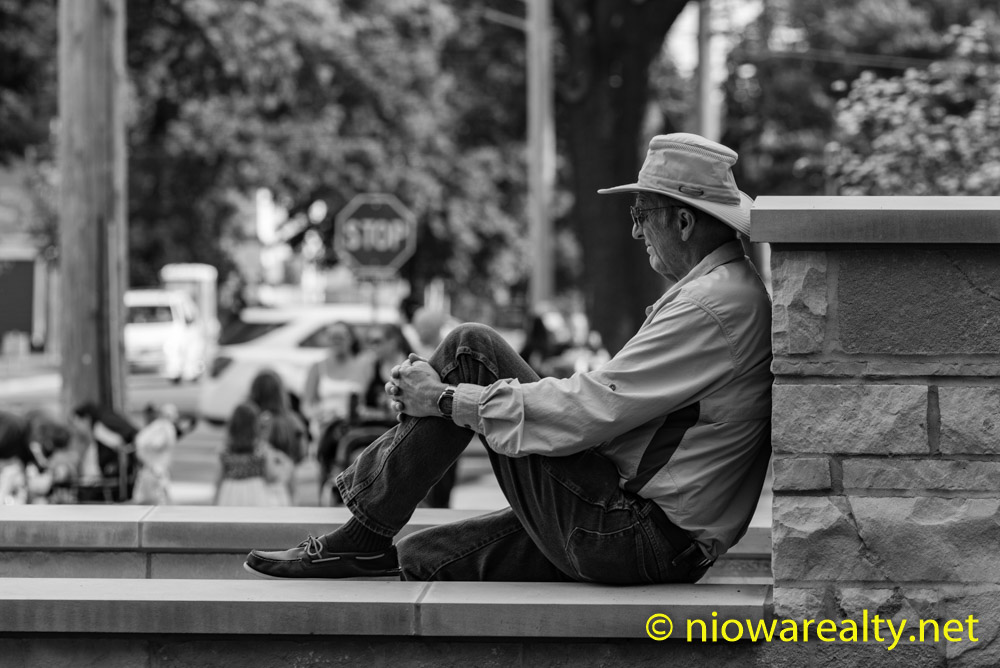 This week has been one I'll remember as my "git-er-done" week while thinking back to tSunday and the amount of real honest to goodness progress I've made thus far in getting all those little un-done things that I've been meaning to do actually do for weeks.  Most of them regarded chores outside my real estate world.  You've heard the saying, "A cobbler's children go shoeless", "A baker's children go bread-less", and "A fisher's children go hook-less", well it's sort of that way with every profession to where you know exactly what to do, but continue to set your own needs aside so to fulfill those of others.
Wasn't it the weirdest weather today?  Oh Mercy!  The humidity level must've been right around 100%.  Today's air was the thickest I've encountered for a very long time.  I heard some of the Counties north of us had strong winds.  When it gets so muggy out, the first thing I think of is either a tornado or severe thunderstorms on the horizon.
Later this afternoon I received a call from one of my clients regarding a tradesperson I referred her to, and was shocked when she told me how much he wanted to do two small jobs.  Unbeknownst to him, a large red flag went up on his name and phone number, and I'll likely never give his name and number to anyone again.  What he quoted her was over double what he would've normally charged.  This is yet one more reason why our seniors are backing away from having work done.  There are greedy tradespeople who see that they're old, where they live, and the nice things they have, and likely think to themselves, "Oh, I'm gonna charge more because you're old and have money."  And people wonder why many of our elderly are becoming all the less trusting of others.  I apologized profusely for even mentioning his name. Another lesson learned.
There were three showings at Prairie Place on 1st today, and it looks like the momentum has begun.  I smile to myself when knowing how many of the elderly in North Iowa have their own network of news.  I've always known it, but I've really been brought up to speed in how quickly it travels to so many.  I'm sure there's much information being shared every Sunday after all of our North Iowa church services are over, and now I'm sure the word is out regarding how well built and affordably priced Prairie Place on 1st is after the whole at the whole package. My customer said today, "I like these units a lot, but also consider them a good investment for the future."  That one statement told me she's got a good head on her shoulders.
Late this afternoon I paid a visit to a home where the sellers are getting it ready for the market.  I was quite surprised how much larger it is than what's visible from the curb.  These next few days I'll be doing some market analyzing so I can give them a ball park figure they can expect to get for it when it's listed.  An old client stopped by my office today just to say "hi" along with informing me he's fallen head-over-heels with metal detecting.  I asked him what the most cherish thing he's found thus far.  He thought a moment or two and replied, "I think it's the 1898 indian head penny I found that was about six inches underground.  I laughed and said, "Yes, and he was patiently waiting there likely over a hundred years for you to come and find him."  I love hearing stories of such finds because I know it's never just the find, but the work and anticipation of finding something special;  even if it's a lowly a penny with the head of an indian on its face.