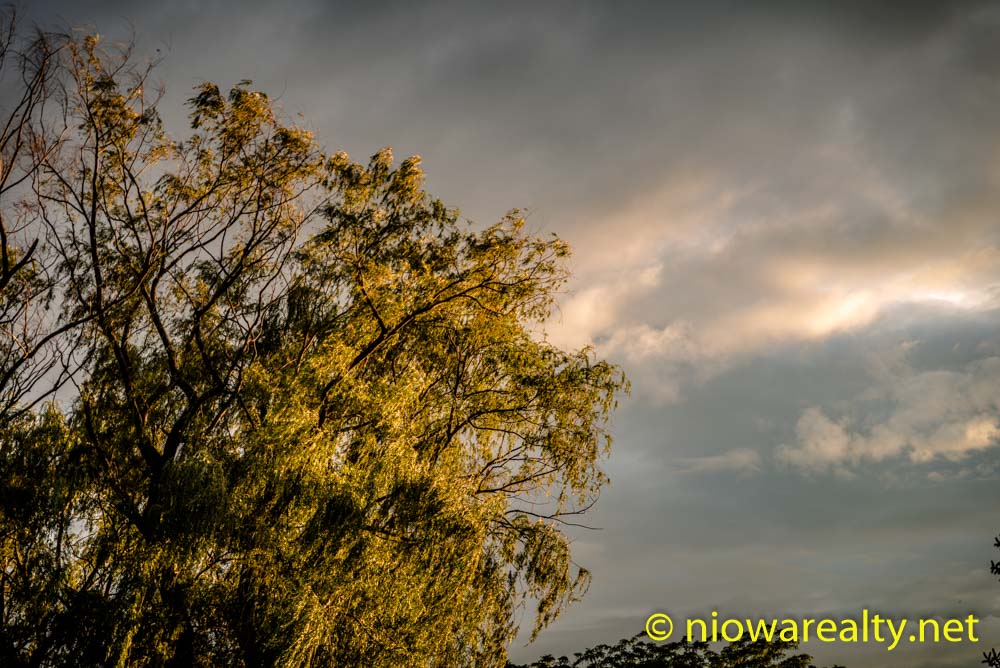 Looking back on the day, I would say the most irritating half hour or so was spent waiting for another "no show" prospective tenant at a rental property. I'm beginning to wonder if there's a group of naughty monkeys out and about setting up appointments to look at rentals that are listed in the area and never showing up. Fortunately for me, I've saved all their phone numbers, so if I should get called again, I'll certainly give them a politically correct scolding. There's barely enough time in the day to do constructive things rather than waiting on phantom rental prospects. As I mentioned before, there'll be a time when someone does similarly to them.
In spite of the rain last night, I'd say this was yet another exceptionally beautiful day to where the air had a crisp flavor to it. I was taking it in as much as possible while out and about. One of my favorite sugar maple trees in the City is now starting to show its multiple shades of Fall colors. I hope there'll be a day when I can catch it with my camera when at its peak. My lone tomato plant has one of the larger tomatoes now starting to turn red. Since it was at death's doorstep when I planted it late, I'll be sure to save some of its seeds for next Spring. It has done wonderfully well considering the circumstances of its early life. I'm confident the seeds from it will create a very productive crop next year. Too many of the tomato plants that are sold in our area don't seem to do all that well and were more likely types meant for other climates and soils.
If I recall correctly, this one was one of the heirloom varieties that was being sold for a greater price than the others. Since I had much experience in my early years in growing tomatoes, the trick is to keep them from spreading their vines too far and wide. If you allow them to grow to an appropriate size, the ever-budding vines need to be pinched off so the plant will focus on nurturing the flowers and subsequent tomatoes that are already growing. This is how you create healthier tomato plants with handsome uniform-sized tomatoes. People who have orchards must do the same thing to keep the "suckers" under control so they don't rob the growing fruit from nutrients.
It appears the market is still cranking away when I see the number of sold signs along with new "for sale" signs. Our MLS certainly got dumped on this week with over twenty listings entered thus far. I'll be showing homes to out-of-town buyers the rest of the week and hope I can get them into something of their liking before the leave. I asked a property manager today what they're getting for rent on some of their rentals. I was shocked to hear the amounts which left me wondering why those tenants aren't purchasing something. For sure their full mortgage payments wouldn't be has high as what they're now paying for rent. The fear factor in making a long term commitment to North Iowa is still alive and well.
I had a wonderful chat with my dear friend today who always seems to make me smile with her anecdotes regarding the ills that plague our society as a whole. We talked about the greedy, guilt ridden, jealous, and above all, those who've mastered the art of situational ethics. When I see people doing things to others for no other reason than selfish justification, I can't help but wonder how they manage to live with themselves.   I think they must have an invisible eraser around their necks where they do a little soul erasing every time they're knowingly doing something bad.