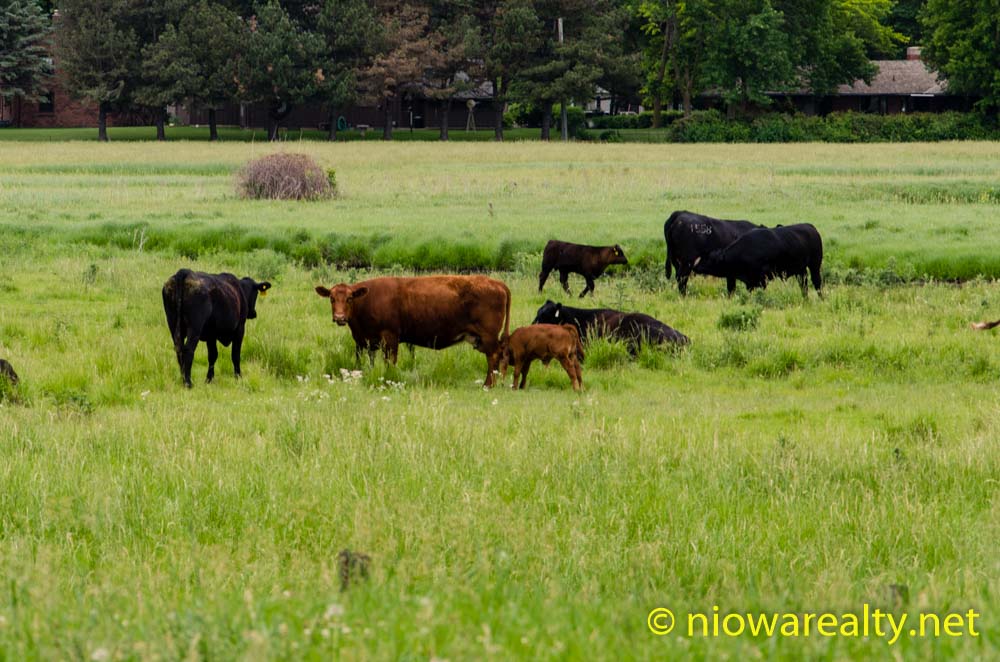 Since there were a large number of open houses today, I had more lookers than normal at my public open house at 912 – 11th St. NE.  It really is about as clean and maintenance free as you can get in a home under $90,000.00 in today's market, and not to mention its close proximity to our public swimming pool and Harding Elementary School.  The taller than normal ceilings in the basement make for a more pleasant and useable recreation room. I believe more sooner than later this home will be sold and hopefully to a buyer who'll continue to take very good care of it.  Some people stopped by today and visited about selling their home and perhaps Holtz Realty will have another one listed soon.  Someone asked me yesterday how business has been for my office so far this year and all I could say was, "I'm exceptionally pleased with the amount of business our office has received in these last six months."  It's almost as though some invisible chain has been broken over doors that have been thrown open to create more and better business for Hotz Realty.  For whatever reason, I'm thankful for it.
Sometimes we can get ourselves in the most embarrassing situations and the more we speak, the worse it gets.  Just before noontime I had an appointment to go and take updated photos of a home because the owner re-painted several of the rooms more neutral colors.  Since nearly all are online, I'm sure everyone turned up their noses at the previous colors and moved on to other listings.  As I was walking out the back door and placing my camera on the front seat, I noticed one of my young neighbors walking a dog.  Since I've become somewhat acquainted with both he and his girlfriend, I said, "Looks like you're not working today."  He looked at me a strange way and said, "No I'm not."  I then walked closer and said, "I didn't know you have a dog."  He looked at me all the more questioning because I was stepping closer and then noticed he appeared heavier than when I saw him walking back to his apartment late yesterday.  Since I like cute dogs I walked forward to get a better look when he said, "I think you're confusing me with my twin brother."  Oh Mercy!  I think I turned about ten shades of red knowing I was being far too forward with a perfect stranger.  Apology after apology came out of my mouth until I was stopped by him saying, "Don't worry about it, people get us confused all the time."  I think everyone who has an identical twin who may be visiting often should alert people there's a carbon copy lurking about.  As I managed to regain my wits about me I said, "I wondered why you looked heavier than when I saw you walking last night." He laughed and said, "It's funny hearing you say that because we were just talking about how he's getting slimmer than me."  I laughed and said, "When you see him, tell him at my first glance at you, I thought he came down with a bad case of bloat last night."  I'm glad we both walked away with something to laugh about after my wrongful identification."
It was quite the coincidence when reading the Globe Gazette's article this morning about the lowline cattle that are being propagated in Osage just after I wrote my article last evening about Iowa promoting more earth friendly and healthier foods.  Take a few minutes and go to the Globe's site and read about the lowline cattle thriving in our area.