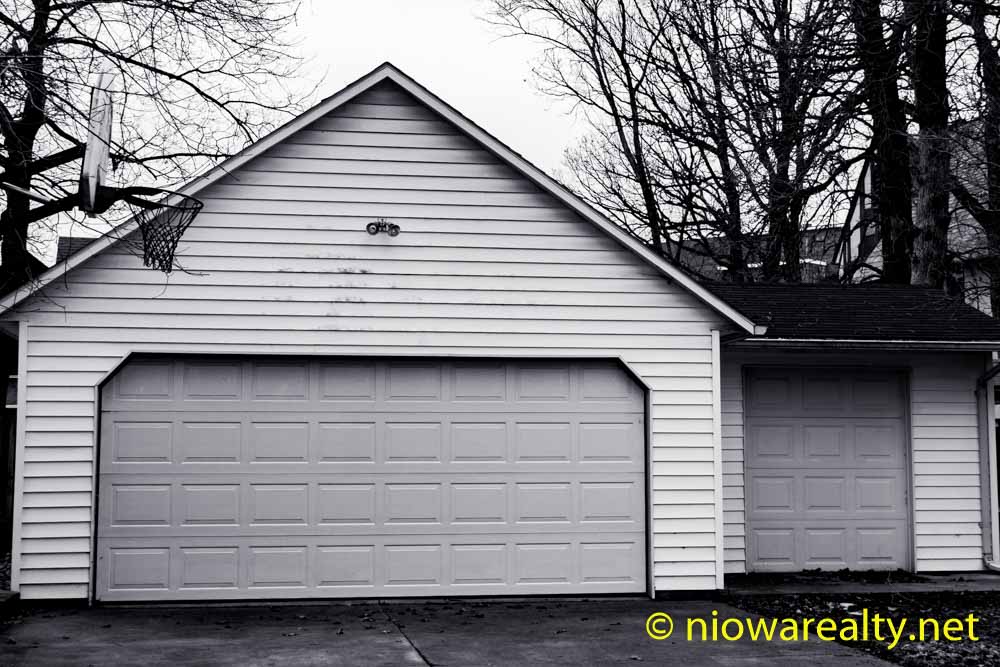 I was exceptionally pleased with the turn-out at my public open house today at 37 Oak Drive.  One of the lookers said, "I'm surprised this hasn't sold yet."  My response was, "It came on the market in the dead of Winter and that Spring is here, I'm confident it won't be around much longer."  As most know, I've always been a real fan of well designed and constructed homes.  After showing a number of recently built homes this past week, I'd take something mid-century or older before I'd spend the money on new.  One of the other people that was there said, "I've always preferred homes with lots of woodwork and hardwood floors."  I went on to say, "Believe me, this home having been built out of old growth lumber will far outlast those built many decades later."  I was glad to hear him say while walking out, "I'll be in touch."
I may sound like I'm plugging another business when I tell a story about a garage door that was damaged some years ago by a not so careful person backing out of  a garage.  I have a dear elderly client who had a "caretaker" of sorts who would park his car in her garage when there.  One day when I went over to visit her, I noticed a very visible dent in her overhead door.  I causally asked her, "How did your garage door get bent?"  She hesitated and said, "Frank did it when he started backing out and didn't realize the door was still down."  I said, "Well, is he going to fix it or pay for someone to repair it?"  Since I'd always known she was always a little afraid to confront him for fear he'd no longer work for her, I was not surprised by her saying, "Oh just forget it.  It was an accident and the door is old."  I couldn't help but internally bristle when she said that because it just wasn't right that he walked away from fixing something he broke.
When I was over there last week for a short visit I said to her, "Don't you think it's time to get your garage door replaced now that Frank no longer works for you?"  As with most elderly, they believe everything costs too much.  I said, "I'll call Mason City Overhead Door Company for you and meet them here so they can give you a bid."  She thought that was OK so I called.  They were quick to respond and the bid they gave was less than I'd expected due to a special they were running for the month of March.  I showed her what it would look like so she gave the go ahead to have a new one ordered. I'll certainly be glad to see a new overhead on her garage when I visit and no longer be reminded of that bully of a worker she had. I'm sure Mason City Overhead Door will do a great job with its installation. I've never seen them do a bad job.
I recently had an experience with someone lately who resurrected a memory of something I read a number of years ago. Believe it or not, there are people in the general public who take on the over-all personality of the crowd they're in at the time.  I spent some time with a person these past several days who was quite delightful, but when I happened upon this person with another, there appeared to be some sort of extreme mood change to where I thought, "Oh yes. You are a sponge who's absorbing either the good or bad of those you surround yourself."  It's unfortunate to find people like this because you never know where those sponges have been before you encounter them.