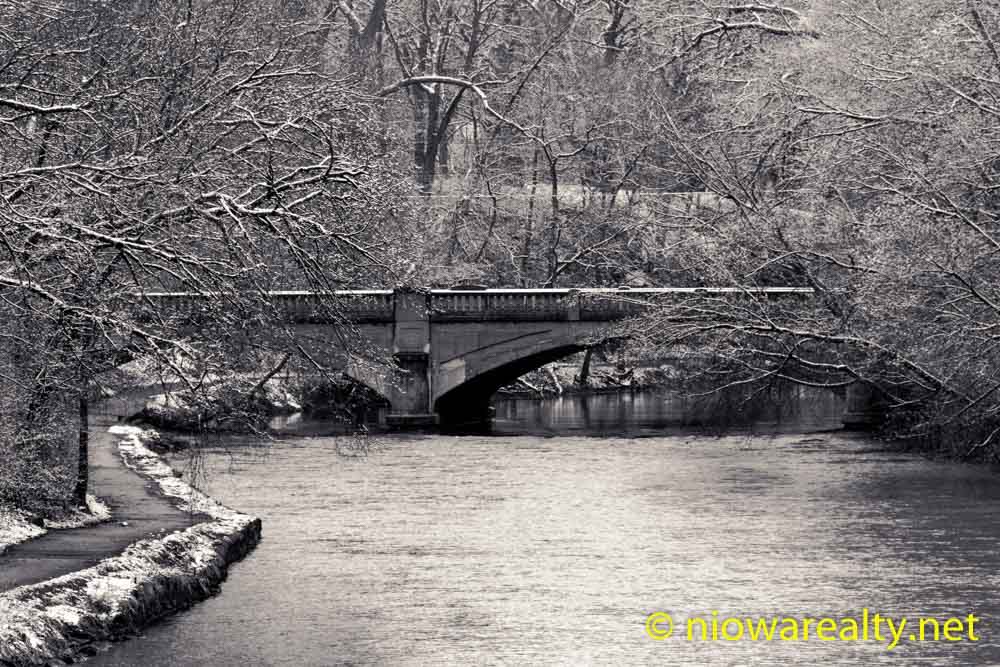 It's certainly not been a pleasant sight seeing the heavy snow continuing to come down this afternoon.  I'm still reeling from the nearly two feet of similar water-logged stuff we received last month.  In noticing the snow plows out, we may be getting more than the weatherman predicted.  Since the trees this morning were still covered with last night's snow, I thought I'd spend some time taking a few photos out and around East Park, Willow Creek, and the Winnebago River.  I received a very nice compliment from one of my clients who lives out of State regarding the photos I place on my website.  I never considered myself a professional photographer, but after all the hundreds of homes I've taken photos of both inside and out, I believe it's just a by-product of having learned what looks best through my viewfinder.
My public open house at 602 – 3rd St. SE was far busier than I'd expected due to it being a dreary day coupled with intermittent snow showers.  I was exceptionally pleased by how much natural light filters into the living and dining area of the home.  Even the buyers noticed how bright it was on such a dark day.  I sat in the corner near the window and mentioned to everyone how in that position, one can see at least a block or so down River Heights Drive.  I've said for years how much I like the River Heights location to where it's near our Historic Downtown, along with being just a short stroll across Meredith Wilson's Footbridge to our library and museum.  Some day when I have time, I'm going to take my camera over to the library and museum and snap some photos to share with the general public.  I'm not so sure many of our die-hard residents realize how beautiful the library is since its very expensive re-model some years ago.  It's always easy to forget, especially when we natives still have old memories burned into our long term memories. If recent improvements are out of sight, they'll likely be out of mind.
I just glanced at the article in today's Globe Gazette about the restoration of a North-End restaurant.  I was again reminded of how many charming old buildings and homes there are around our City which are begging for someone to resurrect them back to their original glory.  Sometimes I think there are those who possess much here,  but don't want to make any more improvements than absolutely necessary in fear of another raising of property taxes.  I walked into a business for the first time several days ago to purchase something and happened to be waited on by its owner.  I said to her, "You have a very nice place here."   She smiled and said, "I work at keeping it that way."  She then went on to compliment me on my office building.  I then said, "But you've never been in my office."  "Oh but, I've driven past a few times at night and got a good enough look at what you've done."  I thanked her while adding the exterior will be my next challenge.
Having lived here nearly all my life, I don't even want to remember all the beautiful old buildings that were torn down under the guise of progress.  Unless you've lived here for a very long time, you'll not have known how many beautiful limestone and brick buildings that were here before having been branded, "In the way of Progress."  We must now become meticulously diligent in bringing what's left back up to their original statures.  I applaud without resign anyone who has vision, money, and moxie to get our City back on the map of Iowa.