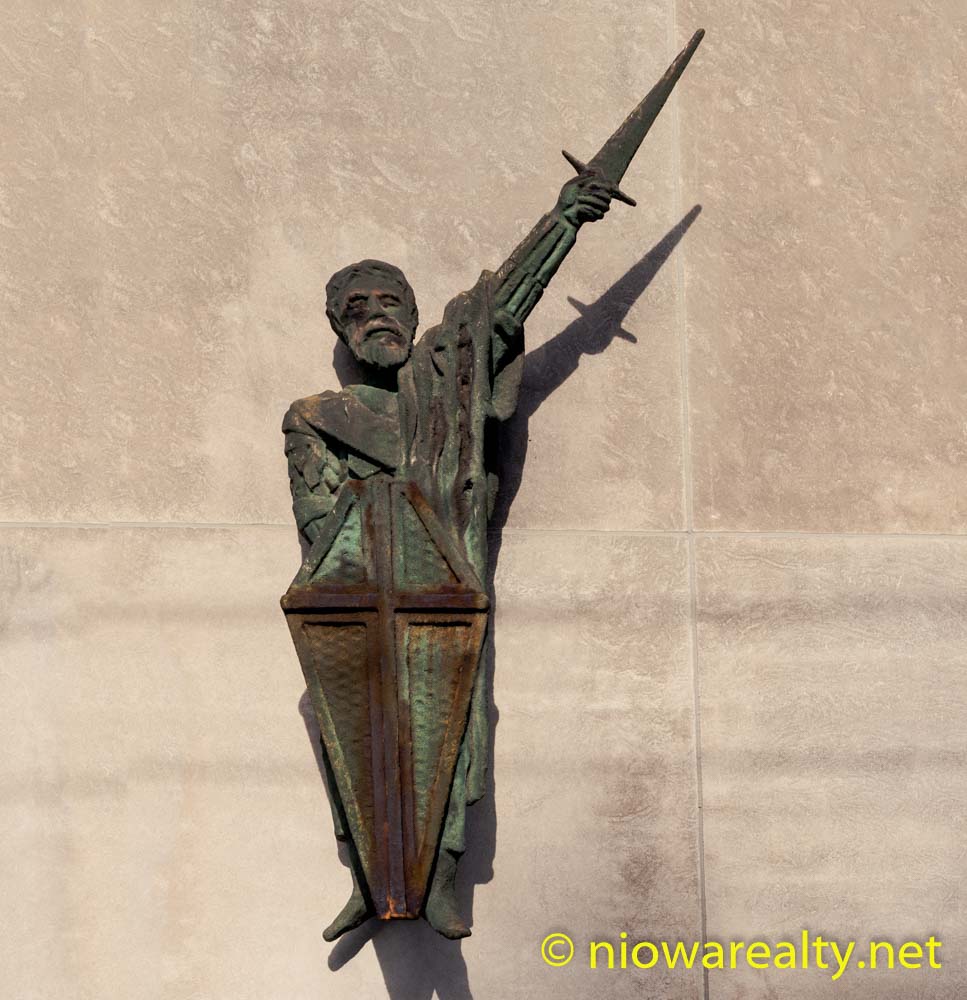 The cold weather seems to be keeping more people inside these past days to where I've not been seeing many out and about as normal in and around the Downtown.  Days like these are good to get back at those necessary things which we seem to not want to do unless there's nothing else available to keep us busy.  Year-end accounting is what I've always found tedious to the point of not wanting to get at it until there's comes the point of saying to myself, "You've got the time now so do it!"  I finally listened to myself and became immersed in it for about three hours today.  As with many things, it's just getting a good start and then it begins to flow into being half done, and when that happens, there starts the race to get it completely finished.  Someone said, "You'd be better off without having your yearly ordeal if you'd just keep at it over the year."  I quickly replied, "So how many more hats must I wear in the course of a day or week?"  Some may be more capable at switching gears and jumping from one area of expertise to another, but for me, it takes me longer to get into the swing of something completely different than what I'm used to on a daily basis.
There've been of late several annoying moments when I've found myself wasting time with buyers who are aligned with other real estate agents.  I'm not quite sure what their agents must be telling them about the whole process of searching and viewing homes.  It's sort of the idea of going to a car dealership and wasting a salesperson's time by test driving and inspecting vehicles, and then find the buyer saying, "Gee thanks, but I'm going to buy this car from another salesperson because he/she is a friend of a friend or some other annoying excuse.  I'm sure the salesperson would have turned and walked away had it been know prior to being pulled into becoming nothing more than an available servant waiting around to freely serve others.  Every time someone does that to me, I remain a gentleman after realizing what's happened, but when walking away I think, "You'll find yourselves in similar situations in the future and likely feel the same sting of being used and it'll be OK because that's just the way our universe teaches us."  One of the powers that be here in our City shares the same feelings about people who find every opportunity to abuse the precious time of others and consider it just OK.   Well it's not OK because it gives credence to the idea of everyone else being below us and we're special and deserve all we can take from others with absolutely no remorse.
I think this coming Friday or Saturday will be the day I'll be listing yet another home which should certainly cause a few hungry buyers to salivate over because they've been looking for something to knock their socks off.  It's yet another one likely to be turned into that sanctuary our inner-selves have always seeked but never found.   I just hope I'll be the one who'll sell it and have time to share my thoughts on making it all the more special.
I was invited to play Ash Wednesday service music at St. Paul Lutheran Church this evening and was again moved by the whole experience.  While walking out I was introduced to a woman who's the mother of a gentleman I know.  I said to her, "You have the absolute nicest congregation." She squeezed my hand and said, "I wish we had more people." I soulfully replied by saying, "I'm putting the word out as much as I can because you're all so very nice."  I hope she wasn't thinking me to be patronizing because I meant it.  Playing for them is for me a most pleasurable goodwill offering.  Doing things freely for others and liking it is doubly rewarding.