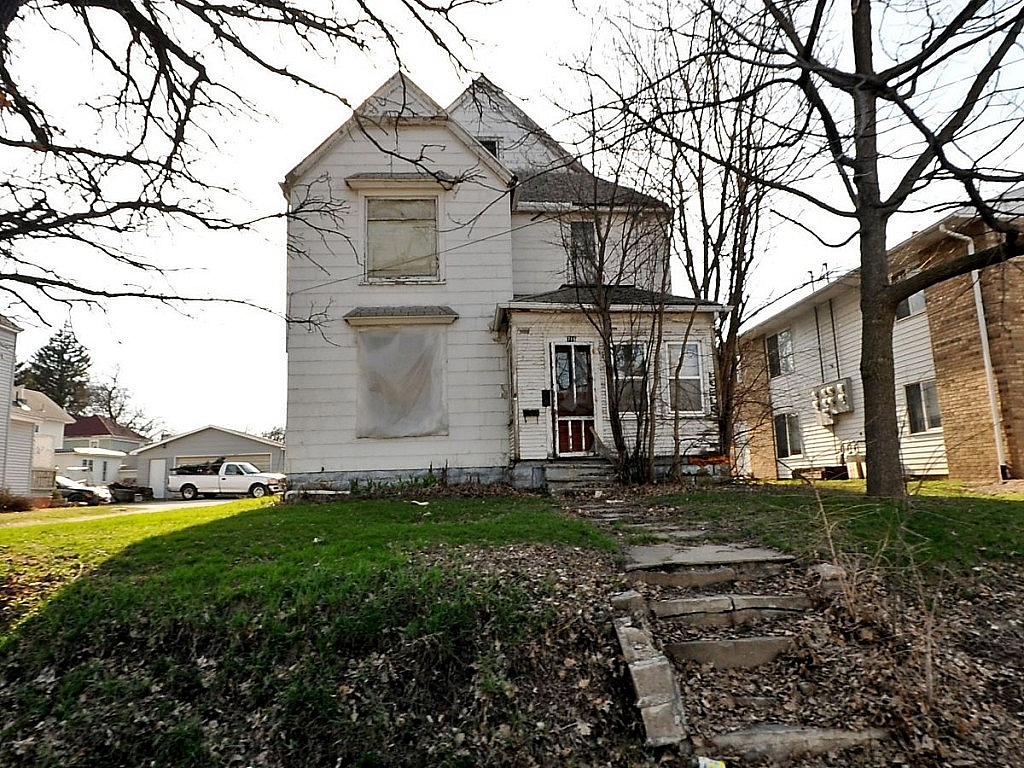 Yet another near perfect day with the cool breezes from the north and not so high humidity.  I was glad about that due to my feeling as though the morning kept me darting about with little real estate errands around town.  I'm still very disappointed with the mentality of people who don't take care of at least the front of their homes where most citizenry driving by can see their messes.  If they want to be hoarders, then they should at least keep their junk out of sight.   I think there really is something a tad wrong with people who can't stop accumulating.  It's understandable if it's something they know they'll be using in the near future, but to hoard for the sake of hoarding is where the possible mental problem comes into play.
I happened to be noticing of late a home that's been red tagged and likely will be demolished if someone doesn't talk reason into the owner to either clean it up or sell it.  The property is located at 716 N. Federal and I remember that home well back when it was on the market in the 1980's.  I mentioned it to one of my dear friends today and how sad I'll be if that home gets demolished.  Having been in hundreds of homes over the years, I can still remember that one due to the exceptional floor plan it has.  There is a large front foyer with an absolute grand staircase leading to the second floor.  The floor in the hallway is of original parquet hardwood.  Every room is spacious but not so unmanageably large.  The design is also of the circle type to where you can walk a big circle through all the rooms downstairs starting in the front hallway.  Yes, I'm sure it needs everything, but someone could create their own little uptown kingdom due to the size of the lot.  I'm pretty sure it sits on a quarter acre of land.  The back yard is very deep to where one could create a great private outdoor space.  Way back when I was showing the home when it was listed, I was the most impressed by the stairway leading to the second floor.  At the time, I envisioned myself doing a restoration on it and creating a real showplace.  That home was likely built by one of the downtown business owners who took the trolly that ran down the middle of Federal Ave. to and from work.  The quality of construction along with all the little extras was pretty much a give away to it having been built by someone who had money to spend.  Perhaps a foundation could buy it and do a restoration on it since it is so close to the Historic Downtown, or even a non-profit organization looking for office space.  There's certainly enough back yard to create a parking lot.  I wouldn't be surprised if there's some really decorative wood siding under the existing slate siding.   If the home does manage to be saved from the wrecking ball, I pray some young and industrious person gets it rather than being added to the inventory of one of our local rental barons. I heard once Sioux City has the problem with too few owning too much.
In talking about 716 N. Federal, it causes me to remember other homes that were classics when built but then converted to apartment houses and quickly fell into disrepair through fractured ownerships and oily landlords squeezing every nickel of rent out of them to where they radiated sadness.  There are those few who've been restored to their grandeur and now give cause for second glances by passerby's curious eyes.  If we could news reel back time, we'd certainly see the many lives and masters of these old gals.