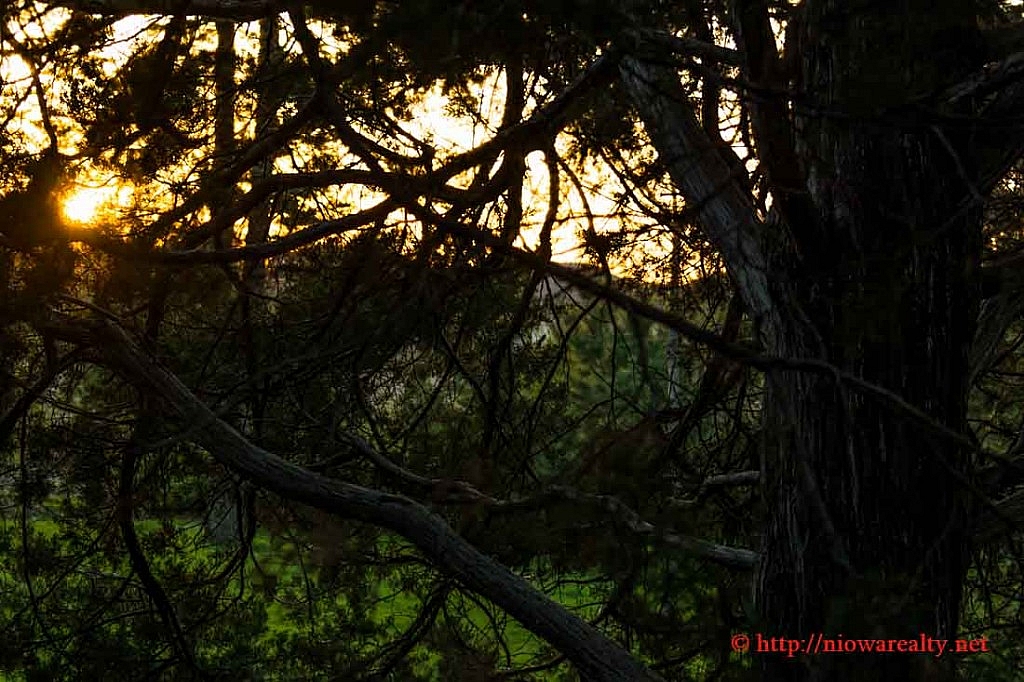 Another wind-filled day in North Iowa with what seems like an exceptionally long Alberta Clipper moving through. It's interesting to find when in an around pine trees, that when the wind is blowing, to hear what sounds so much like ocean waves breaking shore. I consider it an inlander's form of ocean sounds. I had to chuckle to myself today when at a farm and garden store to see 4" seedlings of Red Cedars being sold for almost $6.00 each. The Red Cedar is the only true native evergreen tree of Iowa and can be found growing nearly everywhere in ditches, along railroad tracks and places one wouldn't even consider. The home that I have listed at 718 E. State Street has I think three or four of them growing near the public sidewalk. They don't get so terribly tall but how one can tell their age is by the size of their trunks. Since they are very slow growing, once they reach a certain age, their trunks seem to take a very long time to become noticeably big. Some of the very old homes have support posts in their basements that are likely from native cedars which they preferred since cedar is very slow to rot. I really like the smell of native cedar when cut as the aroma is much stronger than what one normally would find with other varieties. I do wish Krieger's Greenhouse was still in business. They had such wonderful plants and flowers along with bushes and trees. They were very knowledgable and always willing to offer guidance with appropriate choices in filling the needs of their customers.
Having spoken about this before, I happened to show a home today that was so absolutely filthy I was nearly afraid to walk through it for fear of something either crawling or jumping on me. The constitution of mankind is far greater than anyone could ever imagine when seeing the layers upon layers of grime. Even though the home was vacant, one could see where every piece of furniture was placed. It appeared that the coffee table was the least moved since the carpet was many shades lighter than the rest. If I had my camera, I would've taken a photo of those hairy curtains. It caused me to remember the little rhyme, "If Fuzzy Wuzzy had no hair, but had fir to make him furry; would Fuzzy be furry or fuzzy? Wouldn't Wuzzy still be fuzzy?
Yes, the crazy things we remember from childhood that come to the forefront when seeing something fuzzy in a most inappropriate setting. Trying to get my brain wrapped around the concept of supposed educated adults and likely working for that matter, living in such squalor. How does one justify coming home and doing nearly nothing until it's time to go to work the next morning? They mustn't have ever had visitors or if they did, they certainly had to be people of similar stripe. Indeed the neighbors must have reeled during the years the owners lived there. Now that the weather is becoming more pleasant and some of the people who live on the fringes of the downtown are walking about, the repeat of previous years has started again. Some pedestrians I see walking appear to be wearing clothes that haven't been washed in weeks. It causes me to wonder why they believe it's OK to leisurely walk about with apparent mindsets of "Look at me" in hopes of being noticed in a not so good way. I have empathy for some, but there are others who attempt to work the crowd of which I consider to be shameful.