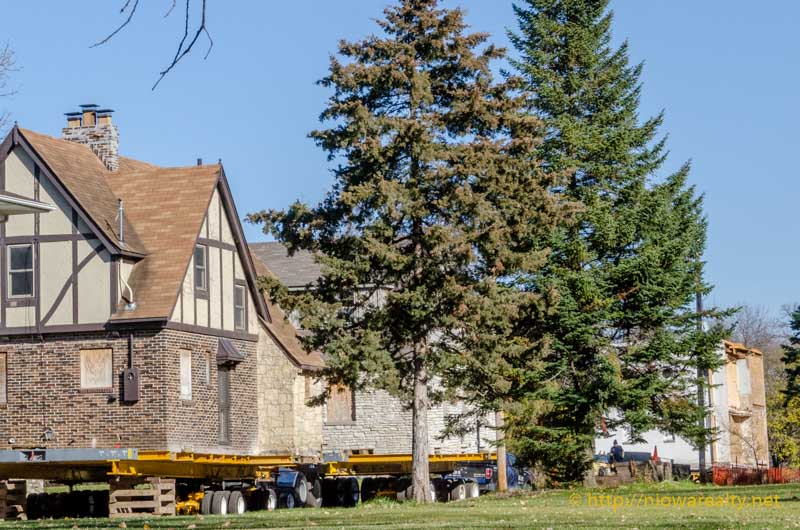 I'm sure nearly everyone who has been reading the paper and/or listening to the news are aware of the four homes which includes the Egloff House that are getting moved to the 300 Block of East State Street. A great deal of planning as well as hard work has been accomplished thus far and the second section of the Egloff House is nearing the point of being lifted and slid off its foundation in preparation for its nail-biting journey.
Old houses have been razed from the new site; trees have been removed, grades changed, and new foundations poured. There are already two of the garages moved to the new site and one of them is now permanently placed. Most people can't begin to imagine what type of block that was but two years ago. Sleazy apartments in converted old houses with windows and doors hanging open, sagging gutters, broken windows and everything else one would consider unsightly.
In the 300 Block of 1st St. NE there is also a great deal of activity. Good Shepard Nursing home has purchased all if not nearly all the remaining homes that are located on the north side of the street in the block of 1st St NE between N. Georgia and N. Connecticut Ave. All of those homes including an old apartment conversion on the south side of 1st Street will be torn down this winter in preparation for a new build-out of housing by the Good Shepard. It will be quite interesting to see what those two blocks will look like by Thanksgiving of next year. It's unfortunate that one or two more of those rickety old homes haven't been included in the buyouts.
I'm still very confident that the remaining property owners in that area will step up to the plate and do some major upgrading of what they own. It only makes sense to do it, once the neighborhood has been altered for the better. I would wager we will likely get some good press from several of the television stations and newspapers as well as recognition from the State. I may be overly optimistic, but I wouldn't be surprised if this becomes a model for our city as well as other communities in the State to re-create value in blocks that have been dismissed as being beyond hope. The east section of the downtown was at one time, and not so very long ago, a section that wasn't considered a "drive thru" neighborhood. Many of the owners back then took far better care of their homes, but having passed through multiple ownerships, and remiss of repairs and maintenance, they fell into extreme dis-repair. So the story goes with a number of older residential blocks in cities around our country. Dereliction is something that doesn't just happen overnight. We don't wake up one day and say, "Oh, how did this get that way?"
It happens because of wanton oversight by owners and citizenry. The weakness of dereliction is in all of us because it takes time out of our busy lives as well as money. I remind myself and others that if they can't take care of what we have, then we have no business having it. I think part of that idea was instilled in me from a very young age due to stern warnings from my elders. It's funny how sometimes we can still hear in our minds words that were spoken so terrible many years ago. I'm very excited about the creation of a new neighborhood in Mason City. I hope you are too.