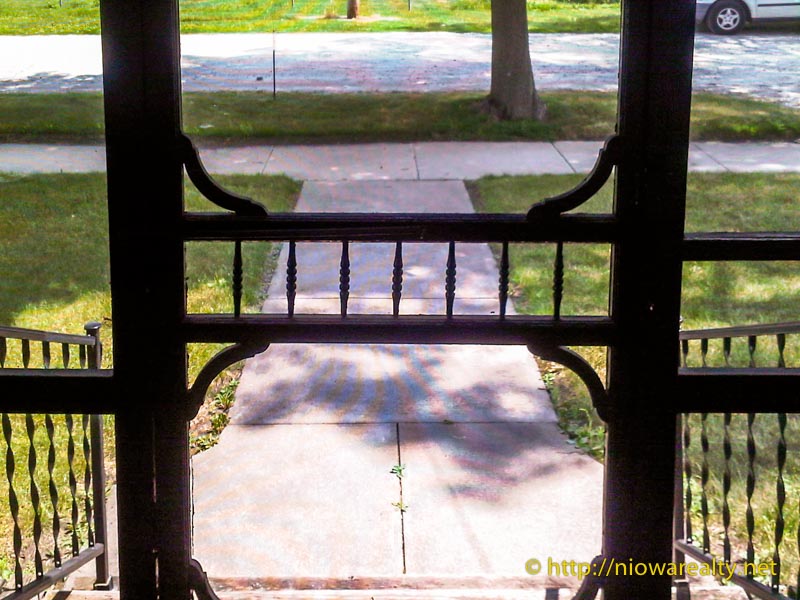 I had a public Open House today at a home located at 1108 N. Adams where by my suggestion, the owner had all of the screens and front porch door re-installed. They normally take it out in the Fall and then re-install them in the Spring, but this year they didn't.
Normally I wait inside for the buyers to arrive, but today I couldn't help being out on that fully enclosed front porch which measures 8 x 21 feet and believe me, the experience was wonderful. The gentle breezes, the songs of the birds, and the smells of the great outdoors was indeed a good time spent. In between buyers arriving, I normally just find something to read, but today I was simply savoring the moments on the porch.
I've now decided there is another reason why people are not as neighborly as they were 100 years ago. Everyone has central air and no fully screened front porches. What a way to get to know your neighborhood! If you just want to be friendly, you can simply say "hi" thru the screen at passerby's, and if you want to make friends, you just step outside and invite them in for a glass of something cool. The porch faces the perfect direction—East. You can enjoy the early rays of the morning sunshine while having a cup of coffee and light breakfast, or you can wind down from a difficult day in the shade of the afternoon and evening sun. I think if Americans truly want to become "earth friendly", they must start re-designing new homes where more time is spent outside rather than being confined indoors surrounded by an artificial environment. Yes, maintaining fully screened porches are a bit of work, but to have a bug free area where one can enjoy at least six months out of the year is worth it.
I think back so many years ago when as a child we would go and visit my grandmother. If after several knocks on the front door didn't bring an answer, we just had to walk to the back of her home, and there she would be on her back porch reading the newspaper and having tea. Sometimes she wouldn't be reading, but simply enjoying the essence of the evening. I can to this day still remember the "clap" of the screen door when she would return to the kitchen for another cup of tea. Isn't it funny how some of our most fond memories are of the simplest kind. Some of the old black and white photographs I've seen over the years are scenes of people out in front of a fully screened porch.
After today's well time spent, I encourage everyone to try being a porcher because the experience is sublime and likely habit forming. I can see it now, "Mason City…the home of the porchers."