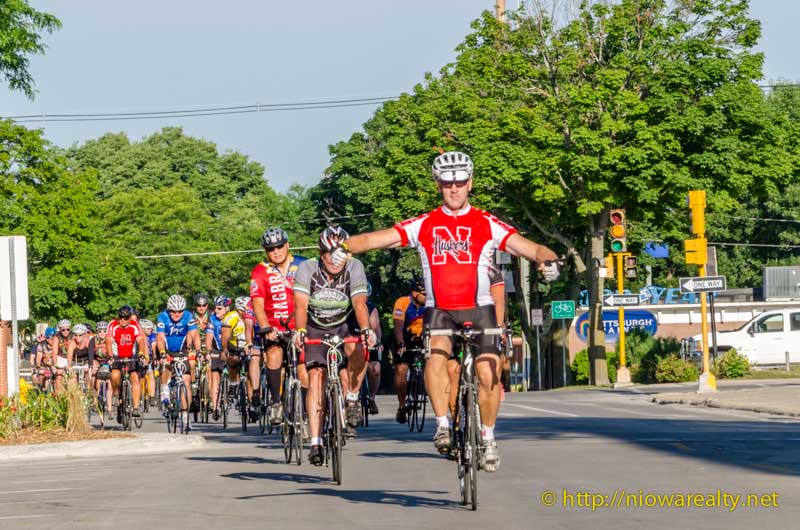 I was especially anxious to get downtown this morning to see the bicyclists getting on their way to their next stop. I had forgotten that there were a number of generous families who opened their homes to the riders as I was seeing cyclists coming from the directions of the suburbs. Everywhere I looked I found them busily on their way which caused me to smile both inside and out.
When I arrived at my office and found that the City of Mason City's workers were out in force very early getting the streets back to normal, I was mentally sending out my compliments to them for all their hard work. Since the weekend is approaching, I felt it best to get the open house signs out on the two properties I'm having open this weekend. One of them is out on S. Kentucky and as I was driving out there, I was finding more and more bicyclists heading in the direction of Illinois Avenue. After I placed the sign, I drove out to Illinois and found part of the school band playing as the bikers were coming down East State Street and turning onto North Illinois. Illinois to 12th St. NE was likely the path taken out of town.
I couldn't help taking some additional photos of the exodus. They were indeed filled with early morning energy as they were cheering at the band playing a little tribute to them. After taking a few photos, I thought it best to return to the office and get back to work. As I was coming up 1st Street towards Federal Ave., I noticed a number of bikers heading toward me. I parked my car and waited for another group. In the distance, the leader of the coming pack noticed me positioning myself in the street to take a photo. He began to make some interesting poses while on the bike. I took the photo as quickly as I could before they passed. I said to him as he passed, "Great photo and good luck to you!" He hollered back, "I've never met a camera I didn't like." I will certainly remember all the delightful people I met during their short stay as well as my hope they do the same for our community as a whole.
The photo above is of the "I never met a camera…" gentleman.  I've added a few more as well.