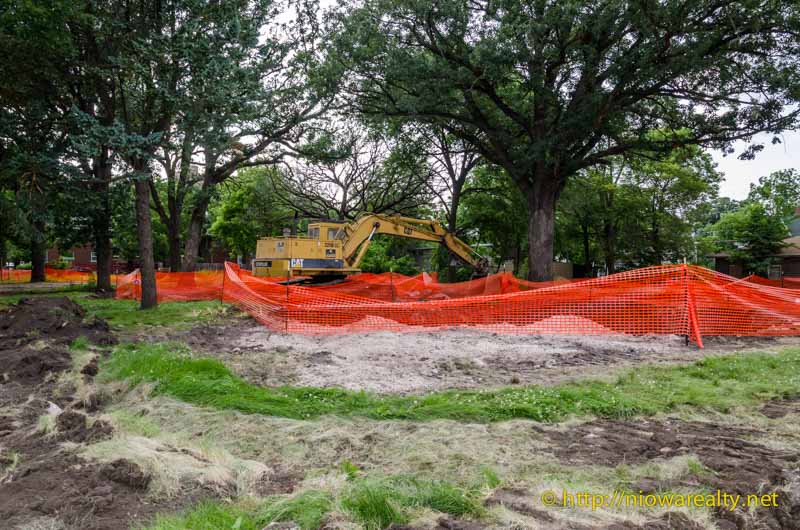 Not so many months ago a small group of people came together after discovering there would be a window of opportunity to purchase some very dilapidated homes close to the central business district of Mason City. Being in real estate for so many years, I have watched those once-upon-a-time grand East State Street homes fall into dis-repair along with flimsy attempts at creating flop house type apartments in them. The neglect continued along with change of ownerships. The block contained few rentals over 30 years ago, but with the acquisitions of wanna-be rental barons squeezing out more apartment spaces, the block turned into a place seething with discord. I often times would turn my head away from them while driving down East State Street. Broken storm doors, cracked window, torn screens, and peeling paint along with grassless front yards hardened by the heavy night time foot traffic.
As time passed, this small group of people managed to acquire, one at a time, a good chunk of the block with the vision of moving four of the flood buy-out homes which includes the historic Egloff House. About two weeks ago, the real demolition started with the remaining big bad dogs. I have always be a proponent of restoration rather than the razing of homes, but I found an exception with these. If the walls of the bulk of those homes could speak, I'm sure even the most surly of individuals would back away from the stories being told. One of the homes being moved onto that site is a home that one of my teachers had has her residence for some years. If everything goes as planned, I will likely be reminded of her as I travel down East State Street in the months ahead. One of the planners of this project stopped by my office for a few minutes today and in my conversation, I mentioned more than once my admiration of the amount of time and money spent in bringing this project to life. I have put the word out in the past and will continue to do so in the future, the necessity of those that live in that area to take an active step in making it a better and brighter neighborhood where people will actually want to make a long term commitment of ownership. They'll indeed find being in such a short walking distance to East Park, grocery store, churches, post office, and likely even where they work to be yet another bonus. Sometimes it takes many baby steps before we can take one giant leap in creating the re-birth of a neighborhood.
The photo above is one I took this afternoon of the project site.