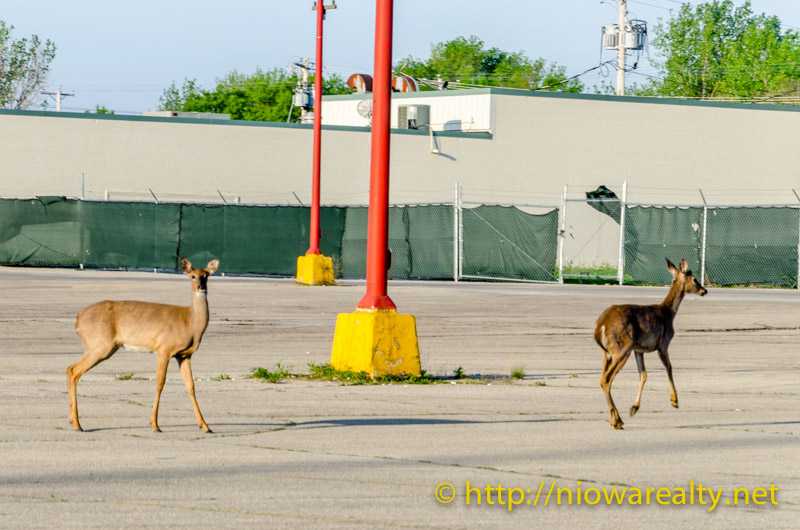 It was quite surprising to find so little activity in and around the city today. I think yesterday's festivities must have tired everyone out and they were staying inside. It's good to have days of rest like these more often. Too many people believe they have to be in a constant state of going here or there rather than spending more time on the home front. I as well, spent most of my time at home today playing catch up on little projects.
I had several things I needed to do downtown this morning and as I was driving down 15th St. SW near the cemetery, I looked to the south and saw two deer running in a northerly direction. I just happened to have my camera with me so I stopped and took several photos of them. They both ran across the street on the cemetery side and I watched one of them jump that six foot fence like it was nothing at all. They sure can jump when need be. Looks like their population is either growing, or they're becoming more acclimated to living around humans. Last Fall, I noticed one running right down the middle of North Federal in the downtown. For a moment, I thought I was seeing something that wasn't real.
I like telling the story of what happened several years ago. I decided to plant several long rows of beets in my garden. It was a good growing year for them as they were quite beautifully shaped and healthy looking. I noticed several weeks prior, deer tracks in the garden. Without thinking anymore about it until one day I was bothered by the thought that something was wrong with the garden. When I arrived home, I went out to the garden and found that the deer had returned and decided to pull the beets out of the ground. Nearly every other beet plant was laying there with part of the top eaten off. It's a good thing I discovered it when I did as I was at least able to harvest the beet roots that were laying there. It must have been like walking thru a salad bar and taking a bite of every other item.
Every time I see deer, it reminds me of their ability to be free salad bar munchers. They must have been on their way to the grave yard today to eat the fresh flowers that people likely had placed on the headstones. For most of us it was a silent Sunday with the exception of two deer heading for a free breakfast in the cemetery.