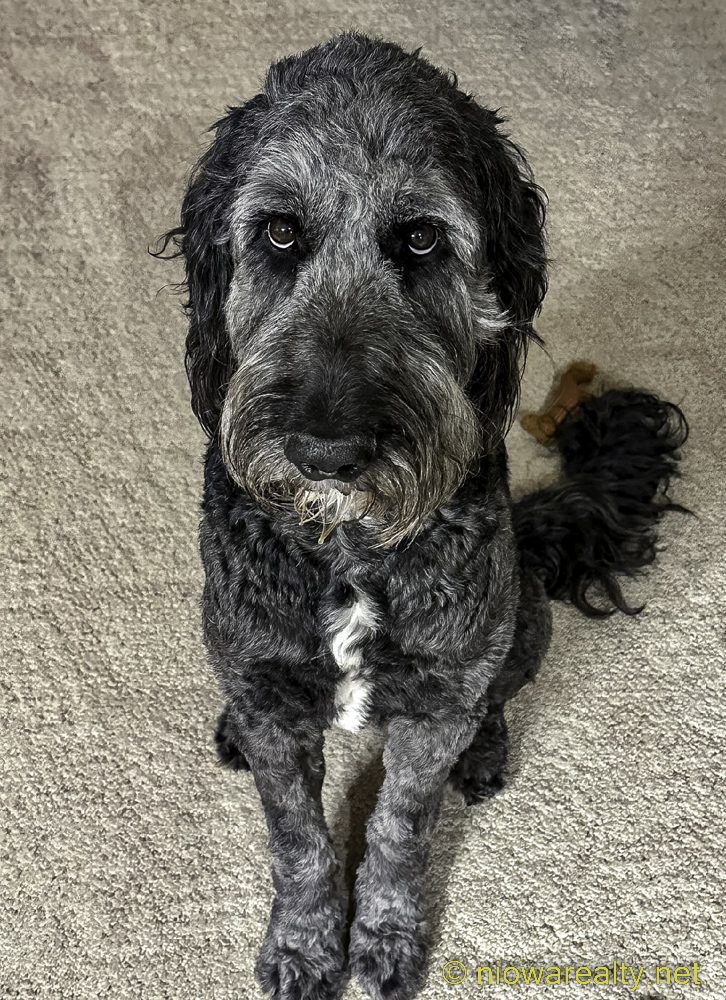 View More Photos
My goodness how our temps had taken a nose-dive overnight! I was terribly fearful our streets would be covered with ice from the rain we received yesterday, but that wind must've freeze-dried it off during our nighttime hours, because they were all clean early this morning.
When I got into my computer this morning, I noticed an email from my dear friend who'd forwarded an article from our newspaper which she figured I would be interested in seeing, so I opened it up and gave it a double-read. I then picked up the phone and called her to discuss its content. We both agreed that whomever is steering our City's boat, is nothing more that a water boy for one or two special interest groups, which I consider downright shameful. But, since we're both natives, it was one more confirmation of our City government's mentality which has been a comedy of errors for our general population since they bulldozed all those beautiful historic buildings many years ago, to make way for today's dead mall. It's regrettable how the names change, but the mentalities remain the same.
I did mention to another today, that it's high time for a good house-cleaning in City Hall, as well as the voting out of office, our Mayor and current City Council. As the old German saying used to go, "Neue Besen reinigen besser.", which translates as "New brooms clean better.", which speaks volumes when dealing with chronic year-over-year mis-management. Unfortunately, in time, almost all of them forget that they're to be working for the common good, instead of a small minority who "think" they know what's best for our City's residents. It was even mentioned that we should petition for Max Weaver to get back on the City Council, because it's time to stop fighting City Hall, and get to work at replacing it. Yes, there's nearly never a day that passes where there's one more bit of jaw-dropping local news.
While on the phone today with one of our exceptionally intelligent native sons, he brought up the fact that no matter how much the powers that be in our City try, we'll never be in the ranks of Ames, Cedar Falls, Rochester, or any one of those other progressive Upper-Midwest cities, and only because of the types of services we offer, our demographics, and location. He agreed with me when I insisted that no matter how much we try to keep our young from moving away, it'll continue to happen because we don't have the jobs, and I gave several examples of people who're on our City's payroll who should be retiring, but they won't, and only because they're afraid of what's facing them. Well, no matter if they retire this year or next, it's still facing them, so they just as well get it over with more sooner than later.
I couldn't help also mentioning that far too many people in such positions haven't a clue what's going on the the real world, and only because they've created a cocoon around themselves, just so they can consider themselves safe in their meritocracies. I can assure you, the bulk of them have never once got their hands dirtied. Yes, it was quite an interesting morning with the phone calls coming in, but all the while, I remained a gentleman by not sharing my real thoughts, which may not sound pleasant, but likely even closer to the truth, and it all goes back to that darned-old morphic resonance.
I got a good breath of fresh air away from the City today with my travels to and from Northwood where I had to stop at an attorney's office, and then head over and pick up an updated abstract on one of my recent sales. It was one of the most pleasant mid-day experiences I've had in some time, and mostly because of the people I encountered, and the spectacular views I had of North Iowa's countryside. It spite of Northwood being a little on the tribal side, I still enjoy that charming community.
When I returned, I had some additional calls to make, and then busied myself with getting the back room of my office tidied up, and only because such clutter quickly gets on my nerves. When discovering I'd run out of hand soap, I headed over to Fareway to pick up another bottle, and just as I was walking in, I ran into a woman I hadn't seen for at least five years, and one of the first things she asked was, "Why aren't you playing the organ at our church?" Well, I couldn't lie, so I told her that I'd sent two emails at various time where I offered my services, and both times, I didn't even get a reply, and after hearing that, all she said was, "If I were you, I wouldn't send another. Shame on them." Once we got off that subject, we did have a good chat, and without a doubt, seeing and visiting with her, ended up being the highlight of my day, and only because our relationship goes very far back in time. Yes, she's another native pillar of our community.
My late afternoon appointment was to meet a buyer at a home she'd looked at earlier this week, and this time around, she had relatives along, just so she'd have some additional moral support. We were there for a great deal of time, but at least she's now fully up to speed with the workings of buying and selling. Unless there's some intervening circumstance happening, I have a feeling she'll soon be making an offer on it.
First thing tomorrow morning, I'll be making a call to one of my sellers who's getting close to having his home readied for sale, and only to see if it would be possible for me to show it. This shortage of homes is starting to get more concerning by the day, and especially when seeing what some of those houses are bringing. I personally don't have a problem with cash buyers, but when there are high mortgage balances involved, that's when I become fearful for them, and only because I can still clearly remember the past two market corrections I lived thru. Let's hope it's not a repeat.
Tonight's One-liner is: Success consists of going from failure to failure without loss of enthusiasm.