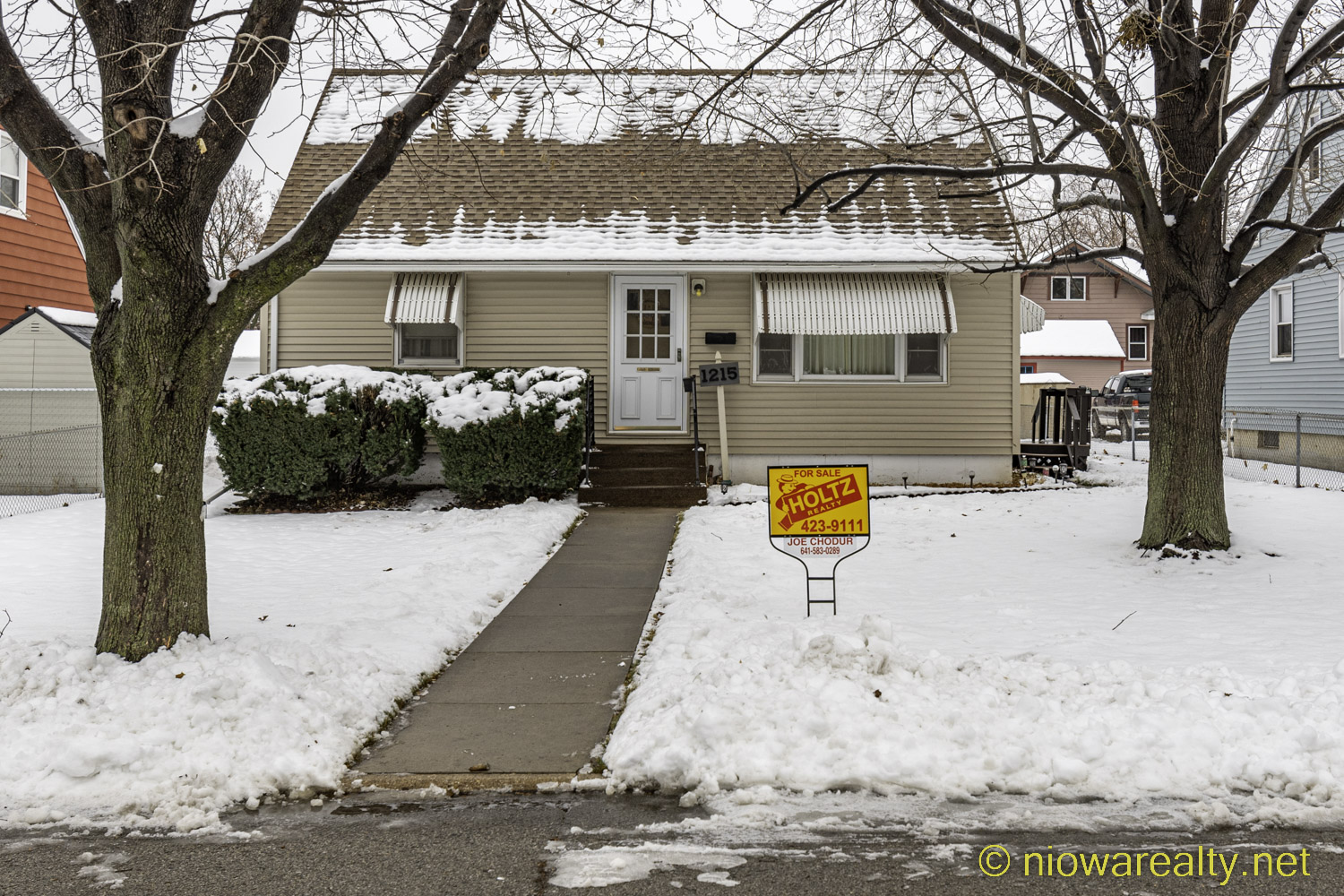 View More Photos
Another gray and wet December day went rolling thru, but at least the temps were hovering high enough to get some additional snow melted. It was actually misting out early this morning which had me concerned it was going to turn into sleet, but thankfully it didn't.
Upon my arrival at office, I noticed the dumpster divers had left some nasty things behind which I had to take back over to the corner dumpster and re-deposit. I swear this community is getting infested with people who'd rather be up to no good in the night, rather than going out and getting a job, just so they'd stay home at night like the all the rest of us. There's definitely something going on which I've never witnessed before, and if it continues to get worse, there's gonna have to be some radical changes made to the way in which our law enforcement deals with all these night-creepers who're out stealing, dealing drugs, vandalizing and squatting. I think there'd have to be a dragnet thrown out to catch the bulk of them. We must remember in nearly every group, the more there are, the more bold they become.
I had some file preparations to get done, and then after, I sat down to get caught up on the online news. I wasn't surprised to see where Kari Lake refuses to acknowledge defeat, and why would she because she still insists the 2020 Presidential election was stolen. It's beginning to appear that if someone is a loser of an election, then it becomes an automatic "steal", and they want what was stolen, which is extremely troubling. In all the years I've lived, never before the 2020 election did I even consider any sort of election fraud in our Nation. My how times have changed.
Before heading back to my project of last weekend, I decided to take a drive in the country, just to get my head cleared from all the recent happenings, and since it was overcast, it made everything I looked at appear as if I was looking thru an old viewer with a slide-show of country photographs. I wasn't gone much more than an hour, but it still was just enough to get me mentally back on track. Truth be told, I've been having some exceptionally impure thoughts about one of the members of the Capbend Group, but I managed to place it all into balance when realizing they're all rogues of the same stripe. I've oft times said how from bad things come good things as long as we reach for them, which is why I'm becoming a real student of the concept of proper placement.
Proper placement in and of itself can be translated into various areas of our lives such as furnishing a home, living in a particular community of like-minds, elevating relationships while closing the doors on others, creating balanced words and phrases which touch souls and warm hearts, building a good and growing business, properly designing landscapes which continually resonate throughout all four seasons, and the list goes on and on. Have you ever been around someone who just doesn't feel right? Well, it's likely because that person's improperly placed in your life. Another example is whenever you suddenly notice an inanimate object which you've had in your life for a very long time, but suddenly it "feels" wrong. Again, it's likely no longer properly placed in your life because as we all know, we're in a near-constant state of change. As chance would have it, I'll be gifting an object tomorrow to a person I know will greatly appreciate it, so in essence I'll be properly placing something that's now improper in my life. Believe me, my attempts to fully-implement proper placement in my life can be a struggle at times, and mostly because I've found it a real chore to fully extricate myself from toxic energies of those who insist on remaining in place.
I worked out at my project for a good three hours today, and luckily managed to get all the staples, tacks, nails and glue off of steps leading to a basement, so hopefully tomorrow, I can get that last layer of linoleum fully removed so I can afterwards put down a better and longer-lasting covering on them. What a nasty job!
By the time I got back to office, I had just enough minutes to get cleaned up and back into my street clothes before I headed over to my listing appointment which was at 1215 S. Washington, Mason City, IA which is located directly across the street from the grounds of Elmwood Cemetery. Just so you know, I've created a slide-show of it for all of you to view and share, once you click on tonight's photo.
Here's the scoop in it. It's a roomy 3 bedroom, 1 bath home that was built in 1956 by the current owner, which means it's never before been on the market. There's no question it is one of the cleanest and well-kept homes I've been in since I don't know when. The fronts of the cabinets appear as if thy were just installed! There have been some recent updates including shingles, vinyl siding, high-efficiency furnace and central air, and of course the 24 x 24 double garage is also going to be a favorite for buyers. I listed it at $94,500 which may sound too cheap in this market, but the owner wants it sold quickly, but I also have to make sure all the buyers know that the only thing some will turn their noses up at, is the 60 amp service panel with fuses instead of breakers. For sure if I were a buyer looking at that rock-solid gem, I'd still be asking, "Where do I sign?"
After seeing these disgusting lipsticked pigs that've been selling for well over $100K these past several years, a savvy buyer who knows intrinsic value is gonna jump all over it. There's no question in my mind, 1215 S. Washington is ready to move into, so let's hope some deserving buyer will notice it tonight and give me a call because I'll be free to show it any time. Oh, and just remember, living across the street from a cemetery is so much better because it's not the dead we should fear, but rather the living. Please re-post to everyone you know that's still out looking.
Tonight's One-liner is: Employ your time in improving yourself by the writings of others, so that you shall more easily gain, what they've labored hard for.
Related Property:
1215 S Washington Mason CIty