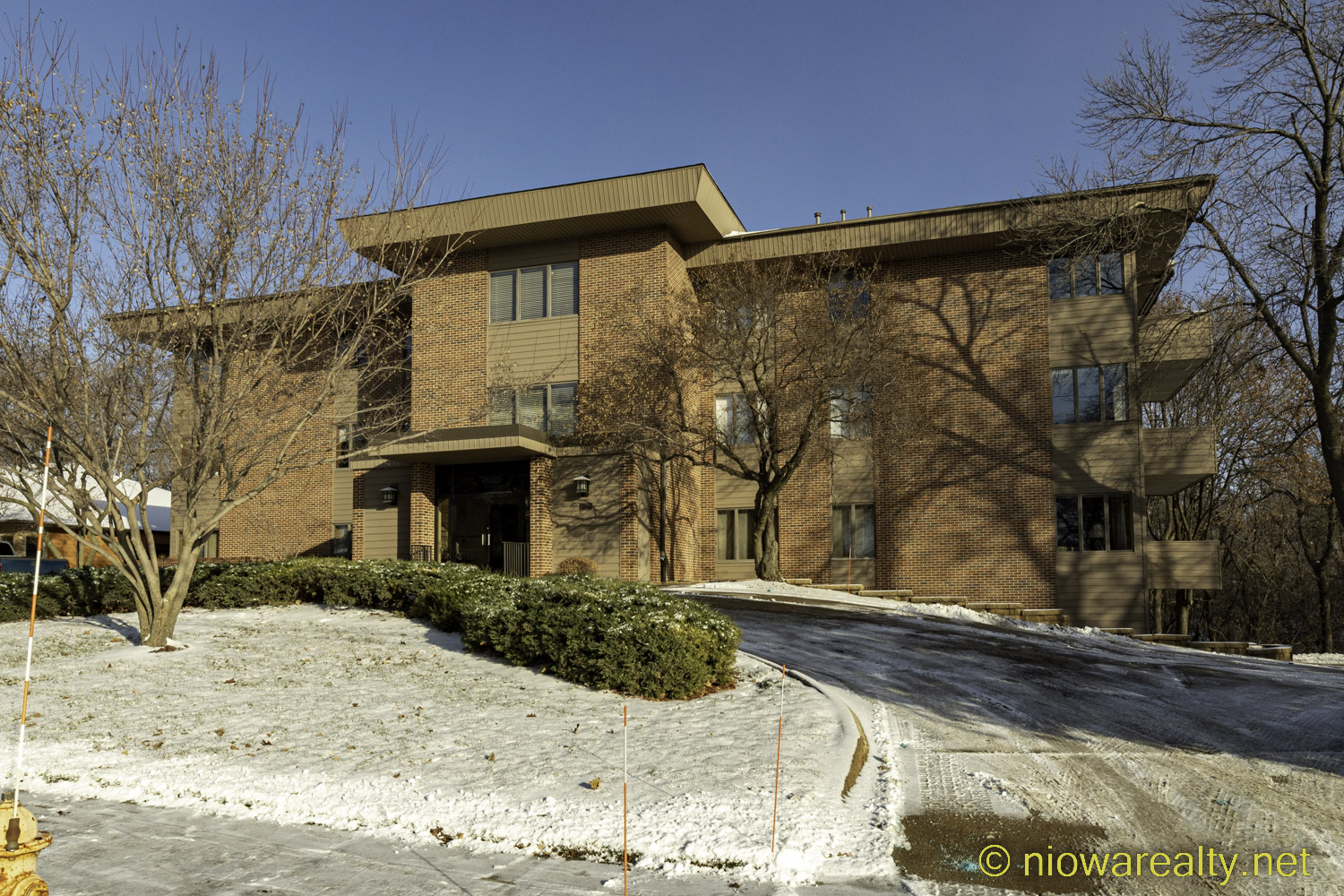 View More Photos
That cold wind today was enough to send a chill up the spines of even the most weather-seasoned of individuals, but thankfully it finally started going down with the sun, so hopefully our temps will be higher tomorrow which will help get yesterday's frozen sleet melted off our streets and sidewalks. Perhaps our December weather will be more forgiving than November's.
My first duty this morning, was to to go digging in files for a service bill I paid at a time in these past several years, and in spite of what a tradesperson told me some weeks ago, the itemized bill I paid which I finally found, clearly showed I wrote out a check for work that didn't last even two years, and when I challenged him on it, he insisted he'd not worked on that portion, so I then asked him to go back in his records to check, and all he did was shrug his shoulders and say, "I don't keep copies of paid bills." Those words out of his mouth created an instant turnoff to where I knew then and there I'd never have him do any work for me again, as well as for sure not ever recommend him or his company to anyone asking. Unfortunately he doesn't realize that we live in a bloated village and people talk, and for sure I already have.
My Noon closing went very well, but for some reason the closing agent wasn't available, so her assistant ended up being the one to handle it. Since it was another cash closing, we didn't spend much time there, but before leaving, I had a very good chat with my seller on another matter. I did give him a little gift I'd promised which he was thankful to get. I was a good transaction all the way around, and hopefully I'll be doing business with him in the future.
I managed to get back to office in time to get prepared for my listing appointment, and when the seller walked in, I had all the documents readied for signatures. Since she'd not been at my office before, she was quite taken by all the natural wood and vintage pieces of furniture. Having worked with three generations of her family, we had a very good extended chat which covered a wide range of topics. Once the papers were signed, I headed over to get some photos taken of it which is located at 361 S. Pennsylvania Ave., Unit 1-B here in Mason City, which happens to be a large 1 bedroom, 1 bath condo in the ever-popular Penn Tower which is a stone's throw from our library and The Crescent of Culture.
When I got there, I proceeded to take all the exterior photos I needed, and then installed the lockbox on the front door before heading in to get measurements and more photos taken. What I've always liked about that unit, is it being on the main floor, so instead of having a balcony, there's a concrete patio beyond the sliding doors. Another big plus, are the extra-generous room sizes which allows for various degrees of furniture placement. I love its monster bedroom.
Once I had the unit's photos taken, I went back out and took photos of the common areas, as well as the heated attached garage. This unit has one designated parking spot within. Since there's an elevator in the building, there'd be no steps to climb unless a person wanted to take the stairs for added exercise.
Tonight's main photo is an exterior shot of the unit, so if you'd like to see more, just click on the photo and a slide-show will start. After doing as much research as I could on valuations, we decided to list it at $159,500 which should spur some immediate interest, and since I won't be entering it in our MLS until tomorrow morning, I'm hoping there'll be one or two of you who may possibly know someone who's looking for a very large 1 bedroom 1 bath condo in Penn Tower. Oh by the way, the laundry is inside the unit so there's no sharing like there is with some of the other condos in our City. Anyone who's into walking outdoors, that complex is perfectly located because it's in the center of our City, and only several blocks from all our Downtown conveniences.  I told one of the residents today that I likely hold the record for the number of those units I've sold since it was built, and let me tell you, that structure is built like a German pillbox. If a developer even thought about building a replica of it in today's times, the prices would be far out of reach for an average buyer.
I do have to mention that the rules and regulations state that no pets are allowed in the building, and that rule has been hard and fast. The monthly association fee is $250 per month which covers water, sewer, garbage, mowing, snow removal and the blanket insurance policy for the main structure and common areas. Of course like always, the new owner would have to purchase condo insurance for the interior which is very similar to renter's insurance. I think I've covered all the bases, so let's bring on the buyers and git-er-sold! A person could actually be in by Christmas if they'd want to be.
Before heading home, I had to make a quick stop at a groceteria to pick up a few things, and as chance would have it, I ran into an old client/customer whom I'd done a great amount of real estate work for over these many years. Because I'd not had a chance to visit with him in well over a year, I was shocked when he told me he and his wife had parted ways. Of course I learned a number of years ago to never say "I'm sorry" whenever someone tells me they're getting a divorce because it's not my call, but what I do say is, "I wish you the very best going forward.", and leave it at that. I knew he was under a great strain, and after visiting with him, I fully understand there's a time in most people's lives when they just want to have a stress-free retirement without the daily dramas that occur. I truthfully told him he looked the best I've seen in some time, so it looks like he's well on his way to enjoying life on his personal golden pond.
Tonight's One-liner is: My best friend is the person who in wishing me well, wishes it for my sake.