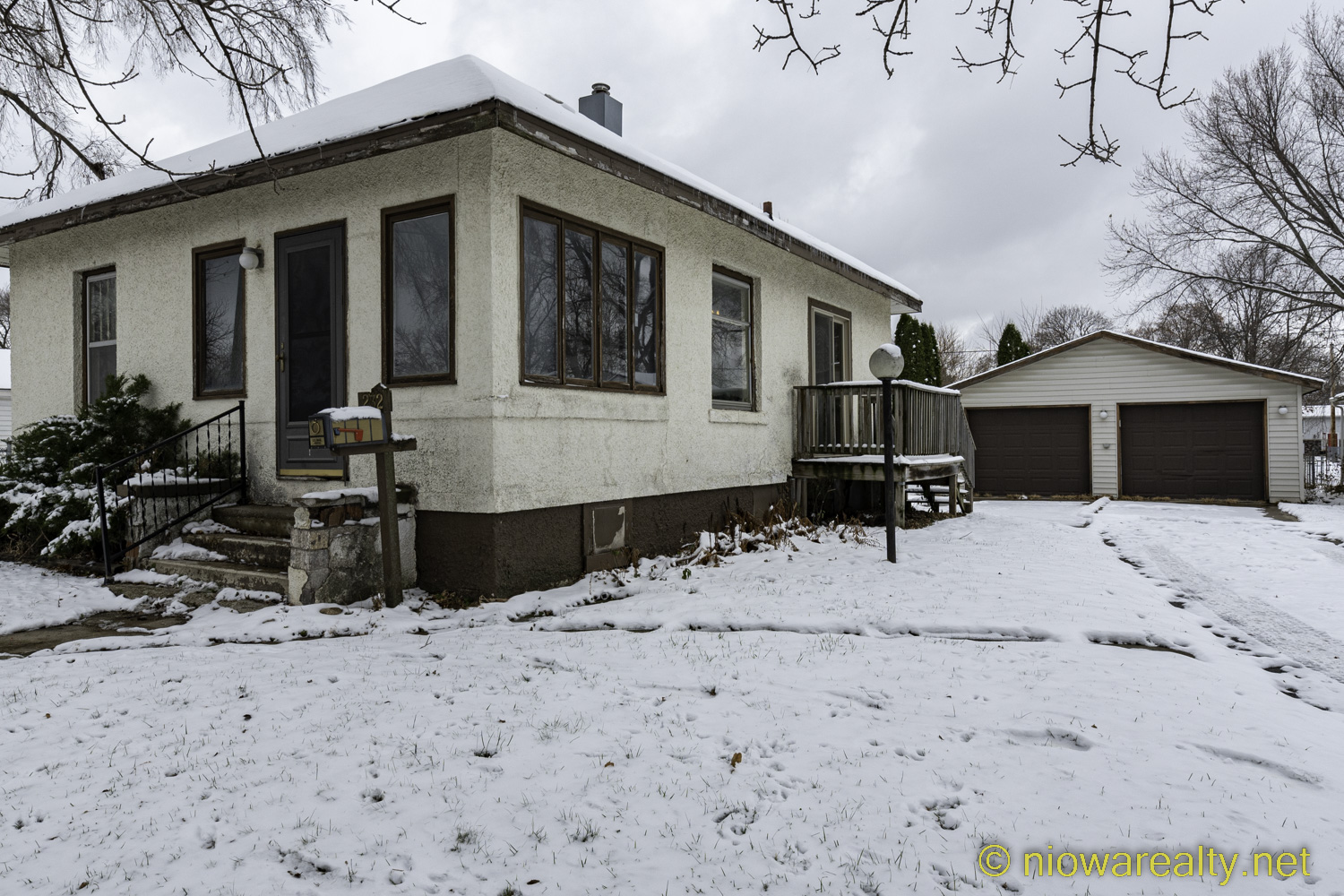 View More Photos
It wasn't so bad outdoors early this morning, but when that wind from the north started blowing, it was stinging cold. Oh how much I despise the month of November which seems to hang on longer than the others. Of course the second in line of my all-time hated months is January. I'm sure most of it comes from my having to be out working in it when I was a youngster.
When I got to office and read the news headlines about that fire that broke out up at 509 N. Washington which took the lives of four children, I was nearly fit to be tied, but then later when some neighbor spoke of hearing those children screaming for their lives from inside, an even colder chill ran thru my body, and especially when knowing that death by fire is one of the most agonizing. I just happened to have that home listed many years ago, and the buyer of it was another one of the increasing numbers of so-called investors. The death of those children was a terrible tragedy, and I'm suspecting that fire was possibly caused by some sort of auxiliary heater. That home has only continued to get more rickety since its owner purchased it. Who knows how many more death-traps there are in this City that are matchsticks waiting to be ignited. I'm sure the father and the surviving child will be tormented by that tragic event for the remainder of their days.
Most of my morning was spent preparing listing documents and then meeting with the seller of the home I just listed at 232 – 25th St. SW, Mason City, Iowa which just happens to be the slide show on tonight's photo. First of all, I listed it at $59,500 which is below its current assessed value, and the reason we listed it at that price, is because the seller wants it sold more sooner than later.
Having been familiar with that home in the past, it didn't take me long to come up with a value on it. Since they purchased it, they converted the 2nd bedroom on the main floor into a very roomy bathroom, and only because that home was originally built with the bathroom in the basement, so now it's a one bedroom with a 3/4 bath in the basement, and a full bath on the main floor.
The home is much more roomier than it appears from the street, so when walking in, you'll find an enclosed front porch which leads into a large living/dining area. The bedroom is larger than most of that home's style, and the kitchen offers more than enough room for cooking. The owner is leaving all the appliances including the washer and dryer, which makes for less expense for a first-time buyer coming out of a rental. It also has a newer furnace with central air which is a bonus.
It has a newer two car garage which is bigger than most because it measures 24′ x 24′ along with having overhead garage door openers. The back yard is fenced with alley access. To the rear of the home, there's an enclosed mud room which always comes in handy for totes, shoes, and storage.
Since the home has been a rental for a number of years, there are some cosmetic upgrades needed, but for the most part, it's in move-in condition which is a rare find when searching for homes in such a low price range. Another thing to keep in mind, is its location which is on our City's south-west side, so if you happen to know someone who's looking to own, but on a limited income, please tell them about it and have them give me a call. Just an FYI, I'll not be posting it into our MLS until tomorrow morning, so don't wait another moment.
I had to open up Prairie Place on 1st this afternoon for my buyer's final walk-thru, and as expected, all was acceptable, and as chance would have it, there were several owners out in the main hall, so I offered some introductions. There's no doubt it'll be another good fit for that senior community.
Oh I forgot to mention my having been awakened in the night with a creepy/cool spiritual experience which has never before happened. I did a little reading later today regarding that episode, and from what I gathered, it was a message of confirmation that my prayer/petitions were being answered. If that be true, that'll be the added proof of the great power of prayer which so many have fallen away from. I was happy it happened, and hopefully there'll be other acknowledgements to follow.
I called one of my well knowns today who lives out West, just to share some news I was given early this morning regarding something we just yesterday spoke about. She was not a happy camper when I told her about it, but as I mentioned yesterday, there's absolutely nothing a person can do when it's completely out of one's control. I've learned a very long time ago, that from bad things come good things as long as we reach for them, and whenever those bad things are intentionally directed our way by others, then it's in karma's realm to punish–not ours. I think that very early morning spiritual episode I had, also had something to do with it.
Around mid-afternoon, I made time to go out and see how a project house has been coming, and after seeing the recent progress, I announced to myself, "It's all gonna be downhill from here." Whomever ends up living there, will be thanking their lucky stars when finding it because it'll be a home a person would always want to come home to after a long day's work.
I didn't read much of the news today, other than taking a peek at the recent election statistics. I'm still hoping Warnock holds onto his Senate seat, which'll create even more of a balance. Keep in mind, the Senate is the stronger of the two.
Tonight's One-liner is: Fear is pain arising from the anticipation of evil.
Related Property:
232 25th St. SW Mason City