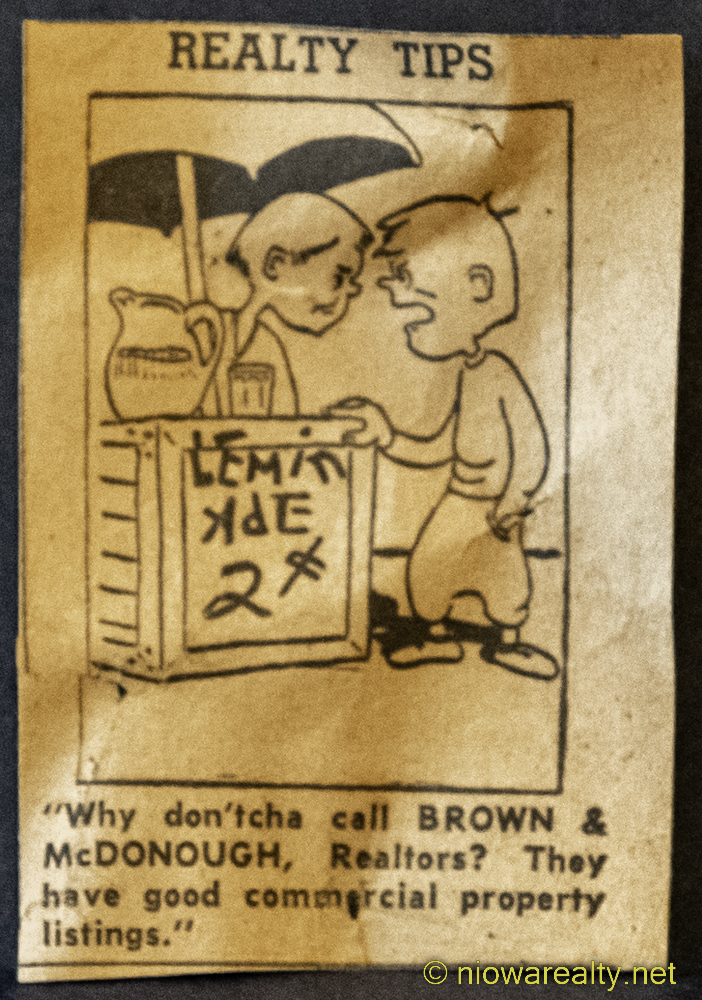 View More Photos
In spite of the temps still being high, the humidity level was greater today and likely because we have rain heading our way. Be prepared to start dressing warmer since it sounds like we'll be back to having colder days and nights. I'm hoping we'll have a few more above-freezing weekends ahead, just so I can get those oak trees re-planted and protected against those vile nibbling deer.
My morning was rather uneventful while being consumed with errands, research, bill-paying and accounting. For some reason, it seems the bills are arriving earlier than normal, and likely because the vendors want to make sure they get paid more sooner than later in these troubling economic times.
One of my morning duties, was to stop over to a funeral home and drop off a card and memorial for a gentleman who'd recently passed. I became a little teary-eyed because I could still see him and his wife in my mind's eye the first time I met them. I've done real estate work for three generations of that family, and all I can say is, they've been some of the best I've worked with over these many years. But as we all know, no of us are going to live forever, which is why we must remain diligent in staying on the right path, and especially when the many years become heavier.
If anyone were to ask me what my "niche" market has been since my career's beginning, I'd honestly tell them that it's been the seniors who're normally much more appreciative for the work I've provided. Keep in mind, not all of them have been like that, because just last night, I spoke of an elderly person who'd taunt, make un-necessary demands, name-call, along with having radical mood swings to where it was always a crap-shoot whenever answering the phone because I never knew what to expect. But, I remained pro-active and got thru it all relatively unscathed, other than being reminded that even our elderly can make agreements and later annul them without cause.
Once again, I received a call today from that contractor I'd employed, saying he was needing additional materials, so off I headed to get what he needed. I did stop by to see how they were doing, and from what I could see, they may have everything done before tomorrow's rain arrives. It's gonna be a close call.
Since it was approaching the Noon hour, I stopped over to the Moose Lodge to purchase one of their monster tacos they only sell on Thursday. I'd not been there in many months, so I figured it was time to pay them a visit. When I walked in, I immediately noticed a retired pastor whom I'd not seen in a number of years, so I made a point to have a seat at his table while waiting for my order to be filled.
While visiting with him, I couldn't help being a little on the wicked side by saying I've likely become the talk of the town due the various denominations of churches I've been playing for these recent years. Since he's now retired, my filters were off when mentioning how crazy it is to find how tribal the inner circles of certain churches are, and especially their music departments. I was being a little comical when giving several examples, which had him chuckling. Unfortunately he's now using a walker, but I didn't dare ask why because he'd already mentioned how annoying his growing old has been for him. I could see he's lost weight, so perhaps that was what was creating his mobility issues. As I walked out of there, I was ever-glad having made the choice to stop for one of their tacos and have a delightful conversation with a pastor I've known for a very many years.
When I returned to office, I ate my giant taco which was more like eating a taco salad because of all the ingredients they'd thrown in it. Unfortunately their hot sauce was at best on the mild side. Not to worry, I had some of my own spice I doctored it up with before eating.
My afternoon was filled with various tasks, and the most time consuming, was my researching recent sales on a particular property I'll likely have listed in the coming weeks. Unfortunately, these rising interest rates are going to have an effect on pricing, so I have to be doubly careful not to place too much weight on what had sold before our interest rates started climbing. Considering the location, I'll not worry about it selling as long as it's priced right.
The above photo, is another clipping from that 1953 newspaper which was promoting a commercial real estate office that was located here back then. How long has it been since you've seen the word "don'tcha" placed in print? Wow! Yes, we've heard many speak it, but not write it. So, why don'tcha start using it a little more just for old time's sake? I do remember in my family that line, "Don'tcha know….", or "Don'tcha see?", and even "Don'tcha get it?" Yes, there are still a whole lot of don'tcha's being served-up in conversation.
I vaguely remember the old Realtors talking about that real estate office, and since Holtz Realty's been in business since 1943, they likely worked with that company. I still can't believe that come next year, our office will have been in business for 80 years. I know it's the oldest in North Iowa, but wouldn't it be a hoot if it's found to be the oldest in our State? It actually wouldn't surprise me because real estate offices come and go, and in spite of the high and mighty ones thinking they'll last forever, they never do. Since the day I started, I could start naming the number of high-flying offices that've risen and fallen from the greatest of heights.
Tonight's One-liner is: The person who doesn't scatter the morning dew, will not comb gray hairs.