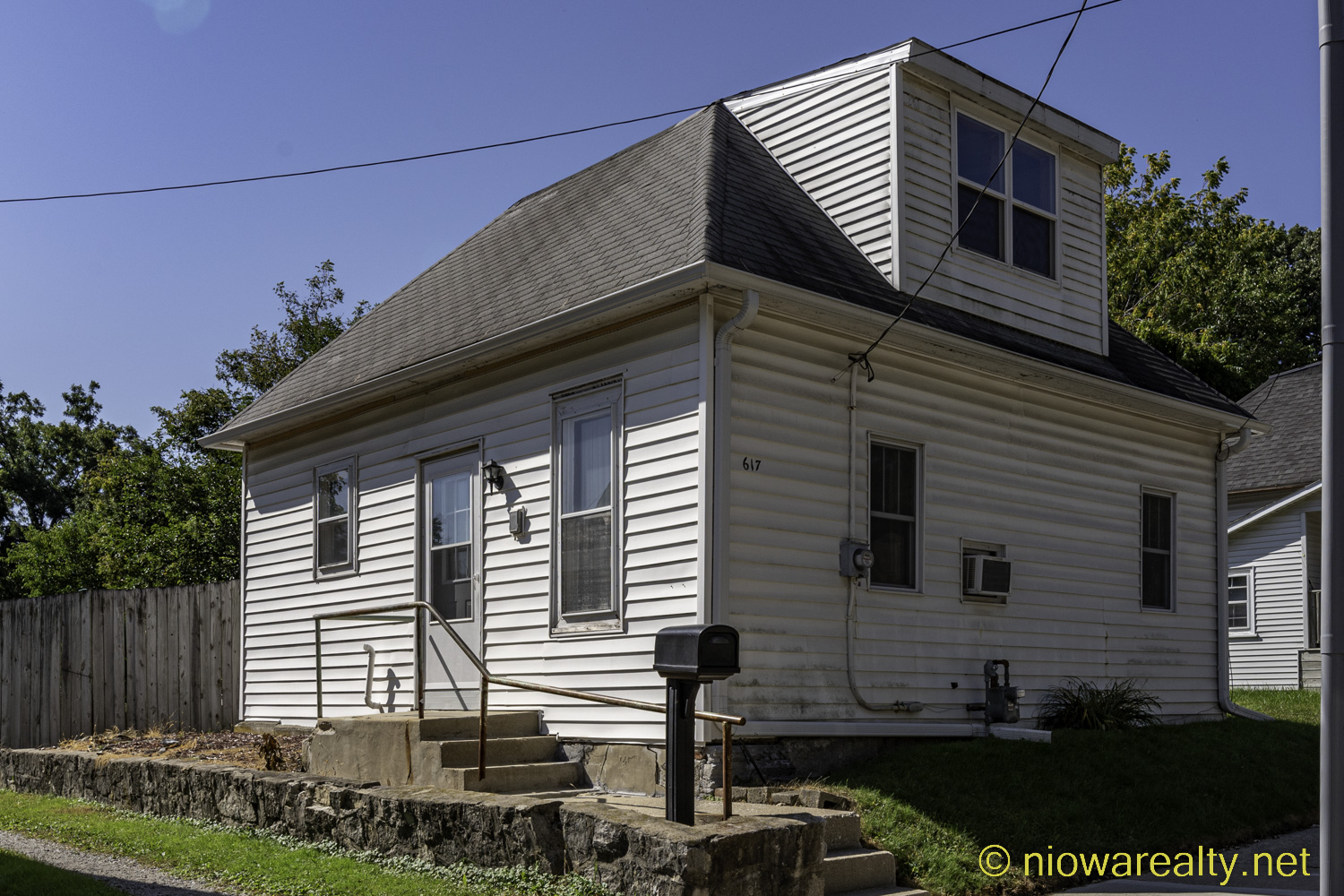 View More Photos
After not having been fully-rested due to my being awakened earlier than normal and not able to get back to sleep, I simply decided get my day started and leave it at that. For sure I had to make another stop at Casey's to grab a strong cup of coffee to keep me alert the remainder of the day. I actually didn't know they're open before the hour of six. I can't imagine what time those people working their kitchen must have to be there to get those breakfast pizza slices, egg biscuits and donuts readied.
Upon arrival at office, I got my morning chores taken care of and by the time I was finished, it was the hour I was to deliver two big grocery sacks of cucumbers from my garden. Once again, I asked if it was OK to drop them off, and the knee-jerk answer was as usual, "Of course we'll take all you can spare." I also asked if they'd be interested in some all-natural San Marzano tomatoes, and once again it was, "Absolutely." Those people have no idea how happy I am they're not going to waste and being used for a good cause. If we don't get a frost anytime soon, they're gonna be loaded down with tomatoes because I'll likely have one more canning session with them, and then I'm done for the season.
I went out and got a good look at the Fall crop of carrots, and from what I was seeing, there'll be more than enough to fill my winter needs. I absolutely love home-grown carrots over those we find in the groceterias. For the strangest reason, they always taste moldy to me. I also have some late planted Dill which is near picture-perfect. I'm still in disbelief how large those 150 onion plants are getting. No doubt I'll not be having to buy onions anytime soon after they're pulled and laid-out to dry. Yes, I've been thankful as well as grateful for the fruits and veggies I've been blessed with this season.
Part of my morning was also taken up with getting a home listed which is located at 617 – 1st SE here in Mason City which is located on the edge of our Crescent of Culture. Since I know that neighborhood very well, all I can say is, I hope an investor doesn't buy it because of its price. That little gem has upside potential written all over it, and mostly because its lot size and location. Truth be told, there are $200K+ homes less than a half block away. Just remember, when buying a home there are three rules, and they are: location, location, location. It's actually the first time in years that I've had a home listed on that short street.
I won't be placing it in our MLS until early tomorrow morning, but I'll give you the low-down on it tonight. It's a small three bedroom home which has a 3/4 bath on the main floor, as well as laundry hook-ups. The 1st floor bedroom is small, but the two bedrooms upstairs are good sized. The basement is a partial where the furnace and hot water heater is located, the wiring is 100 amp with breakers, most of the windows have been replaced, and the exterior siding is vinyl. The garage is a rickety one-stall, but there's more than enough room to build a big double garage out back. Because of the age of the home, I wouldn't be surprised if there's hardwood floors under the carpeting on the main floor. Our City Assessor says it was built in 1900, but I'd wager it was built back closer to the 1880's. I can already see that home tricked-out and being lived in by an owner-occupant which is the seller's preference. Tonight's photo is the exterior, and if you click on it, a slide-show will begin. Believe it or not, the asking price is a low $43,900 which leaves enough room for some major updates and upside-potential.
I had to put my big-boy pants on this afternoon and force myself to get my real estate taxes paid, and when finished writing out checks, I grabbed the checks and receipts and headed over to our County Treasurer's Office. When I walked in, there were few if any people there, which allowed me to pick whom I wanted to wait on me.
I decided to go to the counter where the young lady who hasn't been there that long, and the first words out of my mouth was, "I'm not giving you my checks until you give me a smile along with a greeting, and so she did. I was being a little naughty when giving my real opinion on some of the workers that've been there far too long. I then said to her, "Why aren't you running for County Treasurer?" She blushed when answering, "I don't know enough yet.", which I then added, "As long as you're willing to learn, who cares?" Of course there were several other clerks whom I also like who were making comments to the one working on my taxes by saying, "Now make sure you get all you can out of him." Yes they are dear ones, but of course there's always one or two in an office which spoils the workplace, but I dare not mention any names. Believe me, what most see from the outside looking in, is not anywhere near what it's truly like.
After I coughed up that giant financial fur-ball, I said to the clerk, "Now you know why I wear tattered clothes, drive a used car and hard-pressed to find a chicken to throw in a pot." Oh did I get the jabs and looks after that came out of my mouth. Well, at least I got some smiles and giggles out of what's normally a gut-wrenching experience.
When I got back to office, I placed a call to a prospective buyer regarding a new listing that came on today, and after giving him the address, he called back about fifteen minutes later saying, "It's way over-priced for my taste, but it they come down to where I think it should be, give me a call." Well, I couldn't help agreeing with him because I personally estimated it a good $60K less than what the agent listed it at. We'll see how our market reacts to it.
My highlight of the day was having a pleasant conversation with a gentleman whom I'd called to thank for the extra effort he made in helping me get a problem resolved. Yes, he's definitely a good person.
Tonight's One-liner is: Knowledge fills a large brain; it merely inflates a small one.
Related Property:
617 1st SE Mason City